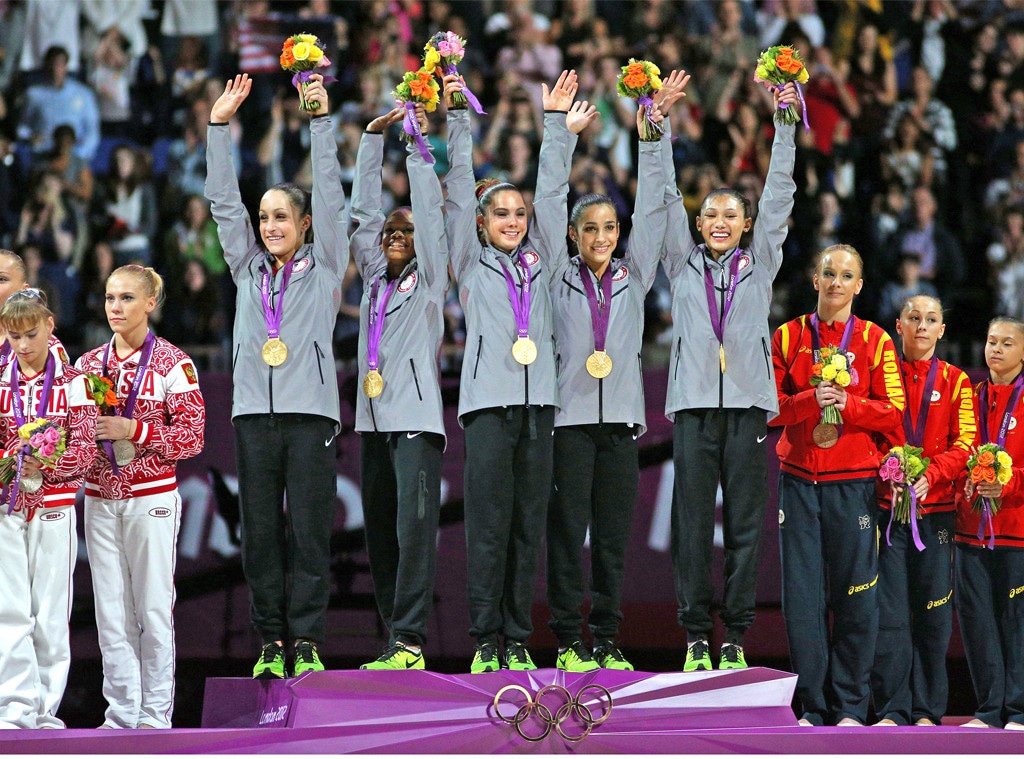 Cameron Spencer/Getty Images
The gymnastics world is standing by its survivors—upwards of more than 140 survivors to be exact. 
Olympic gold medalist Jordyn Wieber joined a growing chorus of women in a Michigan courtroom today, where she described years of alleged abuse suffered at the hands of Dr. Larry Nassar, who awaits sentencing on seven counts of criminal sexual misconduct. (The former USA Gymnastics physician has already been sentenced to 60 years in prison for federal pornography charges, and prosecutors have asked for a life sentence in this case.)  
More than 100 individuals are expected to address Nassar with victim-impact statements, sports stars like Aly Raisman receiving a round of applause as she condemned her alleged abuser for harming young athletes under the guise of "treatment."
"I have both power and voice and I am only beginning to just use them," she testified. "All these brave women have power and we will use our voices to make sure you get what you deserve, a life of suffering spent replaying the words delivered by this powerful army of survivors."
Wieber's coming forward made her the fourth member of the 2012 London Olympics team after Raisman, Gabby Douglas and McKayla Maroney to level accusations against Nassar. Then between the ages of 16 and 18, the four athletes plus Kyla Ross became known as the "Fierce Five," bringing home only the second team gold medal in Olympic history. 
Following the 2012 Summer Games, their journeys both on and off the uneven bars have unfolded in ways not even they could have predicted. Five years later, Jordyn, Aly, Gabby and McKayla have united once more to give fellow survivors a platform to demand justice and move forward. 
Josh Lefkowitz/Getty Images
Perhaps Wieber, now 22-years-old, said it best today: "I'm an Olympian. Despite being abused, I worked so hard and managed to achieve my goal. But I want everyone, especially the media, to know that despite my athletic achievements, I am one of over 140 women and survivors whose story is important."
"Our pain is all the same. And our stories are all important."
In 2015, Jordyn announced she was retiring from gymnastics, calling her experience competing with the "Fierce Five," "something we will all share with one another for life." She continued to work as a manager for UCLA's gymnastics team before graduating in 2017 with a degree in psychology. Wieber has since joined the university's coaching staff and is dating fellow gymnast Chris Brooks. 
Jamie McCarthy/Getty Images for Glamour
Raisman, who won three medals in 2012, returned to the sport after a well-deserved hiatus to compete at the Rio Games. As the oldest member of the 2016 Olympic women's gymnastics team, Raisman won two silver and one gold medal with the help of her "Final Five" teammates. 
In November 2017, Aly publicly accused Nassar of sexual abuse and days later represented the #MeToo movement at the Glamour Women of the Year Awards. She shared onstage, "I am beyond disgusted that a decorated Olympic and USA Gymnastics doctor was able to prey upon so many over such a long period of time; and until we fully understand the flaws in the system that allowed this to happen in the first place—and enabled it to continue for decades—we can't be confident it won't happen again... I am determined to work towards real and meaningful change."
Raisman, who published her own memoir in 2017, has posed for Sports Illustrated and works closely with organizations promoting body-positivity, also voiced her support for Simone Biles when she shared her own experience with Nassar. 
"I am so proud of you. You are incredible Simone. I stand with you," Aly wrote on Twitter. "I am shaking reading your post. I know we will all get through this together."
Her "not impressed" pout at the 2012 Games made McKayla an internet sensation, but the 22-year-old took a step back from gymnastics to act in small roles on shows like Bones and Superstore and pursue a career in music.  
A year after officially retiring from the sport, Maroney resurfaced on social media with a detailed letter addressing the "unnecessary" and "disgusting" things "that I had to endure" to compete in the Olympics. "It started when I was 13-years-old," she wrote, "at one of my first National Team training camps, in Texas, and it didn't end until I left the sport. It seemed whenever and wherever this man could find the chance, I was 'treated.'"
In December 2017, McKayla filed a lawsuit against USA Gymnastics, Michigan State University and the United States Olympic Committee for negligence in the Nassar case, and it was revealed that she signed a NDA to remain silent over the claims as part of her $1.25 million settlement with USA Gymnastics. 
Despite reports that the former gymnast would be fined $100,00 if she testified against Nassar in court, Maroney's victim-impact statement was read for the judge. 
It read in part, "People should know that sexual abuse of children is not just happening in Hollywood, in the media or in the halls of Congress. This is happening everywhere. Wherever there is a position of power, there seems to be potential for abuse." 
Her emotional plea for a maximum sentence concluded, "Our silence has given the wrong people power for too long, and it's time to take our power back." 
Michael Loccisano/Getty Images
Gabby made history at the 2012 Olympics when she became the first African-American gymnast to win an all-around gold medal and first gymnast to win both the individual all-around and team competitions at the same Olympics. She continued to compete in the years that followed, qualifying for the 2016 Olympics to help the "Final Five" win another team gold.
Unfortunately, Douglas faced criticism for what some considered poor sportsmanship and unpatriotic conduct while at the Rio Games. The 22-year-old called the social media bullying "hurtful," and apologized for not appearing supportive of her teammates. 
In a November 2017 Twitter post directed at Raisman, Douglas was accused of victim-shaming for saying women have a "responsibility" to dress "modestly" as to not "entice the wrong crowd." Gabby ultimately came forward as a victim of Nassar's abuse in a lengthy statement apologizing for letting her fans down. 
Bill Davila/startraksphoto.com
She shared online, "I take my job as a role model very seriously and I always want to do my best to represent all the best qualities that a role model should embody. I admit there are times that I fall short. I didn't view my comments as a victim shaming because I know that no matter what you wear, it NEVER gives anyone the right to harass or abuse you."
Douglas continued, "It would be like saying that because of the leotards we wore, it was our fault that we were abused by Larry Nassar. I didn't publicly share my experiences as well as many other things because for years we were conditioned to stay silent and honestly some things were extremely painful."
The Fierce Five's pain, as well as the hundreds of others who continue to suffer, has now become their power. Nassar is expected to be sentenced next week.