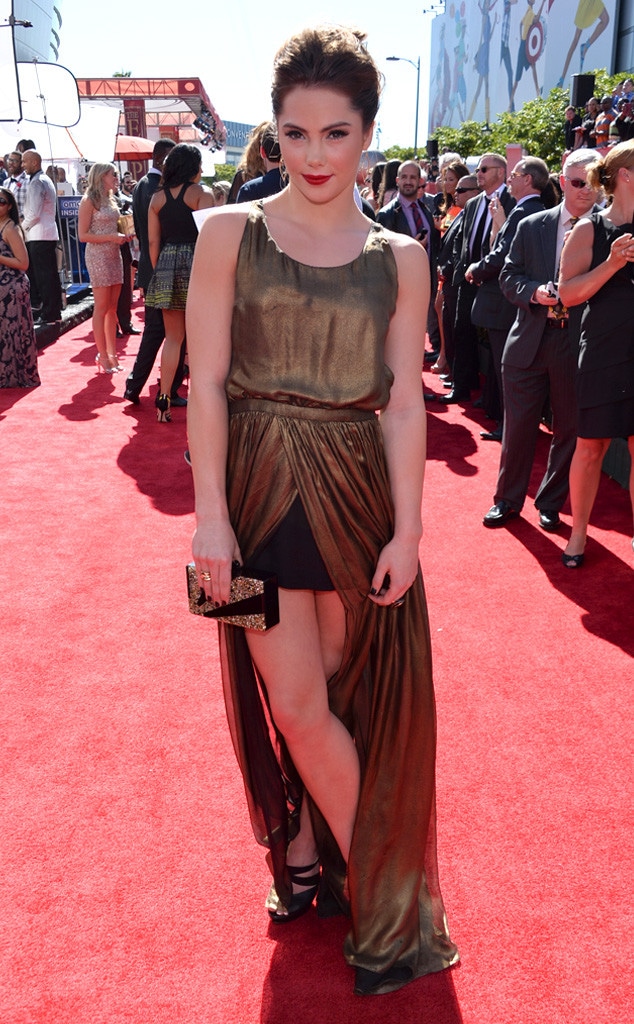 Alberto E. Rodriguez/Getty Images for ESPY
McKayla Maroney can rest easy.
The 22-year-old athlete signed a nondisclosure agreement in December 2016, in which she agreed to keep quiet about the abuse she suffered at the hands of Team USA's doctor, Larry Nassar. The NDA was a stipulation of Maroney's $1.25 million settlement with USA Gymnastics.
Nassar, who pleaded guilty in November to criminal sexual conduct, is being sentenced this week in Lansing, Mich., on seven charges of sexual assault. Nassar faces up to a life sentence, with a minimum of 25 to 40 years in prison. More than 140 women have said they were abused by Nassar, and 88 of them are expected to read victim impact statements in court this week. Nassar already has been sentenced to 60 years in federal prison on child pornography charges.
If Maroney were to give a victim impact statement, she could be fined $100,000. But, a rep for USA Gymnastics told E! News Wednesday it "has not sought and will not seek any money from McKayla Maroney for her brave statements made in describing her victimization and abuse by Larry Nassar, nor for any victim impact statements she wants to make to Larry Nassar at this hearing or at any subsequent hearings related to his sentencing." Additionally, the organization encourages Maroney "and anyone who has been abused" to speak out against Nassar in court. "USA Gymnastics remains focused on our highest priority—the safety, health and well-being of our athletes and creating a culture that empowers and supports them," the spokesperson said.
Attorney John Manly, who represents more than 100 victims—including Maroney—issued a statement to E! News Wednesday. "USA Gymnastics finally acknowledges that the gag order they forced on Ms. Maroney and her attorney was unenforceable. Sadly, USA Gymnastics continues to make misrepresentations about Ms. Maroney. They say McKayla has 'always had the right to speak.' Not true. Under the agreements terms she could not speak in court unless subpoenaed. She could not even have her statement read without fear of a lawsuit against her by USAG," Manly began. "A victim impact statement is a voluntary act. It's not a subpoena."
"Let's be clear. The only reason this statement was issued is because people were outraged at USAG's behavior toward Ms. Maroney and her family. So outraged that people were kindly offering to pay the six figure USAG penalty so McKayla could speak. Everyday Americans get that no one should be silenced about child molestation. This is especially true when the abused is a young athlete who competed in the Olympic Games for our Country and brought honor and dignity to our nation," the attorney continued in his statement. "It is truly sad that USA Gymnastics and the USOC didn't and don't get it. They have no choice to relent because the cleansing sunlight of truth is shining upon them and they can no longer hide their misdeeds."
Kerry Perry, president and CEO, also issued a statement to E! News regarding the trial. "USA Gymnastics is attending this week's proceedings for one reason—to listen firsthand to those who were victimized by Larry Nassar. We are absolutely disgusted by his abhorrent actions. We are very sorry that any athlete has been hurt by the despicable crimes Larry Nassar committed," Perry said. "Our hearts break for these athletes and we deeply admire their courage and strength in sharing their experiences. USA Gymnastics will keep their words and experiences at the core of everything we do as we remain focused on our highest priority–the safety, health and well-being of our athletes and creating a culture that empowers and supports them."