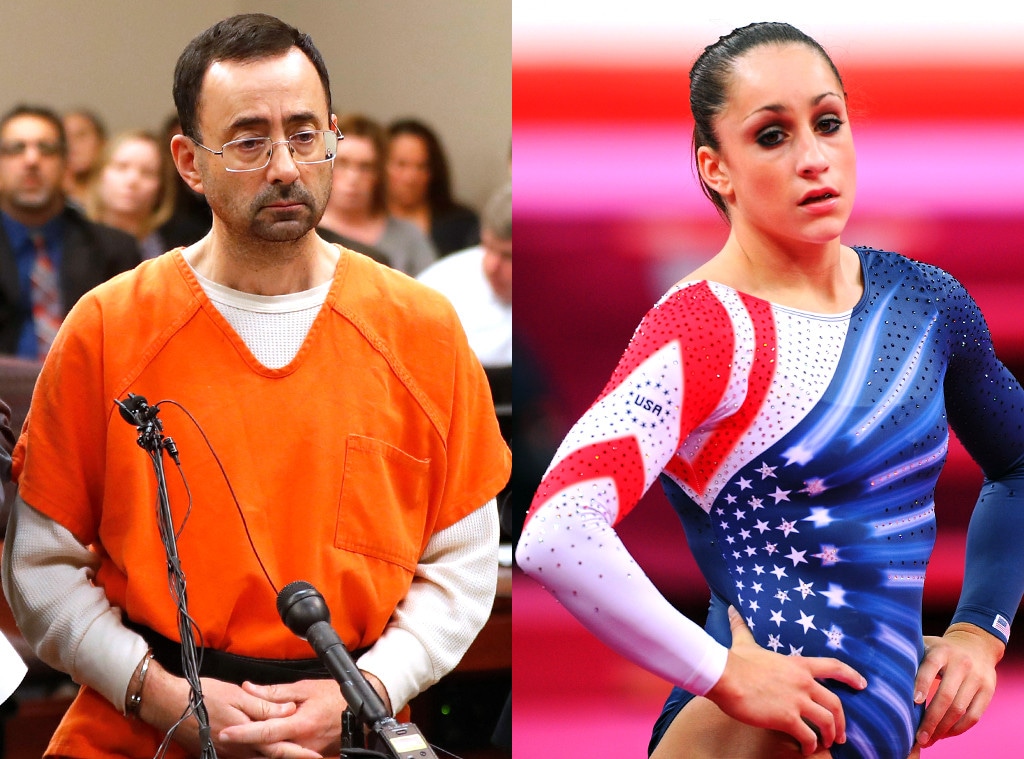 Michael Regan/Getty Images, AP Photo/Paul Sancya
Jordyn Wieber appeared at former Olympic team doctor Larry Nassar sentencing hearing on Friday to reveal that she too was sexually abused by him, making her the fourth member of the 2012 women's national gymnastics team, known as the "Fierce Five," to make such accusations.
The former physician for USA Gymnastics and Michigan State University had in November pleaded guilty to multiple charges of sexual assault and admitted to sexually abusing young girls under the guise of providing medical treatment. More than 100 victims are providing victim-impact statements this week, including fellow "Fierce Five" members McKayla Maroney and Aly Raisman, who competed with Wieber in the 2012 Summer Olympics. Prosecutors are seeking a life sentence for Nassar, who in December began a 60-year prison sentence for child pornography charges.
"I thought that training for the Olympics would be the hardest thing that I would ever have to do, but in fact, the hardest thing I've ever had to do is process that I'm a victim of Larry Nassar," an emotional Wieber, 22, said in court, as seen in a video posted by MLive. "It has caused me to feel shame and confusion and I've spent months trying to think back on my experience and wonder how I didn't even know this was happening to me and how I became so brainwashed by Larry and everyone at USA Gymnastics, both whom I thought were supposed to be on my side." 
In October, Maroney penned a letter accusing Nassar of molesting her when she was a young teen while he served as a physician for the U.S. Women's National Gymnastics team and Olympic team. At the time, Wieber said in a statement to E! News, "Although I personally haven't suffered any physical assault or sexual abuse while competing as a gymnast, my heart goes out to McKayla and the victims like her who have endured this abuse of power."
"I'm angry with myself for not recognizing the abuse and that's something that I'm struggling with today," Wieber said in court on Friday. "But even though I'm a victim, I do not and will not live my life as one."
The Olympic gold medalist said Nassar treated her from age 8 to 18 and that when she was 14, she tore a hamstring in her right leg and that he repeatedly performed on her a procedure that made her uncomfortable. She said her teammates Maroney and Raisman had also undergone it and that they discussed it among themselves.
"The worst part is that I had no idea that he was sexually abusing me for his own benefit," she said. "I knew it felt strange, but he was the national team doctor. Who was I to question his treatments or even more, risk my chance at making the Olympic team or being chosen to compete internationally?"
Raisman, 23, also gave her victim-impact statement in person on Friday.
"You are so sick, I can't even comprehend how angry I feel when I think of you," she said in court. "You lied to me and manipulated me to think that when you treated me you were closing your eyes because you had been working hard, when you were really touching me, an innocent child, to pleasure yourself."
"Imagine feeling like you have no power and no voice," Raisman continued. "Well you know what, Larry? I have both power and voice and I am only beginning to just use them. All these brave women have power and we will use our voices to make sure you get what you deserve, a life of suffering spent replaying the words delivered by this powerful army of survivors."
THOMAS COEX/AFP/Getty Images
A prosecutor read Maroney's victim-impact statement about Nassar on Thursday.
"I was told to trust him, that he would treat my injuries and make it possible for me to achieve my Olympic dreams. Dr. Nassar told me that I was receiving 'medically necessary treatment that he had been performing on patients for over 30 years,'" the 22-year-old Olympian wrote. "As it turns out, much to my demise, Dr. Nassar was not a doctor, he in fact was, and forever shall be, a child molester, and a monster of a human being. End of story! He abused my trust, he abused my body and he left scars on my psyche that may never go away."