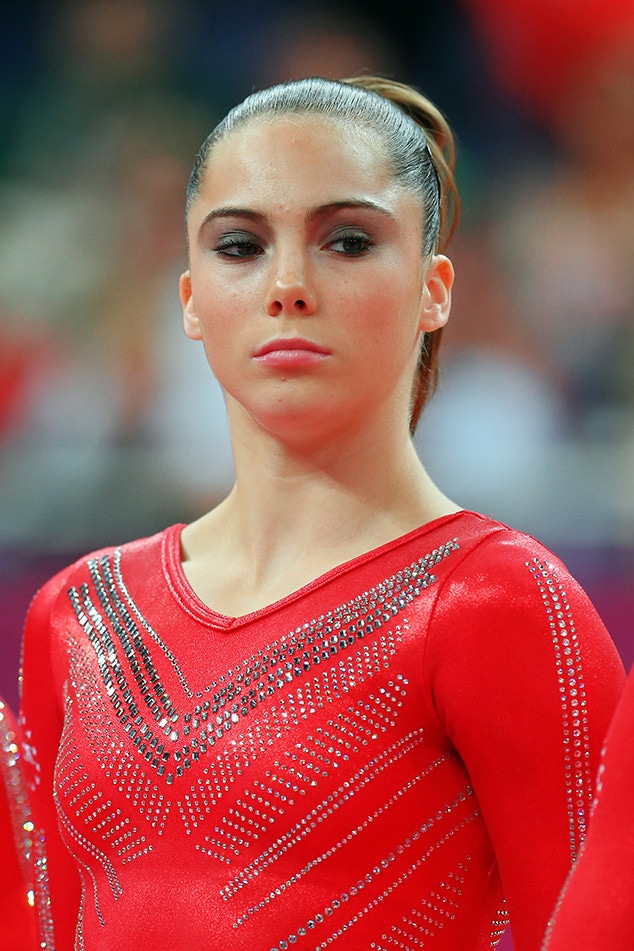 Getty Images
McKayla Maroney has filed a new lawsuit aimed at USA Gymnastics, Michigan State University and the United States Olympic Committee, claiming the two entities used a confidential settlement to cover up alleged abuse by former national team doctor, Larry Nassar, and were negligent in preventing him from sexually abusing minor gymnasts. 
In the lawsuit filed on Dec. 20 in Los Angeles, the 22-year-old Olympic gold medalist named Michigan State University, the United States Olympic Committee, USA Gymnastics and Larry Nassar as defendants in suit and is seeking damages for a handful of claims, including sexual harassment, intentional infliction of emotional distress, breach of fiduciary duty and negligence. She has requested a jury trial. 
According to the court documents obtained by E! News, Maroney alleged that MSU and USOC knew that Nassar was performing "purported medical treatments" on minor children, including Maroney, and "knew that Nassar had complaints pertaining to these purported medical treatments (which were disguised, sexually abusive acts) but nonetheless allowed Nassar to continue working for USAG and...USOC...without any prior warning, protection, or remedial steps taken to limit his access to minor children," the documents state.
"Despite having the power, authority, and mandate to do so, the Defendants USOC and MSU never intervened to discipline Nassar, ensure that USAG and Nassar were following USOC rules and mandates, never called law enforcement for allegations made against Nassar, and through the express disregard for the safety of minors, allowed Nassar to continue in his position of trust, power and access to McKayla Maroney as well as numerous other elite minor athletes who competed with McKayla Maroney," the papers read. 
In the documents, Maroney also claimed Nassar was informally disciplined by USAG for taking an "inordinate number of photos" of young gymnasts, but was allegedly not further investigated or reported to law enforcement, parents or gymnasts. 
In the lawsuit, the gymnast also alleged she was "forced to enter into a confidential [settlement] with Defendant USAG" in December 2016, which was, according to the documents, in violation of California law. At the time, she claimed she was suffering from psychological trauma as a result of Nassar's alleged abuse and needed funds to pay for treatment. 
She claimed in the lawsuit that the confidentiality provision in the settlement was forced upon her so that "the defendant USAG could further conceal and shield from public scrutiny, outside investigation, and law enforcement the true nature of of Nassar's horrific sexual abuse of minors...the Plaintiff alleges that Defendant USAG had a plan to keep the sexual abuse of Nassar quiet, and allow Nassar to quietly leave USAG, further silencing his victims."
However, USA Gymnastics told E! News in a statement that the "concept of confidentiality was initiated by McKayla's attorney, not USA Gymnastics."
"USA Gymnastics learned today from media reports that McKayla Maroney has filed a lawsuit against it, the United States Olympic Committee and Michigan State University related to abuse by Larry Nassar. That filing apparently seeks to nullify provisions in a prior settlement agreement between USA Gymnastics and McKayla. Contrary to reports, the concept of confidentiality was initiated by McKayla's attorney, not USA Gymnastics," USA Gymnastics said in a statement.  
"In 2016, McKayla's attorney at the time, Gloria Allred, approached USA Gymnastics, requesting that the organization participate in a confidential mediation process. USA Gymnastics cannot speak to the mediation process, which is confidential and privileged under California law. The process culminated in a settlement agreement that included a mutual non-disclosure clause and a mutual non-disparagement clause.  The settlement in 2016 was in accordance with state law, despite what has been alleged.  At all times, McKayla was represented by Allred, a California-based attorney, who actively negotiated and approved the settlement agreement signed by McKayla," the statement continued. 
"Although USA Gymnastics is disappointed by today's filing, we applaud McKayla and others who speak up against abusive behavior -- including the despicable acts of Larry Nassar.  We want to work together with McKayla and others to help encourage and empower athletes to speak up against abuse. USA Gymnastics new CEO Kerry Perry is eager to speak personally with McKayla to hear her ideas on how to move the sport forward and to discuss the many safe sport enhancements that have already been implemented at USA Gymnastics."
"The filing of this suit is another step towards exposing the breadth of the abuse by Dr. Larry Nassar, the complicity of USA Gymnastics, and healing for this young woman," the gymnast's attorney Vince Finaldi told E! News in a statement. "We are honored to represent her, and are confident that the confidentiality clause that USA Gymnastics has attempted to impose upon her, to the detriment Ms. Maroney and other athlete victims, will not withstand legal scrutiny. This important issue is one that is well worth fighting because it can help to protect so many other vulnerable children involved in sports."
The United States Olympic Committee denied being a part of the settlement to E! News. "We were first made aware of the possibility that a USA Gymnastics physician had sexually abused USA Gymnastics athletes in the summer of 2015 when we were informed by USA Gymnastics. At that time USA Gymnastics indicated that they were in the process of contacting the appropriate law enforcement agencies," USOC spokesperson Mark Jones told E! News in a statement. "We are heartbroken that this abuse occurred, proud of the brave victims that have come forward and grateful that our criminal justice system has ensured that Nasser will never be able to harm another young woman. We are hopeful that with the U.S . Center for SafeSport's continued education and prevention efforts, as well as their investigative and adjudicative authority, we will help ensure that tragedies like this will never happen again."
E! News has also reached out to Nassar's attorney for comment on the lawsuit. Michigan State University said, "MSU does not comment on ongoing litigation out of respect for the process and everyone involved. For the latest statements from MSU on the Larry Nassar situation, please visit here."
Ronald Martinez/Getty Images
Maroney first came forward publicly with allegations against Nassar in October, claiming he had molested her when she was a teenager. "It started when I was 13 years old, at one of my first National Team training camps, in Texas, and it didn't end until I left the sport. It seemed whenever and wherever this man could find the chance, I was 'treated,'" she wrote in her public letter. "It happened in London before my team and I won the gold medal, and It happened before I won my Silver. For me, the scariest night of my life happened when I was 15 years old. I had flown all day and night with the team to get to Tokyo. He'd given me a sleeping pill for the flight, and the next thing I know, I was all alone with him in his hotel room getting a 'treatment.' I thought I was going to die that night."
Dean Mouhtaropoulos/Getty Images
At the time of her publication, USA Gymnastics issued the following: 
"USA Gymnastics admires the courage of those, like McKayla Maroney, who have come forward to share their personal experiences with sexual abuse. Because of their strength in coming forward, predators can be held accountable for their actions. We, like so many others, are outraged and disgusted by the conduct of which Larry Nassar is accused. We are sorry that any athlete has been harmed during her or his gymnastics career."
The statement continued, "We are strengthening and enhancing our policies and procedures regarding abuse, as well as expanding our educational efforts to increase awareness of signs to watch for and reporting suspicions of abuse, including the obligation to immediately report.  USA Gymnastics, its members and community are committed to working together to keep our athletes as safe as possible."
Meanwhile, Nassar was recently sentenced to 60 years in prison after pleading guilty to three federal child pornography charges. He awaits sentencing after pleading guilty to seven counts of first-degree criminal sexual conduct in another case.  
Before he was sentenced to six decades in prison, Maroney publicized a victim-impact statement she originally wished to have read in court. 
"When I first met Larry Nassar, he was the doctor for our National Team and our Olympic team. I was told to trust him, that he would treat my injuries and make it possible for me to achieve my Olympic dreams. Dr. Nassar told me that I was receiving 'medically necessary treatment that he had been performing on patients for over 30 years,'" she wrote. "As it turns out, much to my demise, Dr Nassar was not a doctor, he in fact is, was, and forever shall be, a child molester, and a monster of a human being. End of story! He abused my trust, he abused my body and he left scars on my psyche that may never go away."