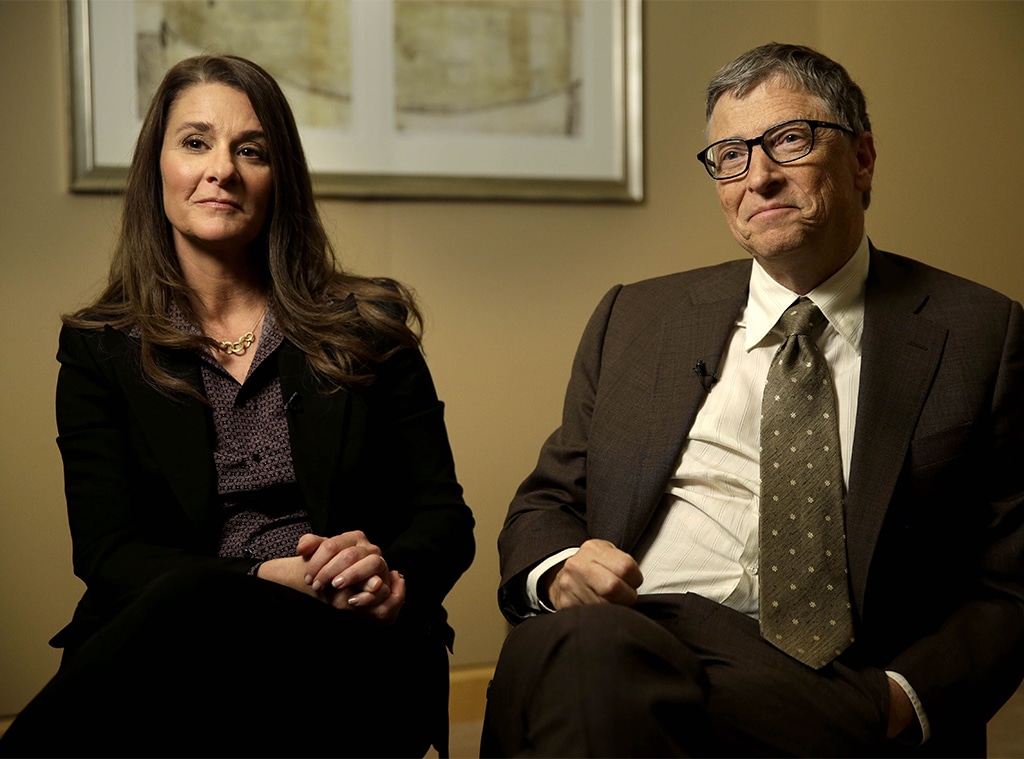 Seth Wenig/AP/Shutterstock
There's no such thing as a billion-dollar divorce that slips under the radar—let alone a $124 billion divorce.
And the May 3 announcement that Bill and Melinda Gates were ending their marriage after 27 years came as a shock regardless, the Microsoft cofounder and his partner in global philanthropy innocuously chugging along all this time, their Seattle-area home base a 66,000-square-foot mega-mansion with its own beach on the shore of Lake Washington.
(Though there's no such thing as too much space at times, such as during a pandemic. "Working from home—that was a piece that I think we hadn't really individually prepared for quite as much," Melinda told The New York Times in October, the comment now dripping with hindsight.)
Among the immediate questions in the wake of the split news: What was to become of their eponymous foundation, which since 2000 has dispersed $53.8 billion to public health and development initiatives, including $20 billion of the couple's own Microsoft stock? And what about all their money in general, since one of the first behind-the-scenes details to come out about the parents of three was that they had no prenuptial agreement?
Then, of course, there were the personal questions: Why now? What made them arrive at the belief, as they said in their official statement, that they could no longer "grow together as a couple in the next phase of our lives"? What led to their marriage becoming, as Melinda's divorce petition stated, "irretrievably broken"?
Well, as Amazon founder Jeff Bezos—who these days trades richest-person-in-the-world status, a title Bill first assumed in 1995 at the age of 39, back and forth with thrice-divorced Elon Musk—proved when he and wife McKenzie Scott filed for divorce in 2019... 
It's usually something.
Bill Gates—who started Microsoft with Paul Allen in 1975, when the idea of personal computers in every home was still science fiction—met Melinda French on the job in 1987, about four months after she joined Microsoft, the only woman in the company's 10-person MBA recruitment class that year.
The high school valedictorian and Duke University grad, whose father brought home an Apple II when she was 14, sparking her interest in programming, sat in one of only two open seats at a trade fair dinner in New York and Bill arrived and took the other chair. Melinda later said of the CEO, "he was funnier than I expected him to be."
Some months went by before Bill first asked her out, taking the opportunity when they bumped into each other (not literally) in the parking lot on a Saturday. "Everybody seemed to work on a Saturday at Microsoft," Melinda explained in the Jan. 20 episode of the What's Her Story With Sam & Amy podcast. But he suggested two weeks from Friday, and she informed him that wasn't spontaneous enough for her, that she had no idea what she'd be up to that far ahead.
He got her number (and the message) and called to see if she was available for a drink that night, after the myriad meetings on his schedule.
They bonded over brainteasers and puzzles, board games and music. His favorite book was The Great Gatsby—and she'd read it twice.
"How does Melinda make you feel?" she recalled someone asking Bill in her 2019 book The Moment of Lift: How Empowering Women Changes the World. "Amazingly, she makes me feel like getting married," he replied.
George Frey/The LIFE Images Collection/Getty Images
Melinda didn't share the identity of that particular confidante, but in 1997 Bill told TIME that he consulted his ex-girlfriend and fellow tech wiz Ann Winblad before popping the question. "When I was off on my own thinking about marrying Melinda, I called Ann and asked for her approval," he shared. Ann told the magazine, "I said she'd be a good match for him because she had intellectual stamina."
Bill and Melinda got engaged in 1993 and, having already talked about starting a foundation, married in Hawaii on Jan. 1, 1994. Willie Nelson performed at the nuptials.
Meanwhile, Bill made no secret of the fact that he and Ann, who had traveled to Brazil, central Africa and other far-flung locations together as a couple before breaking up in 1987, continued to enjoy their tradition of annual getaways—a long weekend every spring at her beach cottage in North Carolina—with Melinda's understanding. 
"We can play putt-putt while discussing biotechnology," Bill told TIME. (A source told the New York Post recently that Ann is married to detective Alex Kline, brother of actor Kevin Kline.)
So, that wasn't very normal, but what is when your husband is busily running one of the most successful and universally well-known companies of all time? Even their massive house, which Bill had started building when he was a bachelor, made Melinda a little uneasy at first, mainly because it was a life decision that he had spearheaded without her.
"I didn't particularly want to move into that house," she admitted. "In fact, I didn't feel like Bill and I were on the same page of what we wanted, and we had little time to discuss it. So in the middle of all that, I think I had a crisis of self. Who do I want to be in this marriage. And it pushed me to figure out who I was and what I wanted to do."
Melinda recalled in the book how "shocked" Bill was when she told him during her first pregnancy that, after nine years of rising through the ranks at Microsoft, she wanted to be a stay-at-home mom (not least because he obviously wasn't going to be slowing down anytime soon). She was well aware they were extremely lucky to not need her income (to put it mildly), so she seized the opportunity, knowing how much it had meant to her having her mom around when she was growing up.
Jeff Christensen/Newsmakers
Daughter Jennifer was born in April 1996, followed by son Rory in May 1999 and daughter Phoebe in September 2002.
Melinda said on What's Her Story that she and Bill also discussed their views on family right away. "We absolutely discussed number of children," she said. "It was imperative to me that whoever was going to be my partner in life wanted to have children and would be committed to it."
Still, she wasn't entirely sure just how involved of a dad Bill would end up being. And neither was he. 
"I used to think I wouldn't be all that interested in the baby until she was two or so and could talk," Bill told TIME when Jennifer was about 7 months old. "But I'm totally into it now. She's just started to say 'ba-ba' and have a personality."
Still, despite the resources at her disposal, it was important to Melinda that the household tasks she and her husband tackled themselves be split as equitably as was feasible between them. In her book, Melinda admitted to being pleasantly surprised when Bill offered to take on some of the driving when Jennifer started kindergarten at a school that was both great and at least 30 minutes away from their house. 
"It'll give me time to talk with Jen," he told his wife. So he made the drive twice a week, to the school and then back past the house toward Microsoft, which was in the opposite direction.
"About three weeks in," Melinda wrote, "on my days, I started noticing a lot of dads dropping kids off in the classroom. So I went up to one of the moms and said, 'Hey, what's up? There are a lot of dads here.' She said, 'When we saw Bill driving, we went home and said to our husbands, 'Bill Gates is driving his child to school; you can, too.'"
Right up until the end of their marriage, who-does-what-and-when remained a hot topic in the Gates house.
Asked what was the last thing she and Bill argued about, Melinda told podcast hosts Samantha Ettus and Amy Nelson, "Oh, gosh...probably time. Who is going to spend time on what? That seems to be our commodity that we don't have enough of."
Jon Hrusa/EPA/Shutterstock
The school commute story became a go-to anecdote, but even that was a rare peek behind the curtain for Melinda, who for the duration of her personal and professional partnership with Bill has preferred to keep the spotlight on their foundation's accomplishments.
Other than a bombshell revelation in the March 2009 issue of Vogue that, while the first family of Windows didn't buy their kids iPhones or iPods, sometimes she looked at her friends and said, "Ooh, I wouldn't mind having that iPhone," Melinda has purposely stayed a very private person—keeping the focus on life experience and not her life when she's on the speaking circuit, writing articles or sitting down for interviews.
But there was only so much she could do when the divorce filing went public. It turned out that dividing up the money—the pair had a separation contract they asked the court to abide by while apportioning their assets—was going to be the least explosive part of the process.
Though she still refers to Bill as her "husband and life partner" in the acknowledgments of her 2019 book, which was released that April, according to a May 9 report in the Wall Street Journal she started meeting with divorce lawyers not all that long afterward—and that she and Bill were working out the terms of the split throughout the pandemic.
Multiple sources told the publication that Melinda's concerns included her husband's past association with convicted sex offender Jeffrey Epstein. The disgraced billionaire took his own life in jail in August 2019 while awaiting trial on sex-trafficking charges, prompting renewed scrutiny of all the high-profile figures who had business or charitable dealings with him over the years. 
Thierry Chesnot/Getty Images
Unspecified documents reviewed by the WSJ noted that Melinda consulted her advisers after the New York Times reported in October 2019 that Bill had met with Epstein a number of times, including on several occasions at his Manhattan townhouse. A former employee of the Bill & Melinda Gates Foundation also told the WSJ that Melinda's concerns about the matter dated as far back as 2013. (Epstein was then a free man but had pleaded guilty in 2008 to solicitation and procuring a minor for prostitution.) 
Contacted for comment, Bill Gates' spokeswoman emphasized that any reporting suggesting that he had a personal or professional relationship with Epstein was untrue; she also directed E! News to a prior statement from 2019, which read in part: "Although Epstein pursued Gates aggressively, Gates had absolutely no business partnership or personal friendship with Epstein. Gates never socialized with Epstein or attended parties with him. It's become clear that Epstein misrepresented the nature of his meetings with Gates while also working to insert himself behind-the-scenes without Gates's knowledge. Over time, Gates and his team realized Epstein's capabilities and ideas were not legitimate and all contact with Epstein was discontinued. Bill Gates regrets ever meeting with Epstein and recognizes it was an error in judgement to do so."
Jeff Christensen/Getty Images
Melinda's camp hasn't commented on what her reasons may have been for wanting a divorce.
People quoted a source in a May 12 report saying that Bill simply "could have treated Melinda better"—a much more relatable post-split analysis.
"He's not a saint, but there isn't one thing that created the final split. It goes deeper than that," the source said. "It's many years of differing views of the world, the foundation, and of life in general, and those things piling up. They are older and each personally looked at life and asked, 'Is there more out there than what I have?'"
And despite the nonchalance Bill evinced when speaking of his enduring friendship with Ann Winblad decades ago, the insider said that bond took its toll on his relationship with Melinda.
"He is close to her," the source said. "Romance or not, when one spouse loves the company of another person outside of the marriage and perpetuates that friendship over many years, it can help destroy trust."
Melinda had intimated that she wanted to recapture her own voice after—as she wrote in The Moment of Lift—losing track of it while working alongside her husband for so many years.
Remembering the first time she asked to co-write the foundation's annual end-of-year dispatch recapping the months just past and plans for the days ahead, a missive Bill usually took care of, "I thought we were going to kill each other," she wrote. "I felt, 'Well, this just might end the marriage right here."
Melinda continued, "I told him that there are some issues where my voice can make an impact, and in those cases, I should be speaking—separately or along with him. It got hot. We both got angry. It was a big test for us—not about how you come to agreement but about what you do when you can't agree. And we took a long time to agree. Until then, we simmered."
Pierre Villard/Sipa/Shutterstock
And still, his signature was on the January 2013 newsletter, though it was sent out along with a supplementary article by Melinda.
At the same time, Bill was historically content to chart his own course as he saw fit. He stepped down as CEO of Microsoft in 2000, becoming chief software architect and staying on as chairman of the board of directors. In 2008 he moved into a part-time role, wanting to focus most of his energies on the foundation. He remained chairman of the board until 2014.
He left the board entirely in March of 2020—a planned exit, his rep said, but the Wall Street Journal reported May 16 that at the time of his departure the board was also in the middle of an investigation into a past relationship Bill had with a Microsoft employee.
Ted S Warren/AP/Shutterstock
"Microsoft received a concern in the latter half of 2019 that Bill Gates sought to initiate an intimate relationship with a company employee in the year 2000," a Microsoft spokesperson said in a statement to E! News. "A committee of the Board reviewed the concern, aided by an outside law firm, to conduct a thorough investigation. Throughout the investigation, Microsoft provided extensive support to the employee who raised the concern."
People familiar with the matter told the WSJ that the Microsoft cofounder resigned from the board before the investigation was complete. 
Bill's spokeswoman told the publication, "There was an affair almost 20 years ago which ended amicably." Moreover, his "decision to transition off the board was in no way related to this matter. In fact, he had expressed an interest in spending more time on his philanthropy starting several years earlier."
Also on May 16, the New York Times reported that people with direct knowledge of such behavior said Bill was known to make advances toward women who worked for him, that he did it at both Microsoft (including the 2000 matter reported to the board) and the foundation. Some employees told the paper they didn't approve of his behavior, but they also wouldn't consider it predatory.
His spokeswoman said that any "claim of mistreatment of employees is also false. The rumors and speculation surrounding Gates's divorce are becoming increasingly absurd, and it's unfortunate that people who have little to no knowledge of the situation are being characterized as 'sources.'"
At the same time the Microsoft board was investigating the accusation against Bill in 2019, Melinda was embarking on a fresh campaign to devote time and resources to the uplift of women and girls around the world, which remains in her determination the way to achieve a truly equitable society.
"I knew I would always want to go back to work again because I loved working and I loved what I could learn being around curious people," she said on What's Her Story, referring to the break she took to stay home with her growing family. "...For my daughters I hope they choose whatever feels right to them and their spouse, same with my son, if and when they choose to have children—and are able to figure out, how do you blend career and family life?"
Asked if she felt she had reached her personal potential, Melinda laughed and said, "I hope I have not! I hope until the day I die I have not reached my full potential. I think in life we have so much to learn."
In an October 2019 essay for TIME announcing her $1 billion commitment over 10 years to this cause, she basically said there was no time like the present to change the balance of power in the world to reflect its actual makeup of men and women.
"A window of opportunity has opened," Melinda wrote. "Or, more accurately, it was painstakingly pried open by the hundreds of thousands of people who have joined marches across the country, the millions of women who summoned the courage to tell their #MeToo stories, the record number of women who ran for office in 2018 and won—and by the women who are working multiple jobs, caring for multiple loved ones, and proving you don't have to protest or enter politics to challenge a system stacked against you. It wasn't just grand gestures that got us here. It was daily acts of courage, too.
"Even so, there is no reason to believe this moment will last forever—or that this window will stay open as long as we need it to. If we're going to act, we have to act now."