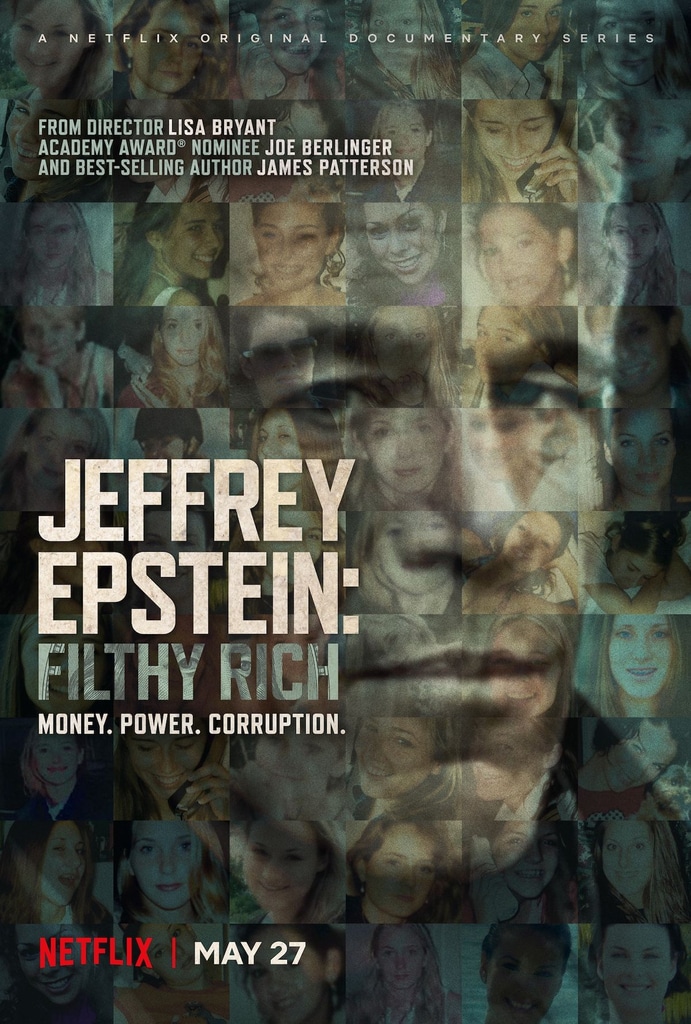 NETFLIX
When Jeffrey Epstein died last summer in jail, he left countless unanswered questions in his wake, as well as numerous alleged victims who didn't get the justice they hoped was finally imminent.
The disgraced money manager awaiting trial on federal sex-trafficking charges—a decade after serving a brief, privilege-punctuated prison term for soliciting prostitution and procuring a minor for prostitution—when he was found dead in his cell at the Metropolitan Correctional Center Jail. Authorities determined his death to be a suicide by hanging, a frustrating if not shocking (he had previously been on suicide watch, though not on that night) turn of events that didn't sit well with the city of New York, the federal Justice Department or anyone who may have been hoping Epstein was on the verge of dragging some of his rich and powerful friends down with him.
But his demise was hardly the final word in this sordid saga that began almost 20 years ago. Rather, it was just a new chapter, as it became alarmingly clear just how far the tentacles of Epstein's money reached, his wealth and philanthropy having gained him access to some very elite circles—political, royal, academic and beyond.
Circles full of people who have insisted they didn't know what kind of a man Epstein—whose plane they flew on and whose house(s) they partied at and whom some of them entrusted to manage millions of dollars of their money—really was.
Netflix's upcoming four-part series Jeffrey Epstein: Filthy Rich, directed by Lisa Bryant and executive produced by Joe Berlinger and James Patterson, sets out to untangle the incredibly complicated tale that comprises Epstein's crimes and alleged crimes, his brush with punishment back in the '00s, and the events leading up to his death on Aug. 10, 2019.
For starters, the show is useful for anyone looking for a comprehensive retelling of what happened, starting with commentary from Vicky Ward, the journalist tasked in 2003 with writing a profile of Epstein for Vanity Fair that she soon realized was shaping up to be more than a society story, only to be thwarted by her own editor-in-chief (who denies thwarting her) when it comes time to accuse Epstein in print of sexual abuse. It then quickly delves into the lives of the women (identified in the show as survivors) who say they were molested as teenagers by the enigmatic businessman and his cronies—on his private island, at his mansion in Palm Beach, at his townhouse in New York.
Aside from a couple of former colleagues who don't doubt the charges and who wish they hadn't helped him succeed when they did (including Steven Hoffenberg, who spent 18 years in prison for running a Ponzi scheme that he later insisted was masterminded by Epstein), and commentary from Alan Dershowitz, the only Epstein lawyer on camera here, the series is mainly told from the point of view of the women and those who investigated Epstein and wanted him locked up from the beginning, years before the law caught up with him.
As such stories tend to do, Filthy Rich unfolds as a frustrating tale of the flex of money, influence and power that allowed Epstein to do what he pleased with near impunity for so long. And while this barely scratches the surface, here are some of the most jaw-dropping moments to watch for:
Filthy Rich: The Shocking True Story of Jeffrey Epstein by James Patterson & John Connolly
The Netflix docu-series is based on bestselling author James Patterson's definitive book about the billionaire pedophile. (E! has affiliate relationships, so we may get a small share of the revenue from your purchases. Items are sold by the retailer, not E!.)
The Girls
All episodes include a note at the beginning warning of graphic descriptions of sexual abuse and rape, as these now-women describe how Epstein, with the assistance of his partner Ghislaine Maxwell  (an Oxford-educated socialite who has repeatedly denied any criminal wrongdoing), preyed on them years ago. Some were offered financial or career assistance and hosted in lavish accommodations, which in turn led to the girls not wanting to seem "ungrateful" when he later made sexual advances. Others say they were ostensibly brought to Epstein to give him massages, which would usually turn into more. If they refused, he didn't seem to get mad, but rather told them to bring other friends to him and they'd still get paid.
Into the Void
Maria Farmer first met Epstein and Maxwell at a student art show when she was graduating from the New York Academy of Art in 1995 and she was informed, despite having other buyers interested, that they would be buying her paintings.
Months later, she went to New York police to report Epstein for sexually abusing both her (in New Albany, Ohio, where he had arranged an artist in residency position for her) and her younger sister Annie, who was still in high school when Epstein offered to finance a trip for her to Southeast Asia, to broaden her resume before college. But first, Annie says, she was invited to spend time before her trip at Epstein's sprawling ranch in New Mexico, where the assault allegedly took place. Saying it was out of their jurisdiction, the New York cops told Maria to report him to the FBI—which she did. She felt as though they believed her, but no one ever followed up, she says.
House of Horror
Young voice after young voice is heard in audio recordings of interviews conducted by Palm Beach Police Det. Joe Recarey (who died in 2018), the lead officer on the case, in 2005, when the local investigation into goings-on at Epstein's mansion began after a woman called to report that her stepdaughter had received $300 from a man for giving him a massage—and the man had told her stepdaughter that she was very pretty and he would like to keep her around to do other things.
Shawna Rivera, who was 14 and already traumatized by issues with her own family when she first met Epstein; Michelle Licata, whose childhood photos showed a teenager with braces and photos of Eminem plastered on her wall; and Haley Robson, who was spiraling after being raped the previous summer when a friend told her she could make some money if she went with her to this guy's house to give him a massage, are among those telling their stories here, in stomach-churning detail.
"It's Like a Train"
Robson recalls refusing Epstein's initial advances, after which he told her that if she brought her friends over, he'd give her $200. She said she probably recruited 24 underage girls, her friends and classmates, to come to Epstein's house. 
A Bold Contrast
The luxurious settings that Epstein operated in, represented here by scene-setting footage of ocean views, glittering swimming pools and eight-figure real estate, the ominous thwack of a croquet mallet or the back of a gardener trimming tall privacy hedges representing the ways of the idle rich, look all the more ostentatious against the shots of the lower-to-middle-class neighborhoods where his victims—many from broken homes, some victims of previous abuse, some abusing drugs and alcohol or the children of addicts, all underage—came from.
"We'll Put Him Away for the Rest of His Life"
So Florida State Attorney Barry Krischer (who turned down interview requests for Filthy Rich) told Palm Beach Police Chief Michael Reiter when they brought him the Epstein case, Reiter remembers. They had only a handful of girls who were willing to testify, but they had the names of upward of 40 girls allegedly molested by Epstein.
The Gumshoe on the Other Foot
Once Epstein had assembled his all-star defense team, which Dershowitz consulted on putting together, Reiter says that private investigators from the defense started surveilling him and Det. Recarey, even going through their trash outside the police station, and lawyers say the girls were exposed to routine intimidation.
Dershowitz, who has denied engaging in any inappropriate or illegal conduct with anyone he ever encountered at Epstein's homes, explains that trying to poke holes in an accuser's story is standard practice, and that's all that was going on.
A Shocking Letdown:
The State Attorney's Office ended up charging Epstein with one felony count of solicitation of prostitution in 2006. Reiter sent a letter to the parents of all the victims informing them that, frustrated by what he felt was a wrist slap, he was going to bring the case to the FBI. The Feds did take over in July 2006 and went back to re-interview Annie and Marie Farmer as well.
"A Molestation Pyramid Scheme"
If the one-girl-recruits-two-friends-and-they-recruit-two-friends-and-so-on pattern sounds familiar, attorney Brad Edwards, who represents Courtney Wild—who was introduced to Epstein when she was 14 and basically homeless because of her mom's drug use—thought the same.
"We had to prove that this pyramid of underage girls in Palm Beach was true," Edwards, who met Wild after the FBI started investigating, explains. "It didn't start from just a random underage girl walking into the house." He goes on to explain the names on his literal flow chart that his team assembled in about 30 days, realizing it could end up being five times as big as the poster board it was on.
Rick Friedman/Corbis via Getty Images
The Blindside
By 2008, Reiter says, the open flow of communication between his department and federal investigators has slowed to a trickle, and that June, the accusers, their lawyers and Palm Beach police are shocked when Epstein shows up in court with his lawyers to plead guilty to one count of soliciting prostitution and one count of procuring a minor for prostitution. He was sentenced to 18 months in prison and any potential alleged co-conspirators were granted immunity from prosecution.
Epstein would only serve 13 months, during which he was allowed to go to his office for work, and then he was expected to serve out the rest of his sentence on house arrest. A private investigator who assisted the accusers' attorneys remembers a probation officer telling him, "'What would you like us to do? He's a celebrity,'" when he approached him with evidence that Epstein was violating the terms on a near daily basis.
Dershowitz insists there was no evidence of a conspiracy between Epstein and federal lawmakers, and that in fact Epstein thought he got a raw deal.
The Island
Stunning but isolated and now chilling even in sun-soaked footage, the St. Thomas island of Little Saint James—or "Little Saint Jeff's," as Epstein referred to it—came to be dubbed, tabloid-style, "Pedophile Island."
"It really is 'Orgy Island,' because that's what happened there," says Virginia Roberts Giuffre, who has alleged Epstein handed her over to friends of his (including Prince Andrew, which the royal has denied) to have sex, starting when she was 17. She maintains that she was recruited by Maxwell, who introduced herself when Giuffre (then Roberts) was working as a locker room attendant at future President Donald's Trump's Mar-a-Lago resort in Palm Beach, where Epstein was a regular guest, in 2000.
Steve Scully, a former Epstein employee, says he once saw a male guest of Epstein's on the island completely naked and surrounded by three topless girls, and he "left immediately." He recalls seeing "important people" on the island, including Dershowitz in a "business meeting" setting and former President Bill Clinton sitting with Epstein in the living room porch area, at a time when there were no other guests around at all. (Clinton denies ever having visited the island.)
"Not all of the men took park," Giuffre says. "I have seen people on the island that came for a lunch or a dinner and they didn't stay very long."
Scully says he saw Prince Andrew at the pool in around 2004 with an "at the time unknown girl to me," who was topless and they seemed to be engaging in "foreplay." Andrew has denied knowing Giuffre, or even meeting her (despite there being a photo of them in which his arm is around her waist), and he has denied ever having sexual contact with underage girls.
"You tell yourself that you didn't know for sure and you never really saw anything," Scully says, "but that's all just rationalization. Jeffrey Epstein, he was a guy who concealed his deviance very well—but he didn't conceal it that well."
Jeffrey Epstein: Filthy Rich premieres on Netflix on May 27