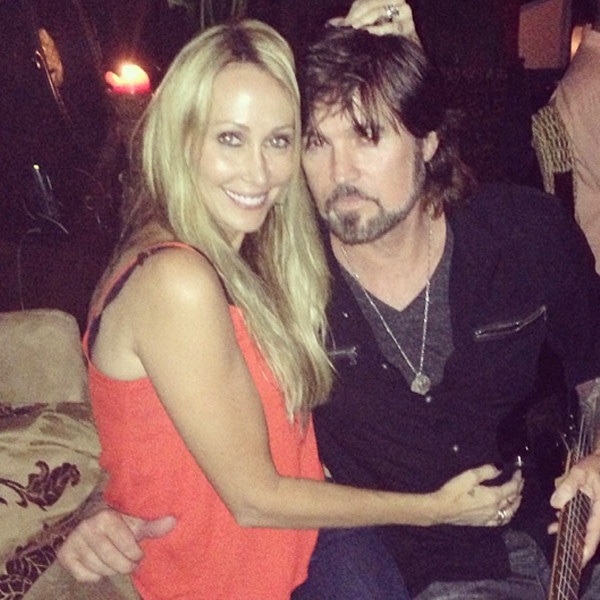 Webstagram
Billy Ray and Tish Cyrus are back on!
Longtime friend of the family E!'s Ken Baker caught up with Tish on the status of her marriage to the singer, who filed for divorce in June, and it seems like the duo have found a way to make it work.
"I spoke to Tish and she told me they both woke up and realized they love each other and decided they want to stay together," Baker said. "They recently went into couples therapy, something they hadn't done in 22 years of being together, and it's brought them closer together and really opened up their communication in amazing ways."
Baker added, "She also said marriage can be really hard, especially after 22 years of being in the entertainment business, and admitted they've had rough times. But they both realized they didn't want to be another statistic and want to make it work.
"They went into the therapy with the goal of divorcing in a way that was healthy for the children, but ended up coming out of it with the realization that they in fact want to stay together. Tish sounds happy and energized about having this fresh start."
Their rekindled romance has been evident.
Tish posted a sweet photo of her and Billy Ray on Instagram last night with the caption, "Date Night."
Last week, Miley's parents were spotted holding hands during a romantic stroll along the Malibu Beach Pier. "They were laughing all night," a source said. "You would never have known they were going through a divorce."
The "Achy Breaky Heart" singer filed for divorce from his wife after more than 19 years of marriage, a source confirmed to E! News in June.
"This is a personal matter and we are doing what is in the best interest of our family," Cyrus said in a statement. "We ask that you respect our privacy at this time."
The move came two-and-a-half years after the Billy Ray first filed for divorce. Cyrus withdrew his petition in March 2011 after an apparent reconciliation.