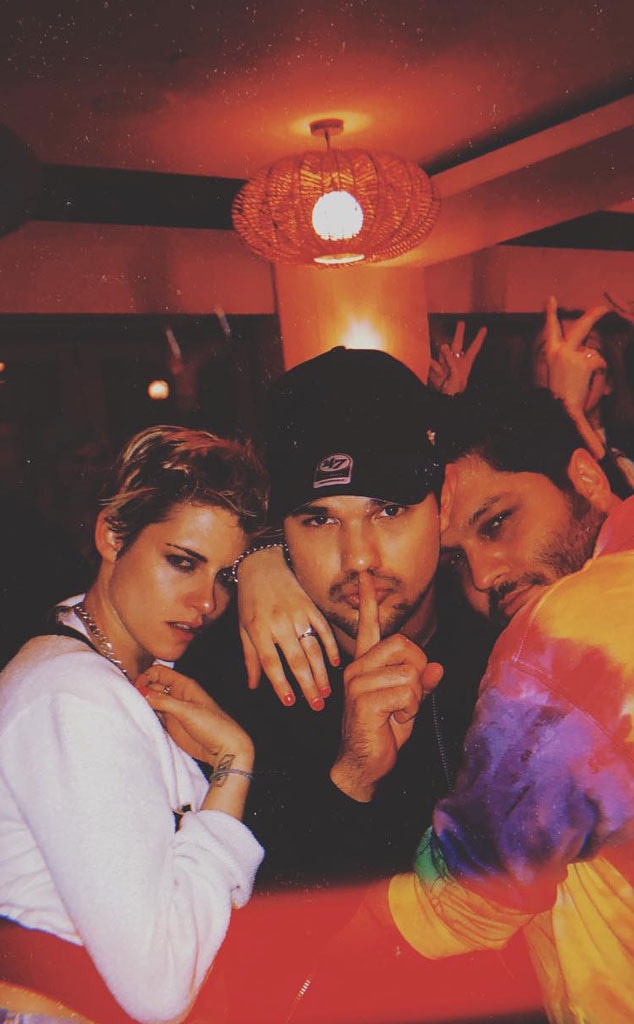 Instagram
There's nothing quite like a good ole reunion to ring in your birthday.
Taylor Lautner and Kristen Stewart made all Twilight fans' hearts beat a little bit faster on Monday night when they hung out on his big day. Lautner turned 27 and celebrity hairstylist CJ Romero posted a photo on Instagram of himself with the former co-stars in a funny embrace. The former Scream Queens actor held his finger to his lips in a "Shh" pose while Stewart rested her arm on his shoulder. Romero wrapped his arm around the birthday boy in a hug.
"Damn K looks sexy. T is a pretty little liar. And I look like I'm ready for bed," Romero captioned it.
Although Stewart's Bella Swan ended up with sparkly vampire Edward Cullen (unforgettably played by Robert Pattinson) in the books and movies, it's clear that she was Team Jacob last night.
The birthday boy posted more pictures from the night, which he dubbed "the best birthday EVER," on his own Instagram page. 
It appears that Lautner's girlfriend, Tay, threw him a small get-together surprise party. Patrick Schwarzenegger was there, too. Schwarzenegger posted a video of Lautner blowing out candles on his Milk Bar birthday cake. "Half way to 54," he captioned it.
The Cafe Society actress and Lautner's reunion comes just a few months after the hit franchise celebrated the 10-year anniversary of the first film's release in theaters. The five Twilight films grossed over $3 billion worldwide over the span of about four years.
The newly minted 27-year-old posted a hilarious throwback and tribute on the Twilightiversary on Nov. 21. Lautner shared a meme on Instagram that provided a side-by-side image of Kendall Jenner and himself. Over the picture of the 23-year-old model, it said "Expectation of hair behind ears" and then "Reality" over the photo of himself from the movie when he had shoulder-length hair.
"It's been 10 years exactly since twilight was released in theaters. I thought I should take this moment to thank every single fan who has supported the franchise over the last decade but also to thank Kendall Jenner for being my hair inspo back in 07," he captioned it.
In June, Stewart and her ex/former co-star Pattinson reunited in Los Angeles at Lily-Rose Depp's birthday party at the Chateau Marmont. The two of them broke up in 2013 after a cheating scandal. Pattinson is now dating Suki Waterhouse and Stewart has formerly been linked to Stella Maxwell and St. Vincent.
In case your day needs a bit of a nostalgia kick, take a look at the gallery below to see what the Twilight stars are up to today.