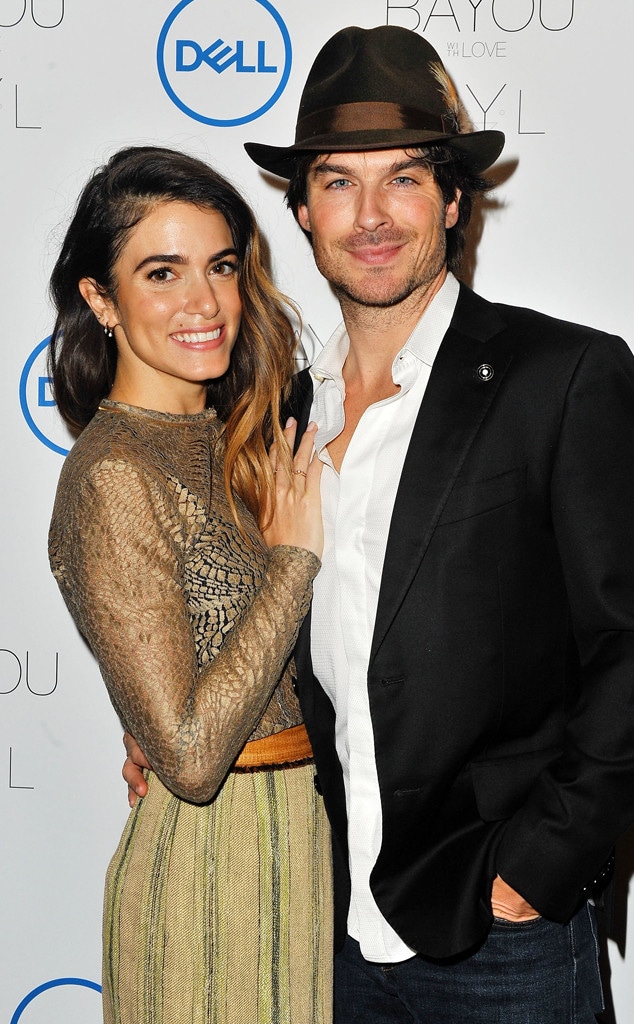 Jerod Harris/Getty Images for Dell
Nikki Reed and Ian Somerhalder's baby girl Bodhi Soleil Reed Somerhalder is celebrating her first birthday today!
The Twilight actress and the Vampire Diaries actor welcomed their first child into the world last July. The birth of baby Bodhi followed just two months after the couple first announced their pregnancy. The couple seemingly kept the pregnancy a secret for as long as possible, but confirmed their news in an adorable post on Instagram in May. The photo showed Ian kissing Nikki's growing baby bump.
The couple has remained very protective of their baby girl since her birth, only sharing a photo toes in the last 12 months. In celebration of Bodhi's birthday, let's look back at Nikki and Ian's first year of parenthood.
A month after welcoming their daughter, Ian wrote a sweet message to Nikki on social media about her Fit Pregnancy and Baby magazine cover.
"Just a quick note to you my beautiful wife. You are briefly napping on the other side of the room after being an amazing mom all night so you'll read this when you wake... seeing these images reminds me of those amazing 9 months that you sacrificed your whole being to grow our little one," Ian wrote on Instagram. "The kindness, the beauty and organic nature of these photos makes me so very proud. You brought such fun and such power into our lives being pregnant but you literally brought the word sexy into pregnancy, we all see it. Thank you for being my partner in this life and thank you for inspiring not just me but all others who read, hear or see what your soul gives us."
A few months after Bodhi's birth, the couple steadily began getting back to work and making appearances. In Oct. 2017, Nikki attended Variety's Power of Women luncheon with her "hot date," her breast pump.
"On my way to present at @variety 's #powerofwomen luncheon and this is my hot date. Kidding. I have another hot date. But this thing is definitely our third wheel," she captioned a picture of her and the third wheel.
That same month, Nikki shared with her followers that she wasn't ready to say goodbye to her placenta pills.
"Last day of placenta pills," she wrote to her Instagram followers. "Not ready to say goodbye!!!!! Ps sending love to all you mamas out there doing whatever feels right for you! This was recommended to me by my doula but that does not mean it's for everyone :). Just do you!"
In February, Nikki shared the first photo of the couple's daughter, but only her feet. She captioned the sweet snap, "Happiness is a book and these toes on a Saturday afternoon..."
In celebration of Father's Day in June, Ian shared how much being a dad means to him.
"Being a dad- it's the best role I've ever gotten to play," he wrote on Instagram. "The only one I've ever been good at... Happy late(ish) Father's Day dads. I hope we can all remember that society is a direct reflection of our parenting. So, whatever we can do to step it up and really double down by investing in our kids, teaching them and being present with them; our world will be truly better. I know it's hard out there but we can do this-I'm proud to one of you now..."
Just days ago, Nikki took to Instagram to share a photo from her pregnancy along with a message about how she prepared for Bodhi's birth a year ago.
"One year ago today. Packing bags in preparation for her arrival," she began her post. "What soap do I use to wash all her clothes? How do I know what to bring? Will I be able to have a home birth? That's the plan but can you really plan? Holy s--t this baby has to fit through... there? But what if I don't know how to do this? All of this...The presence of anxiety surrounding labor and birth now meeting me in dreams, during morning walks, while cooking dinner, and pregnancy meditation. Walk your baby down I was told. Just keep walking. What if I won't be able to breastfeed? What if I won't hear her in the night? What if I lose all of the intimacy we cherish in an already busy home? How will I navigate this journey, this transition, this expansion? The internal dialogue that found its way to me in the last two weeks of us sharing the same body, coupled with having to pee every 15 minutes, an achey lower back, still going to work everyday plus hospital related fears was at times all-consuming. Still I had no idea what was right around the corner. Most of what I anticipated didn't happen, and everything I didn't think of did. What a beautiful lesson right?"
"You can prep and plan and talk and cry, and somehow a surprise will still find its way in," she continued. "The woman in this photo who was nervous about being able to breastfeed now has an almost 1 year old who still isn't interested in eating solid food. Yes, you heard me, I am still almost exclusively nursing because that is what my child wants, and I'm along for the ride. I was told I couldn't get mastitis 5 days after delivering but of course, that 103 fever hit me like nothing I could have ever imagined. I desperately clung to my dream of having a home birth, and at the last second ended up in a hospital room with my amazing doula/midwife and a doctor I met with as a backup only 12 hours before, yet somehow made it though completely unmedicated. To all the mamas out there I am so inspired by what each and every one of you went through to bring your little one into the world. May we continue to speak openly, asking questions and sharing experiences. And may we continue supporting each other with a gentleness rooted in strength and wisdom."