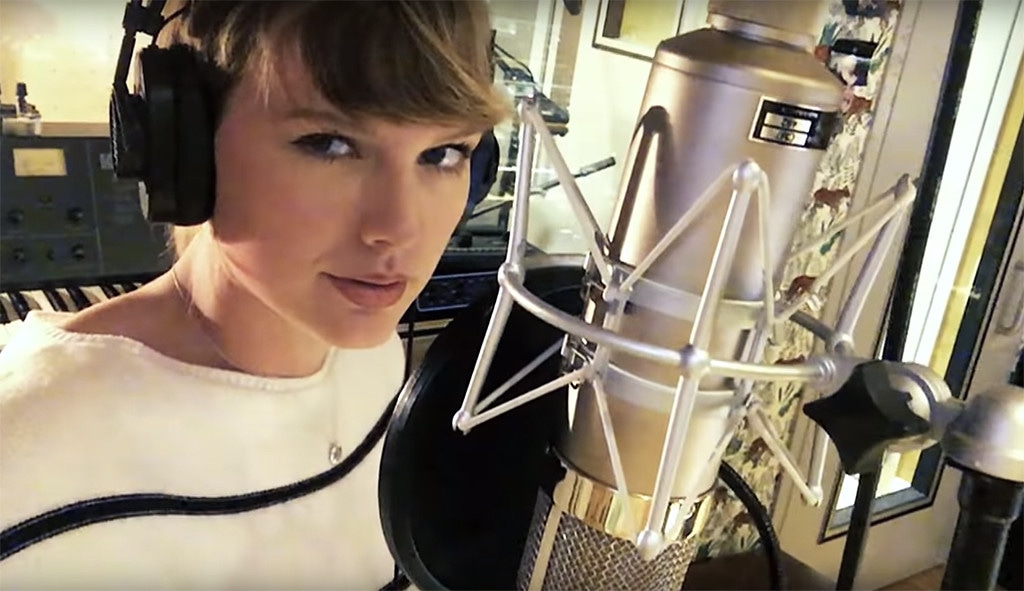 AT&T
Perhaps she took a page from Ed Sheeran's playbook.
After all, Taylor Swift's pal had laid out the blueprint. Despite having garnered six Grammy nominations and acclaim for his first two discs, the British pop star behind many a wedding dance felt his career was stalling. "I just felt like everything I did, I got a very lukewarm reaction," he explained to Australian show The Project last February. "I was like, here's a new song. And people were like, 'Ah, great.'"
So in late 2015, he ducked off the radar, spending months tooling up the coast of Australia. By the time he released his third album, Divide, in March 2017, it became the fastest-selling album by a male artist in the United Kingdom and all 12 tracks reached the top 20 on the nation's singles chart. Ten months later, he collected a Grammy for Best Pop Vocal Album. Explained Sheeran, "You disappear for a year and then people are kind of hungry for it again."
And hopefully a little less primed to attack. Because Swift's own yearlong hiatus wasn't the result of simple oversaturation. The back half of 2016 hadn't been kind to the 28-year-old. Her whirlwind fling with Tom Hiddleston flamed out just as Kim Kardashian was coming for her and bringing receipts. Annoyed that Swift had publicly shaded her husband Kanye West for his single "Famous", in which he rapped he might have sex with Swift while also crediting her astronomical success to his stage-storming award show snafu, Kardashian released a taped phone conversation she said proved Swift was in on the whole thing.
The star argued her main objection was his language, writing on social media, "Where in that video is Kanye telling me he was going to call me 'that bitch' in his song? It doesn't exist because it never happened." (Her rep added in a statement, "Taylor was never made aware of the actual lyric.") But the damage was already done. For detractors this was all the proof they needed to label her a manipulator and to declare her nice girl persona—complete with random acts of charity—a carefully orchestrated act.
As the haters lobbed insults, the 10-time Grammy winner responded by going underground. Relying on private jets and bodyguards, the pop star once as famous for striding out of her gym perfectly coiffed and camera-ready as she was for strutting across the stages of sold-out arenas was able to dodge photographers. And save for one pre-Super Bowl performance, she didn't take the stage in 2017 until she promoted her latest disc, Reputation, on Saturday Night Live Nov. 11.
John Shearer/Getty Images for DIRECTV. Tim Mosenfelder/Getty Images.
In a magazine released with the album, Swift explained her hibernation to fans. Titling her poem "Why She Disappeared", she wrote, "When she looked around, her skin was spattered with ink forming the words of a thousand voices, echoes she heard even in her sleep: 'Whatever you say, it is not right.' 'Whatever you do, it is not enough.' 'Your kindness is fake.' 'Your pain is manipulative.'" But her verse ended on a positive note, conveying the basic idea that whatever doesn't kill you makes you stronger.
Because the Swift that will take the stage tonight inside Glendale, Arizona's sold out University of Phoenix Stadium isn't the same star who took a bow in Melbourne on the 1989 World Tour's final night 29 months ago. This one's smarter. This one's harder. As Swift famously declared in "Look What You Made Me Do", her first single in three years, "The old Taylor can't come to the phone right now."
Stephen Lovekin/Getty Images
That starry-eyed Pennsylvania native splashed on the country scene in 2006 with drive—"I knocked on doors up and down Music Row. I would say, 'Hi, I'm Taylor. I'm 11; I want a record deal. Call me,'" she told Entertainment Weekly in 2008—and an album full of lyrics lamenting lost love. She dedicated her self-titled debut, "to all the boys who thought they would be cool and break my heart."
She was, as pal Selena Gomez recently described her, "the girl with the big curly hair and all the bracelets and the cowboy boots," the one with teardrops on her guitar, who declared to The Telegraph in 2011 that she doesn't drink because "I worry I might come off in a way that I can't control," and that she'd prefer people not think of her as sexy. "I like wearing pretty dresses and I like trying out new styles but I don't feel comfortable taking my clothes off," she explained. "I wouldn't wear tiny amounts of clothing in my real life so I don't think it's necessary to wear that stuff in photo-shoots."
Jim Smeal/BEI/REX/Shutterstock
As Swift collected 12 Country Music Association Awards, 19 American Music Awards 10 Grammys and countless other trophies, her sound gradually transitioned from the twang-y notes of country with lyrics about pickup trucks and Tim McGraw to what one Billboard writer called the "pop-country perfection" of her 2010 effort Speak Now. Finally, after her slickly produced pop hybrid Red, she broke up with her roots for good, declaring with 2014's 1989 that they were never, ever getting back together.
"With this album I've completely changed the sound of everything I've done until now. So it's interesting to not be afraid of that," she told British Vogue. "You know, I don't want to hurt people's feelings, I don't want to betray Nashville, whatever, but essentially it comes down to challenging yourself as an artist."
For Swift, making the record she wanted was a calculated risk. "I had so many intense conversations where my label really tried to step in," she told GQ. "I could tell they'd all gotten together and decided, 'We gotta talk some sense into her. She's had an established, astronomically successful career in country music. To shake that up would be the biggest mistake she ever makes."
But she knew it needed to be done. "I'd go into the label office, and they were like, 'Can we talk about putting a fiddle and a steel-guitar solo on 'Shake It Off' to service country radio?'" she recalled to the mag. "I was trying to make the most honest record I could possibly make, and they were kind of asking me to be a little disingenuous about it: 'Let's capitalize on both markets.' No, let's not. Let's choose a lane."
Larry Busacca/LP5/Getty Images for TAS
Now she's swerving onto a whole new road. With Reputation, Swift has gone full-on bad girl. (Or, as bad girl, as someone like Swift can feasibly become. Rihanna she is not.) For the first time in song, the star so aligned with clean language, Buzzfeed once compiled a list of "Every Single Time Taylor Swift Has Ever Cursed", is using profanity. On "I Did Something Bad," believed to be about her relationship with Calvin Harris or her feud with West, depending on the source, she says "If a man talks s--t, then I owe him nothing."
The rest of her tracks aren't exactly PG-13 either. On "Dress" she intones, "Only bought this dress so you could take it off," while on "So It Goes" she purrs, "You know I'm not a bad girl, but I / Do bad things with you."
Sascha Steinbach/Getty Images for TAS
Still, while she may be singing about her—gasp!—sex life, she's definitely not talking about it. It's one thing to litter Reputation with supposed references to Joe Alwyn, her boyfriend of more than a year, and his "ocean blue eyes." It's quite another to divulge all the details about how she fell in love. The self-described hopeless romantic, who described her romance with Harris as "magical" to Vogue, hasn't uttered one word about her union with Alwyn.
Nor has she employed any of the other tactics she's used to debut partners in the past. She hasn't paraded him up Brooklyn's Fifth Avenue á la Jake Gyllenhaal, posed with him atop an inflatable swan for an Instagram snap (Harris) or looked on as he gamely wore an "I [heart] TS" tank (Hiddleston).
The new Taylor doesn't wear her heart on the sleeve of the plaid shirts she's taken to sporting in place of her formerly beloved feminine frocks. Having seen her breakups transformed into headline news, she made the choice to keep her romance with Alwyn "as private as possible," an insider tells E! News.
In the early days, she barely confided in friends, says another source. "She got buried in media being on top of her life during the last relationship, so she tried everything in her power to not have that happen again," says the source. "She worked closely with her security team and management to make sure her life going forward was private. All that madness really affected her."
Gachie / NPEx / Splash News
While paparazzi have always been able to capture clear shots of Swift with her former paramours, with London-based Alwyn she crafted an elaborate system to stay hidden. Using a private jet, she would fly into one of England's little-used airports and have a "fairly nondescript blacked-out car" transport her to Alwyn's pad, says a source. To avoid having to step foot in the terminal, she arranged to have her passport checked while she was still onboard her flight. "Unless you're part of her inner circle, you wouldn't know when she is or isn't here," reports the source, adding Swift "barely leaves a trace. She has the entire routine down pat."
Such cloak-and-dagger methods may feel extreme—and led to increasingly crazy conspiracy theories about the lengths Swift went to so she could remain concealed—but they've led to the pop star's most successful relationship to date. Her romance with the actor is "sacred to her," the insider tells E! News, "and she feels that keeping it to themselves has worked out for the best."
Particularly because Alwyn, a graduate of London's Royal Central School of Speech once dubbed the "next big thing" by The Hollywood Reporter, "doesn't like the attention or have any interest in being a celebrity," notes the insider. "It's been a great change of pace for Taylor, and she is very happy with him."
Just don't expect her to share the details with Ellen DeGeneres or Jimmy Fallon. With five multi-platinum albums to her name, Swift realized she had enough cache to roll out Reputation on her own terms. She simply didn't need to do a Vanity Fair tell-all to get devotees amped up about buying her disc.
Instead, she communicated directly with fans, hosting a few press-free listening parties, sharing YouTube clips of her songwriting process and, on one instance, going #Taylurking, popping up on followers' social media feeds to comment on their live videos or even slide into DMs.
As she ramped up to the first date of her 51-show Reputation tour, she remained largely absent from the newsstand (save for posing for British Vogue and sharing a piece of original poetry) but not the public consciousness. Whether she was helping a homeless fan buy a house, sending flowers to celebrate another's January nuptials or paying a visit to an 8-year-old burn victim too injured to attend her opening night performance, she made a point to let her devoted Swifties know that even if she wasn't out there she was still very much there for them.
Because while Swift's hair may be straightened, her cowboy boots stowed away and her wide-eyed innocence forever gone, at her core, she's the same girl with a pocket full of demo CDs and a 12-string guitar.
"My sound has changed, my style has changed, so many different elements of my life have changed, but the fact that I live my life, I get inspired by my life, I write songs to deal with my life and to cope with it," she told E! News in 2014. "It's the same thing as me sitting in class when I was 15 and writing a song about an issue I had or a crush or a disappointment. It's just now I'm not sitting in class now, I'm on a plane across the world, but I'm still writing about my life and I swore to my fans I wouldn't change that, and I'm not going to."
Nor does she plan to alter her original passion to make people smile. Back in 2007 she predicted in an interview with the Great American Country cable network that at 28 she would be a headliner.
"I would love to, you know, just be doing great touring and still be putting out successful albums and having the albums' material grow with me and never, ever alienate my fans ever," she said. "It's always going to be all about the fans and I hope that that never changes."