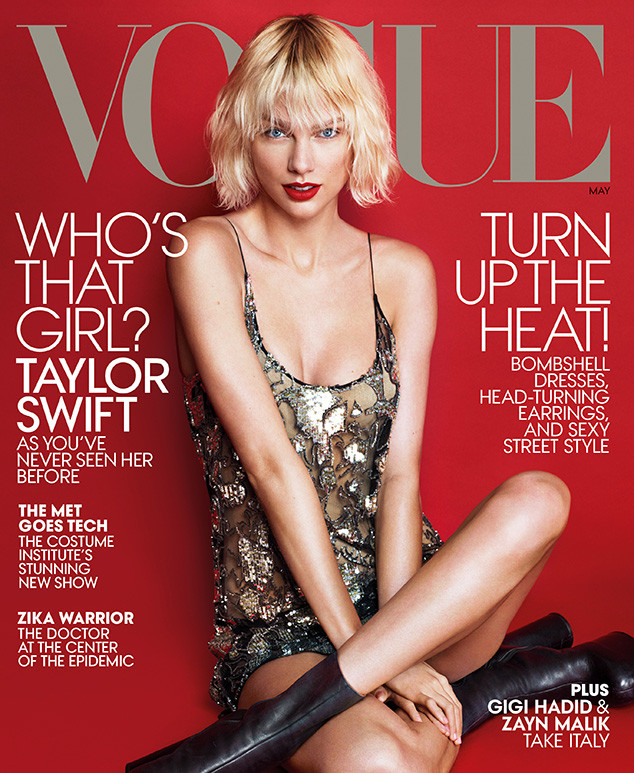 Mert Alas and Marcus Piggott/ VOGUE
Recognize Taylor Swift?
The "New Romantics" singer, 26, got a glamorous makeover for Vogue's May issue. The photo shoot was conceived as a tribute to Hedi Slimane, Saint Laurent Paris' former creative director.
Swift has upped her fashion game in recent years, and on May 2, she will take it to another level when she co-chairs the Metropolitan Museum of Art Costume Institute's 2016 gala, for the exhibition "Manus x Machina: Fashion in an Age of Technology." Reflecting on how her own style has evolved since bursting onto the country music scene in 2006, she explains, "I can look back at an old photo and tell you roughly what year it's from. Going through different phases is one of my favorite things about fashion. I love how it can mark the passage of time. It's similar to my songs in that way—it all helps identify where I was at in different points of my life."
"Theoretically," Swift said she's considered designing her own clothing line. "But I would want it to be something that was relatable and accessible and everyday. I don't see it being couture. I would want it to be reflective of my style. And a lot of things I wear are not highly expensive."