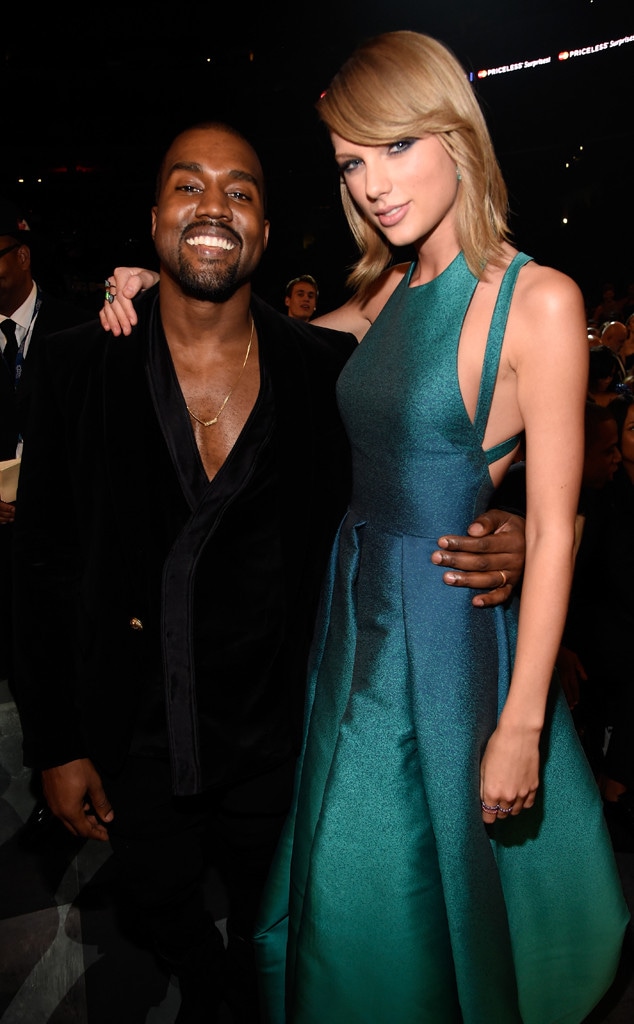 Kevin Mazur/WireImage
Kanye West didn't make Taylor Swift "Famous," despite what he may think.
The rapper name-checked Taylor when he premiered his entire The Life of Pablo album at the Yeezy Season 3 fashion show at Madison Square Garden in New York City Thursday. "I feel like me and Taylor might still have sex / Why? I made that bitch famous," the rapper, 38, bragged.
TMZ reported Thursday that Kanye called Taylor late last month to give her a heads up about the song. "She got the joke and gave him the thumbs up to release the song with the lyric," the site claimed. Not so, according to Swift's rep. "Kanye did not call for approval, but to ask Taylor to release his single 'Famous' on her Twitter account. She declined and cautioned him about releasing a song with such a strong misogynistic message," her rep told E! News in a statement Thursday night. "Taylor was never made aware of the actual lyric, 'I made that bitch famous.'"
Taylor has yet to address the rapper's shout-out via her Facebook, Instagram, Tumblr or Twitter accounts. Those close to her, however, swiftly rallied against the singer. Her younger brother, Austin Swift, was the first to comment, sharing a video of himself throwing his Yeezy sneakers into the trash. "Getting a head start on some spring cleaning," he wrote in the caption. "Here we go again." Supermodel Gigi Hadid, who appeared as Slay-Z in Taylor's "Bad Blood" video in 2015 and is a member of her famous girl squad, was at the Yeezy Season 3 show. Soon after, Gigi took to Twitter, writing, "My attendance somewhere does not mean I agree with everything being said in the music playing there. My friends know of my loyalty." Hart of Dixie's Jaime King, who asked Taylor to be her son Leo Newman's godmother, deleted her Instagram posts about Yeezy Season 3 after hearing Kanye's "Famous" lyrics. "I'm so sad right now & disappointed right now," she tweeted Thursday. "I stand by my sister. Always."
Larry Busacca/Getty Images for NARAS
Thursday was not the first time Kanye had embarrassed Taylor in a public setting. He famously charged the stage during the 2009 MTV Video Music Awards while Taylor accepted the award for Best Female Video, beating Beyoncé for "Single Ladies (Put a Ring on It)." President Barack Obama called Kanye "a jackass" after the alcohol-fueled incident (albeit a "talented" one). In 2013, Kanye told KIIS-FM's Ryan Seacrest he had apologized to Taylor many times. "You know what? I would not want some crazy drunk rock star cutting my daughter [North West] off also," he admitted. But, West added, "My daughter would 100-percent also be like, 'Yes Beyoncé did have the best video.' That's what my daughter would do!"
In 2010, Kanye went on a Twitter spree to apologize for his actions. "I wrote a song for Taylor Swift that's so beautiful and I want her to have it. If she won't take it then I'll perform it for her. She had nothing to do with my issues with award shows," he wrote. "She had no idea what hit her. She's justa lil girl with dreams like the rest of us. She deserves the apology more than anyone. Beyonce didn't need that. MTV didn't need that and Taylor and her family friends and fans definitely didn't want or need that. I am not a bad person. Even in that moment I was only trying to do good but people don't always need my help. I've hurt, I've bled, I've learned. I only want to do good. I want to win there hearts back so I can continue to bring my take on culture to the masses with a clean opinion. It starts with this...I'm sorry Taylor."
Years of apologies seemed to work. Taylor and Kanye put their differences aside by posing for a picture and talking with Kim Kardashian at the 2015 Grammy Awards. Months later, Taylor presented Kanye with the VMA Vanguard award.
At the beginning of his 11-minute stream of consciousness speech, Kanye seemingly expressed remorse for his actions. "First of all, thank you, Taylor, for being so gracious and giving me this award this evening. And I often think back to the first day I met you also," he said. "You know, I think about when I'm in the grocery store with my daughter [North West] and I have a really great conversation about fresh juice...and at the end they say, 'Oh, you're not that bad after all!' And like I think about it sometimes...It crosses my mind a little bit like when I go to a baseball game and 60,000 people boo me. Crosses my mind a little bit."
"I think if I had to do it all over again what would I have done? Would I have worn a leather shirt? Would I have drank half a bottle of Hennessy and gave the rest of it to the audience? Y'all know y'all drank that bottle, too! If I had a daughter at that time would I have went on stage and grabbed the mic from someone else?"
Everything seemed to be A-OK between the music superstars after that. In fact, in GQ's November 2015 issue, Tayor opened up about the progress they had made.
"That was the most happenstance thing to ever happen in my career," the "Style" singer told the magazine, "and to now be in a place where Kanye and I respect each other—that's one of my favorite things that has happened in my career."