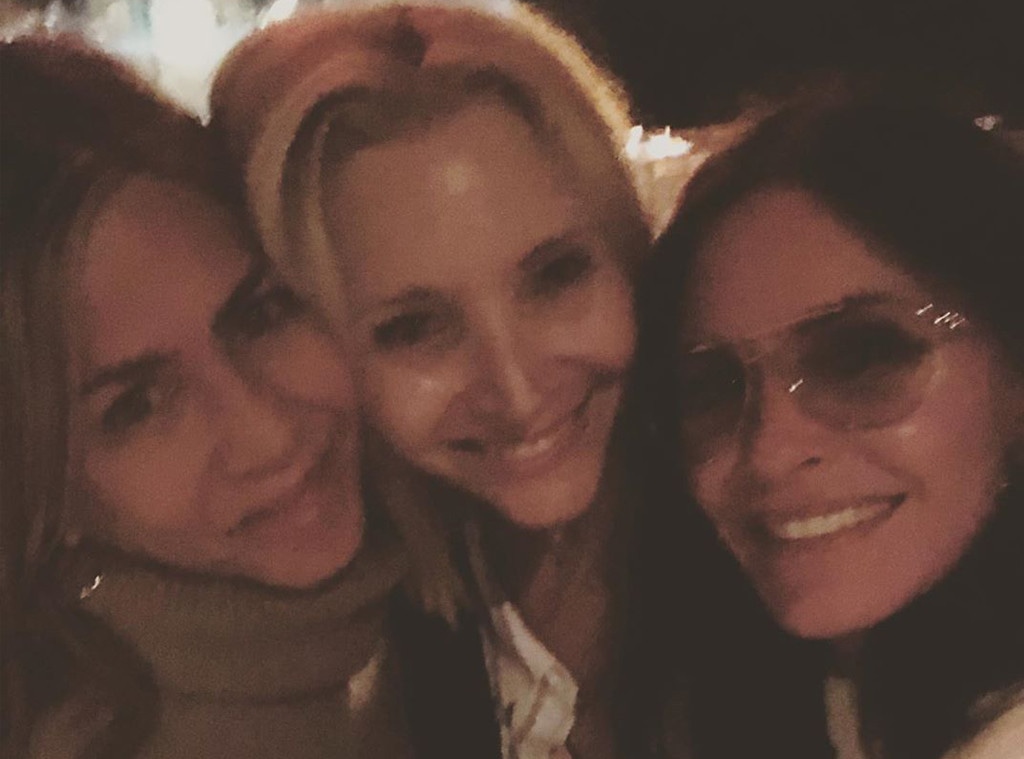 Instagram/Lisa Kudrow
The one where we're extremely jealous we didn't get an invite...
Friends co-stars and real-life BFFs Jennifer Aniston, Lisa Kudrow and Courteney Cox—Rachel Green, Phoebe Buffay and Monica Geller, if you prefer—celebrated a girls' night on Sunday and gifted us with the selfies to prove it. "Trying to figure out what to say on Instagram," Cox captioned a goofy shot of the trio. "#gotnothing #friends #girlsnight." Kudrow, for her part, posted a similar picture, writing, "Halfway there... #girlsnight #?"
The caption, of course, was hinting at a possible Friends reboot. After all, add in castmates Matt LeBlanc, Matthew Perry and David Schwimmer and we have a full-fledged reunion.
Alas, they don't know that we know they know we know...it's likely just a tease. (We're trying not to get our hopes up here!) Though Aniston recently said she's open to bringing back the '90s sitcom—"The girls would do it and the boys would do it, I'm sure," she admitted. "Listen, anything can happen."—the actress later pivoted away from that idea.
Asked why she announced the cast was game for a reunion after all this time, the Emmy winner confessed she "just got tired of saying no. So, I just thought, well, why not try this and see what happens."
Still, since the show ended its 10-year run in 2004, the cast has certainly proven they'll be there for each other like they've been there before. Just last week, Aniston and Kudrow helped Cox ring in her 55th birthday. 
"How lucky am I to celebrate my birthday with these two???" Cox wrote on Instagram. "I love you girls. So much."
So, while we sit here hoping and praying our Friends wishes come true, scroll through to see all the times our favorite six people have reunited offscreen. We promise it's better than any trifle Rachel could whip together.