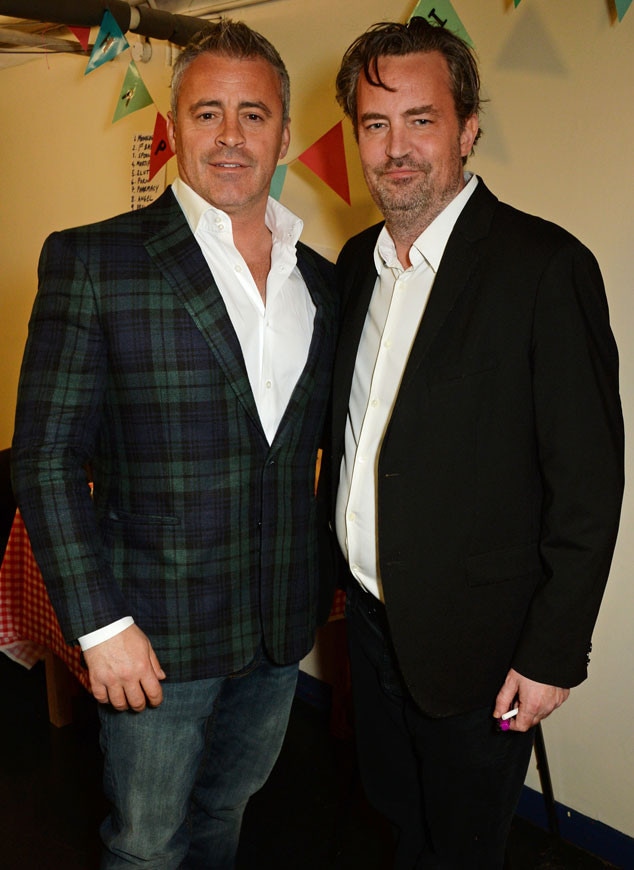 Dave Benett/Getty Images
Joey and Chandler are together again and in London, baby!
Matt LeBlanc, 48, reunited with fellow former Friends co-star Matthew Perry, 46, Saturday backstage at the Playhouse Theater in the city after the latter actor's performance in his play The End Of Longing, which marks his playwriting debut.
"Went to see The End [of] Longing last night and ran into this dude," LeBlanc said on Instagram Sunday. "He and the cast were great. Way to go bro."
The production, a dark comedy, is about four "broken people" in Los Angeles who four are "entering their forties and searching for meaning," according to the play's website. Perry, who last performed in a West End play 12 years ago, plays Jack, an alcoholic. 
"After sharing one raucous night together in a downtown Los Angeles bar, their lives become irreversibly entwined in a roller coaster journey that forces them to confront the darker sides of their relationships," it states.
The End of Longing has received mixed reviews. The production opened in February and is set to run until May 14.
LeBlanc has been in London over the past few months filming Top Gear, a popular BBC racing show.
He and Perry rose to fame playing the loveable, somewhat dimwitted Joey and his sarcastic best friend Chandler on the NBC sitcom Friends, which ended in 2004 after 10 seasons and maintains a cult following.
In the two-part Friends season four episode "The One with Ross's Wedding," the group travels to London to attend the nuptials of Ross Geller (David Schwimmer) and Emily Waltham (Helen Baxendale). Joey, being Joey, is super into the whole London tourist experience.