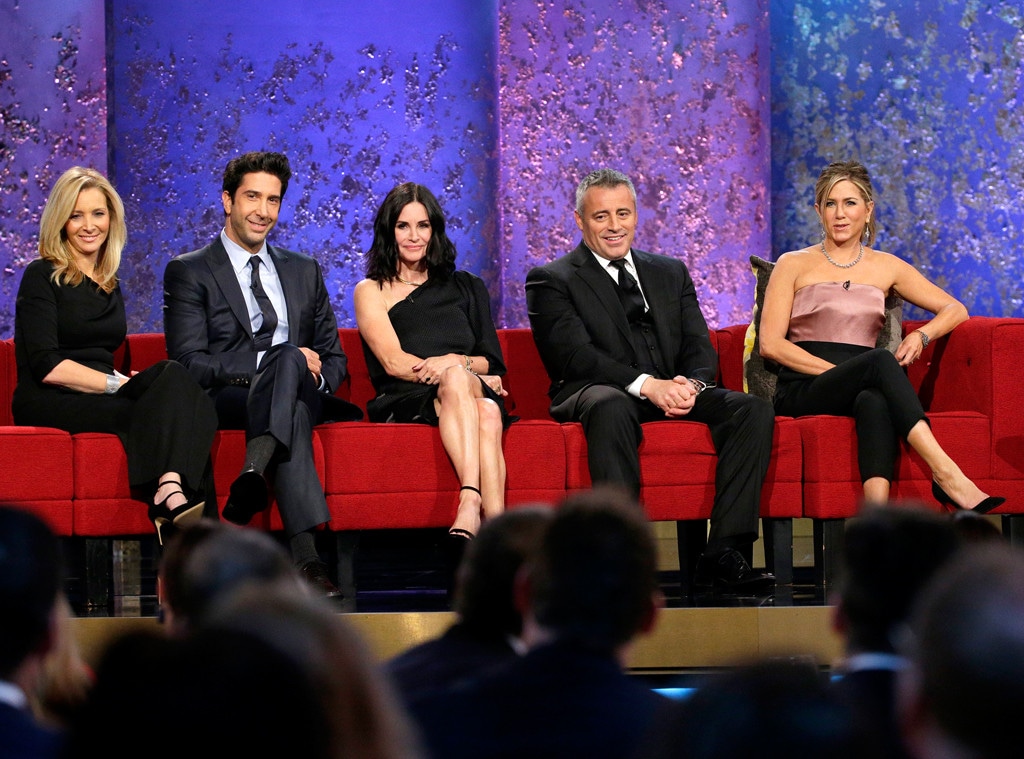 NBC
So Chandler was there…kind of!
Matthew Perry didn't totally abandon his friends during the Friends reunion as part of tonight's James Burrows tribute special on NBC, like we feared he would when we found out he wouldn't be able to appear in person. In fact, he introduced them!
Perry appeared in a taped message at the start of the Friends segment, explaining that he couldn't make the show due to his play, and introduced the rest of his cast, who were all there looking just as incredible as ever.
The adorable moments started even before the cast took their seats. David Schwimmer, Jennifer Aniston, Courteney Cox, and Matt LeBlanc all held hands as they walked up to the stage, and LeBlanc basically picked Aniston up to place her in her seat next to him during some confusion over who was sitting where.
As fun as that was, this reunion wasn't all just watching our favorite friends try to sit down on an unfamiliar couch. We also learned quite a bit about Friends and Jimmy Burrows' influence on the show.
1. Burrows gave the cast the use of his dressing room to play poker, which then influenced the episode, "The One with All the Poker."
2. During the early seasons, the cast would watch the show together and give each other notes, which came from Courteney's time on Seinfeld. Watch the clip of that story below!
3. The cast did not sign a contract saying they would not sleep with each other. Or at least Lisa Kudrow was not asked to sign one.
4. Lisa, Jennifer, and Courteney had lunch together every single day for ten years, and ate the same food everyday. Courteny called it a "Jennifer salad." "I tossed it," Jennifer explained. "She has a way with it," Courteney added, and we're definitely going to need that salad recipe.
5. Jennifer auditioned for Monica and Courteney auditioned for Rachel, but that was clearly not correct. Lisa Kudrow had to audition in front of Jimmy Burrows before she got the part.
6. Burrows is responsible for Joey's impression of a hockey puck hitting his face in the episode where Ross ended up in the emergency room after getting hit in the face by a puck.
7. Jennifer is a big fan of the flashback episodes, like "The One with the Prom Video," in which Monica was fat, Rachel hadn't yet gotten her nose done, and Ross had a lovely afro.
8. It's confirmed: Monica and Rachel could afford their apartment due to rent control. Thanks, Monica's grandmother! 
(E! and NBC are both part of the NBC Universal family.)