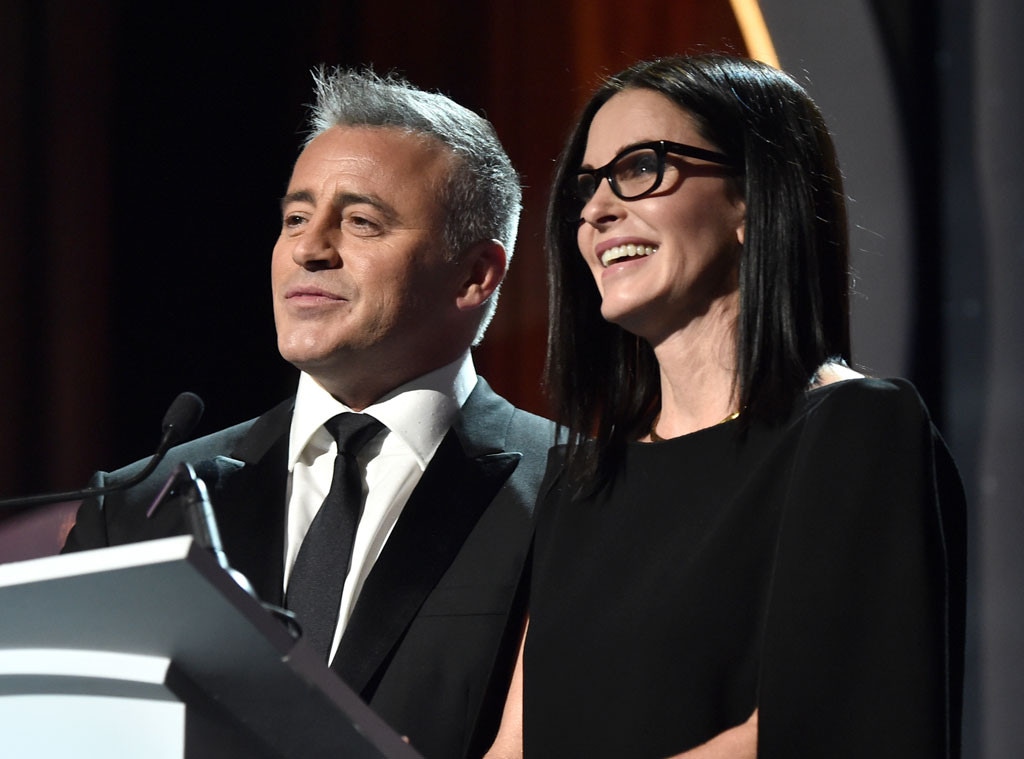 Alberto E. Rodriguez/Getty Images for Writers Guild of America
Could this be any cuter?
Friends stars Courtney Cox, 51, and Matt LeBlanc, 48, reunited at the 2016 WGA Awards Saturday. They presented the Writers Guild of America's Paddy Chayefsky Laurel Award for Television Writing Achievement to Friends co-creators Marta Kauffman, who co-created Netflix's Grace and Frankie, and David Crane, a co-creator of Showtime's Episodes, which stars the actor.
Members of the cast have reunited several times since Friends ended its 10-season run in 2004. Cox and LeBlanc also join their fellow former cast members in a taped NBC special honoring director James Burrows, which is set to air on Feb. 21. However, one of the six stars, Matthew Perry, will not appear in person as he is performing in the play The End of Longing in London. 
Patton Oswalt hosted the WGA Awards, while other presenters included Geena Davis, Keagan-Michael Key and Ken Jeong.
Spotlight and The Big Short took home the big honors at the ceremony. The two movies are also nominated for Best Motion Picture of the Year at the 2016 Oscars, which take place on Feb. 28.
Tom McCarthy and Josh Singer won the Writers Guild of America Award for Original Screenplay for Spotlight, a drama based on Boston Globe reporters' investigation into the Catholic Church's handling of sex abuse by priests, which stars the likes of Rachel McAdams, Mark Ruffalo and Michael Keaton. The film won Best Movie Cast at the 2016 SAG Awards last month.
Adam McKay and Charles Randolph won the WGA Award for Adapted Screenplay for The Big Short, which stars actors such as Christian Bale, Ryan Gosling and Brad Pitt. Like Spotlight, the movie is also based on a true story—the U.S. housing crisis and economic collapse that took place several years ago. The film adapted from a book by Michael Lewis.
Check out a list of 2016 WGA Awards film and television winners below:
Films:
Original Screenplay
Spotlight
Adapted Screenplay
The Big Short
Television:
Documentary
Going Clear: Scientology and the Prison of Belief
Drama Series
Mad Men
Comedy Series
Veep
New Series
Mr. Robot
Original Long Form
Saints & Strangers
Adapted Long Form
Fargo
Original Short Form New Media
Weight - "Back to Reality"
Adapted Short Form New Media
Heroes Reborn: Dark Matters - "Chapter Two: Phoebe"
Animation
Bob's Burgers - "Housetrap"
Episodic Drama
Better Call Saul - "Uno"
Episodic Comedy
Silicon Valley - "Sand Hill Shuffle"
Comedy / Variety Talk Series
Real Time With Bill Maher
Peter Yang/Comedy Central
Comedy / Variety Sketch Series
Inside Amy Schumer
Comedy / Variety Specials
Jimmy Kimmel Live!: 10th Annual After the Oscars Special
Quiz and Audience Participation
Hollywood Game Night
Daytime Drama
General Hospital
Children's Episodic
Gortimer Gibbon's Life on Normal Street - "Gortimer, Ranger and Mel vs. The Endless Night"
Children's Long Form Special
Descendants
Documentary Script - Current Events
Frontline - "American Terrorist"
Documentary Script - Other Than Current Events
Nova - "The Great Math Mystery"
TV News Script - Regularly Scheduled, Bulletin or Breaking Report
60 Minutes - "Cuba"
TV News Script - Analysis, Feature or Commentary
60 Minutes - "The Storm After the Storm"