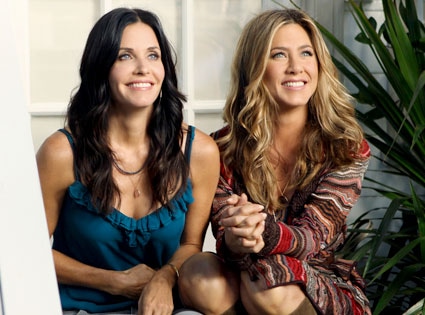 ABC/KAREN NEAL
Cue theme song here: "I'll be there for you..."
Jennifer Aniston and longtime Friends costar and real-life bestie Courteney Cox are together again! Jen is set to appear in Cougar's second season premiere as Courteney's too-good-to-be-true new therapist. (We predict she's a wacko with a heart of gold.) ABC just released photos of this happy reunion and we've got 'em for you, right here, right now!
Click in for three more sweet snaps of the big event, scheduled to air Sept. 22 at 9:30 p.m. on ABC.
Do you love that Jen and Courtney are still actually good enough friends that they're willing to help each other out, or are you over nostalgia stunts like this? Tell us in the comments!
Follow Team WWK on Twitter: @kristindsantos @jenniferarrow @megmasters @drumoorhouse
________
Do you love TV? If so, Watch with Kristin wants you! We're looking for fall interns ASAP. You should be 18 years or old, a college student who can get school credit for internships, a resident of the Los Angeles area, and able to work a minimum of eight hours, at least two days a week. If you're interested, please email the following to tvdiva@eonline.com:
1.) Your availability in terms of dates and/or days of the week.
2.) The name of your college and a statement that you will be able to get school credit through that college
3.) Your resume (attached as a Word doc or PDF)
4.) A short introductory letter telling us a little bit about yourself and your interest in the internship, television and/or journalism
Questions? Email tvdiva@eonline.com!