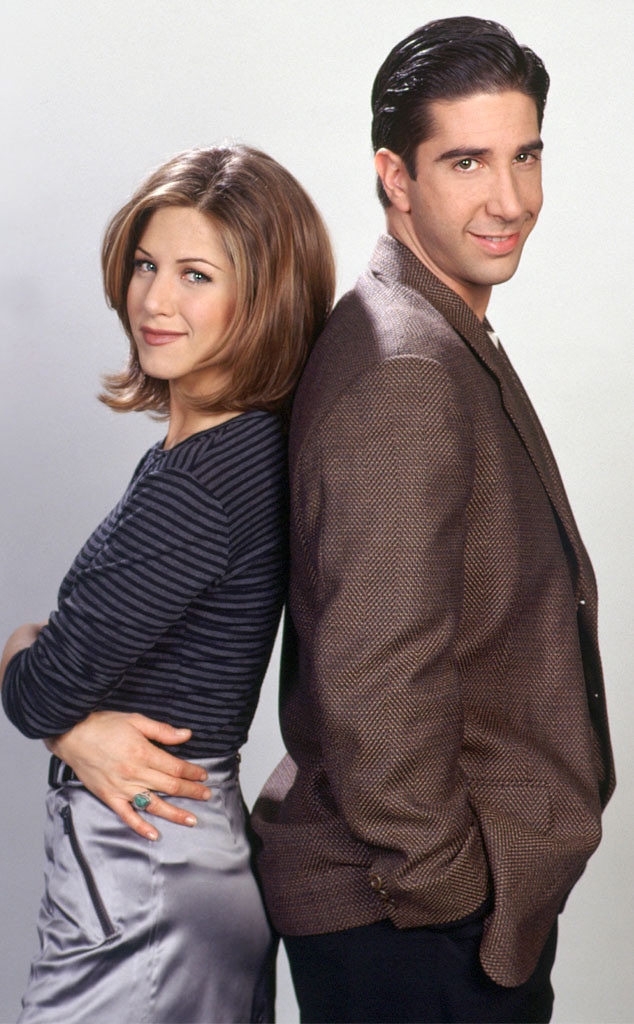 NBCU Photo Bank
Friends may have signed off air 15 years ago, but we want to know: Are Ross and Rachel still each other's lobsters?
Well, when asked this morning on Today if the couple would be together, Jennifer Aniston replied, "Yes, absolutely." As fans of the comedy know, Ross (David Schwimmer) and Rachel's on-again, off-again romance was officially back on at the end of the series finale. Rachel—and the couple's baby girl Emma—got off a plane to Paris and headed straight for Ross' arms.
Today, "Emma's grown up," guesses Aniston. "She's in high school. Let's say junior high." (Joked her Murder Mystery co-star Adam Sandler, "She's vaping in high school and you're just looking the other way. Way to go.")
Perhaps the show, which concluded in 2004 after 10 seasons, is actually just on a break from our screens.
Last week, while on The Ellen DeGeneres Show, the actress said she's open to a Friends reunion. "I would do it," she told host Ellen DeGeneres. "The girls would do it, and the boys would do it, I'm sure. Listen, anything can happen."
But, she's since pivoted from that idea. Asked on an upcoming episode of The Talk why she announced that the cast was game for a reunion after all these years, Aniston confessed, "I honestly just got tired of saying no. So, I just thought well, why not try this and see what happens."
In fact, the cast has often expressed their doubts about reviving the hit series. 
"I don't see it happening," Lisa Kudrow, who played Phoebe Buffay, told Today in 2017. "It would be fun, but what would it be about? Think about it. The thing we liked best about the show was that they were 20-somethings and they were their own family. Now, they all have families, so what are we going to watch?"
Even Aniston herself has questioned the idea in the past.
"I think that period of time was sort of nostalgic," she admitted in 2016. "I think why people have such an affection for it is because even though it was only 12 years ago it ended, or 13—God, it's getting farther and farther away—there was something about a time where our faces weren't stuffed into cell phones. We weren't checking Facebooks and Instagrams. We were in a room together, in a coffee shop together. We were talking, having conversations. We have lost that."
At least we'll always have reruns on Netflix.