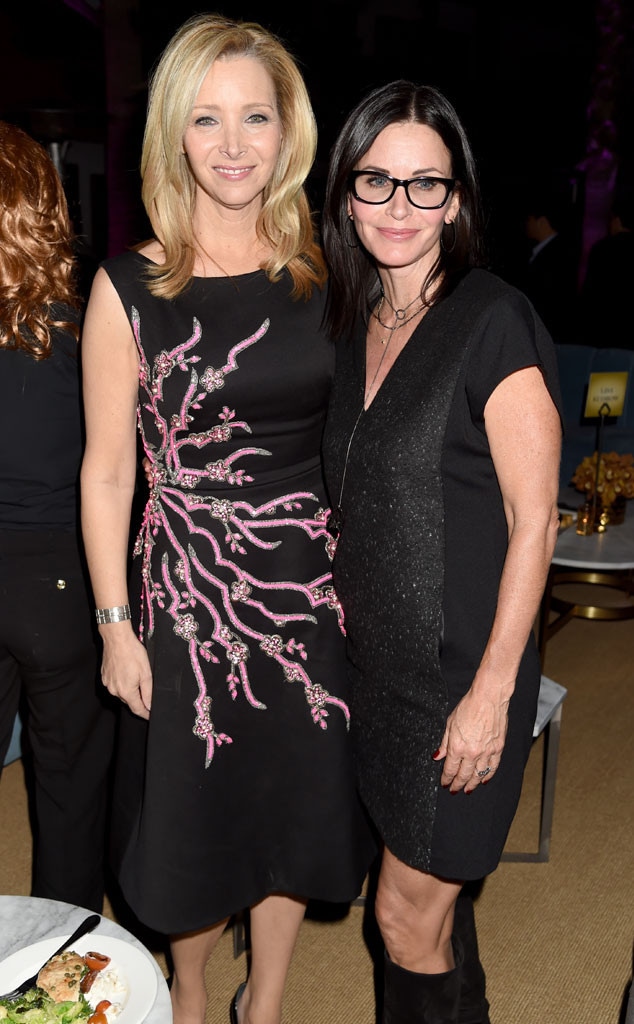 Jeff Kravitz / FilmMagic
Could they BE any cuter?
There was a super-small Friends reunion at an after-party for the premiere of Lisa Kudrow's HBO series The Comeback, which is making...a comeback.
Courteney Cox joined her friend and former co-star at the event, which took place in Hollywood on Wednesday. Kudrow is the co-creator, co-executive producer and star of The Comeback, an HBO comedy series about a sitcom star looking to revive her acting career. The show debuted in 2005 and was canceled after one season. The cable channel announced in May that the show will return for a limited, eight-episode run, starting on Nov. 9.
Since the NBC show ended in 2004, former Friends cast members have reunited several times over the years, both  onscreen and off-screen, attending dinners and other events. Kudrow and Matthew Perry have both guest-starred on Cox's show Cougar Town.
Here are Kudrow, who played free spirit Phoebe on Friends, and Cox, who played Type A bestie Monica, at the opening night of the LA Modernism Show, presented by P.S. ARTS, in Santa Monica, California on April 25, 2013.
Michael Kovac/Getty Images for P.S. Arts
Here they are performing onstage during the Rock A Little, Feed A Lot benefit concert at Club Nokia in Los Angeles on Sept. 29, 2009. Yes, Kudrow sang "Smelly Cat."
Kevin Winter / Getty Images
Here they are at Ford's "Get Tied to the Cause" Breast Cancer Awareness luncheon at Hotel Bel Air in Los Angeles in 2004.
Donato Sardella / WireImage
Friends lasted 10 seasons and remains one of the most popular sitcoms of all time. Now, a decade later, it's heavily watched in syndication and it's also coming soon to Netflix, news that has invoked all kinds of feelings.
This week, Kudrow took part in an AMA Q&A on Reddit and answered fans' questions, including pressing queries about the show. Here are five highlights:
1. Her ideal Friends reunion
During the AMA session, Kudrow was asked, "If you were to do a reunion with the Friends cast, which one would you prefer? Friends movie, Friends episode, or an entire season?"
"A whole season, because to spend that much time with those people again would be heaven!" she replied.
2. Her favorite Friends song
No. It's not "Smelly Cat." Yes, our hearts are broken, too.
"Okay: they all actually make me laugh really hard," she said. "Every time a new one came on, I laughed out loud, but I really liked the one for the kids, that starts "Oh the cow in the meadow goes moo..." 
The song she is referring to is "The Cow in the Meadow," which she sang in the season 2 episode "The One After the Super Bowl," which aired on Jan. 28, 1996.
3. Her favorite Friends season
"I think 1," she said. "Because it was the first one."
4. A memorable behind-the-scenes moment
"One day we all brought our dogs to work. And I thought I left my dog in my room, with the door closed, I was downstairs on the stage rehearsing, and all of a sudden, my dog, a little poodle, came running and JUMPED onto my lap and stayed on my lap for the rest of the scene - for the rest of the run-through of that scene, in front of the producers and all of the writers! Last time I brought my dog to work."
5. Her favorite Friends episode
"The One With the Halloween Party," which aired during season 8 on Nov. 1, 2001 and features Phoebe's twin sister Ursula, also played by Kudrow. Sean Penn guest stars as Ursula's fiancé on the episode, which saw Phoebs dressed as Supergirl and Monica as Catwoman.
"Tt was the first show we shot after 9/11," Kudrow said. "And that whole week, while driving in LA, people would pull up, and give me a very sad look, and a quiet 'Thank you' for making them laugh."