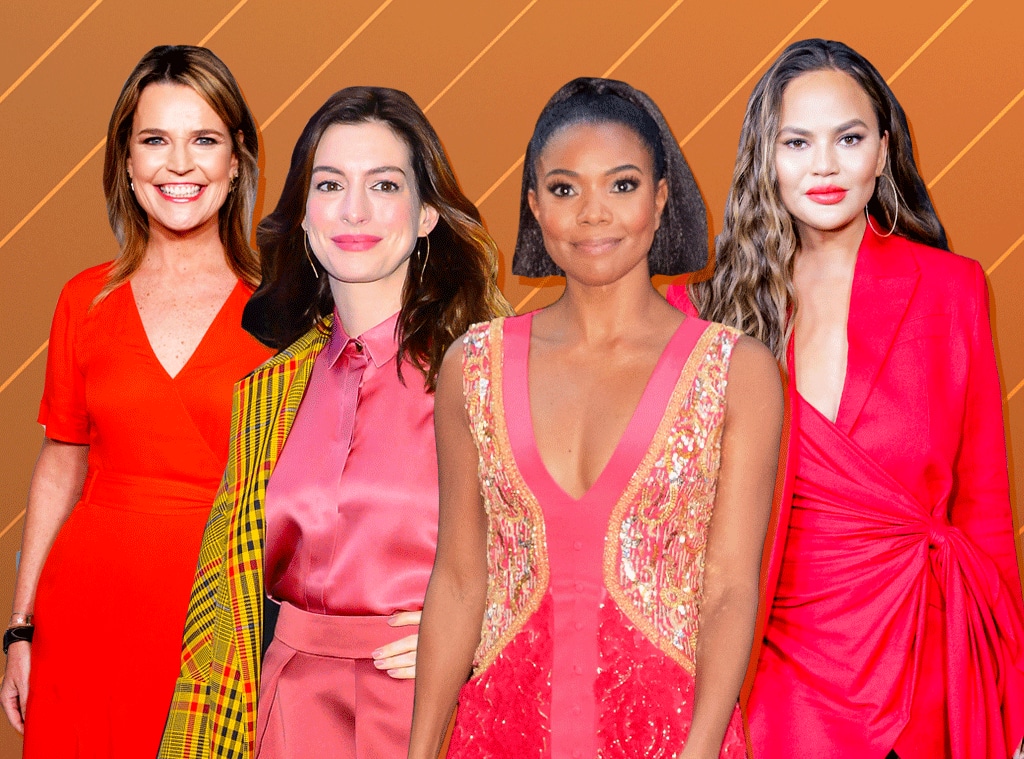 NBC; Getty Images/E! Illustration
Few things are more personal than family planning, and few things can make a person feel more alone than when those plans go to hell.
And perhaps nothing feels worse than when people keep asking about those plans.
At times like those, when a pregnancy is lost or it seems as if getting pregnant at all is going to be impossible, or if the decision has been made to go another route entirely, the desire for privacy is strong, but feeling supported and understood—and not judged—is also of utmost importance.
Such topics were once filed away under "lady troubles" and rarely discussed, at least not openly. Nowadays, however, infertility and the struggle to conceive are refreshingly no longer behind-the-curtain topics (or at least we're well on our way), and as tends to be the case when tackling once-taboo subjects, be it mental health care or learning disabilities or abuse, the stigmas are in retreat in no small part due to famous people using their platform to convey that there's no shame in the struggle and countless women are in it together.
In her 2017 memoir (and in a chapter called "Get Out of My P---y"), Gabrielle Union described the physical side effects of undergoing eight ultimately fruitless rounds of in vitro fertilization (IVF) and "eight or nine miscarriages."
"For so many women, and not just women in the spotlight, people feel very entitled to know, 'Do you want kids?'" she told People in 2017. "A lot of people, especially people that have fertility issues, just say 'no' because that's a lot easier than being honest about whatever is actually going on. People mean so well, but they have no idea the harm or frustration it can cause.
Anne Hathaway, who just revealed that she was pregnant with her second child, also wrote in her Instagram announcement, "All kidding aside, for everyone going through infertility and conception hell, please know it was not a straight line to either of my pregnancies. Sending you extra love."
The Oscar winner and husband Adam Shulman had son Jonathan in 2016. Also that year, the reliably candid Tyra Banks welcomed her first child, son York—the culmination of what her fans knew was a hard-fought journey because she had opened up about the discomforts of IVF.
"And, you know, putting needles in your tummy every day and having to come to work and smile when you feel like you want to throw up and lay down...I can't believe I'm saying this right now," she shared with Chrissy Teigen on FABlife in 2015. Teigen, meanwhile, also approached the subject with her usual candor, acknowledging that she and John Legend were having issues conceiving—and that she was sick and tired of being asked when their first baby was coming.
Kent Goodman for James Beard Foundation
"We would have kids five, six years ago if it'd happened," the model and cookbook author said. "But my gosh, it's been a process!
"So, anytime somebody asks me if I'm going to have kids, I'm like, 'One day, you're going to ask that to the wrong girl who's really struggling, and it's going to be really hurtful to them. And I hate that. So, I hate it. Stop asking me!'"
Asked why they decided to go public with their struggles, Teigen told E! News, "It was kind of weird to hide that all the time. So it was nice be able to just share it and have the platform to share it where people listen." 
Added Banks, "Our show is not really that heavy, but let's be real…I walked off set and so many people on our crew were saying 'I'm struggling,' or 'My child was born after 10 versions of IVF treatment,' and friends that are very famous…who did this for five years...and the world has no idea."
Teigen and Legend have since become parents to daughter Luna and son Miles—and the couple revealed early on that they did some extra planning while planning their family.
"Not only am I having a girl, but I picked the girl from her little embryo. I picked her and was like, 'Let's put in the girl,'" Teigen told People before Luna was born. (Preimplantation genetic screening, or PGS, is possible, but not a service that all fertility clinics offer.)
Of course some critics on social media found that offensive for various reasons, including one who wrote her, "Did you choose the hair and the eye color too @chrissyteigen....smh messing with the natural blessings from God. I liked you a lot."
Teigen clapped back, "My natural blessing from God was infertility." She later tweeted about the overall revelation, "I said it so casually because i'm just open. I'm around so many open-minded people & forgot it's controversial. Anyhow I am not mad at anyone's beliefs but I don't really actively seek out people to make them feel bad about their decisions either."
Savannah Guthrie said earlier this year that her second child, son Charley, was conceived using IVF—and she was pleasantly surprised back when she got pregnant at 42 with her daughter Vale without any extra assistance.
"So I would say Vale was a miracle, and Charley was a medical miracle," the Today anchor told Health magazine. "When making that decision about whether to go through IVF, my husband and I talked about it a lot. I didn't want to start a process where we spent all of our present searching after some future...when our present was so lovely and beautiful and enough. But I also knew I would love for Vale to have a sibling—especially because we are older, it was important to me for her to have a sibling, somebody to do life with."
So, she and husband Mike Feldman "decided, 'OK, let's give it a shot,' you know?'" Guthrie continued. "But it ended up taking more than one attempt. It took a few. But we were lucky. I always say, Charley was, like, the last egg out. He really was. And we're so blessed."
"Going through what we did," she added, "it makes you realize that everything has to go just right to have a healthy baby. I really feel for so many women who are struggling and wishing and wondering, 'When's it gonna be my turn?' I know. And I understand."
While waiting until one's 30s to start having kids is becoming more of the norm, and getting pregnant at 40 and beyond is an increasingly common scenario, age is hardly the only the factor that dictates how easy, difficult or, in some cases, impossible it's going to be to get pregnant. As Guthrie said, "everything has to go just right."
And so often it doesn't.
Jay-Z alluded to Beyoncé losing a pregnancy in his 2012 song "Glory"—"False alarms and false starts / All made better by the sound of your heart / All the pain of the last time / I prayed so hard it was the last time"—and in the 2013 HBO documentary Life Is But a Dream the singer acknowledged that it happened when she was about 28.
"I picked out names. I envisioned what my child would look like...I was feeling very maternal," Bey, now mother to 7-year-old Blue Ivy and 2-year-old twins Rumi and Sir, recalled. But then, "I flew back to New York to get my checkup—and no heartbeat. Literally the week before I went to the doctor, everything was fine, but [the next time] there was no heartbeat."
Celebrities opening up about their experiences really has helped drive the point home just how common complications (Bey had preeclampsia with the twins and ultimately needed an emergency C-section; Serena Williams developed blood clots after giving birth to daughter Alexis Olympia) and failed pregnancies really are.
After having son Isaiah, Carrie Underwood suffered three miscarriages before her pregnancy that resulted in son Jacob being born in January.
"I had always been afraid to be angry," the singer explained on CBS Sunday Morning last fall. "Because we are so blessed. And my son, Isaiah, is the sweetest thing. And he's the best thing in the world. And I'm like, 'If we can never have any other kids, that's okay, because he's amazing.' And I have this amazing life. Like, really, what can I complain about? I can't. I have an incredible husband, incredible friends, an incredible job, an incredible kid. Can I be mad? No...and I got mad."
One night, she recalled, she couldn't stop crying and wondering, "'Why on Earth do I keep getting pregnant if I can't have a kid? Like, what is this? Shut the door. Like, do something. Either shut the door or let me have a kid.'"
And even when the pregnancy is happening, and continues to happen, that doesn't mean happiness always takes root for the long haul, shoving all negative emotions out of the way.
Shay Mitchell, who revealed in June that she's expecting a baby after suffering a miscarriage last year, called the first few months when she felt it was too early to share the news "a really lonely journey."
"I think pregnancy is awesome for the most part," she added, "but it's also really f--king lonely."
But while the road to getting pregnant can be a long and winding one no matter who you are and whatever method, or lack thereof, you use, sometimes it just does not happen.
"For three years, my body has been a prisoner of trying to get pregnant—either been about to go into an IVF cycle, in the middle of an IVF cycle, or coming out of an IVF cycle," Union wrote in her 2017 memoir We're Going to Need More Wine. "I have endured eight failed IVF cycles, with my body constantly full of hormones, and as you've probably figured out by now, yes, I am constantly bloated from these hormones."
She and husband Dwyane Wade, a father of three from two previous relationships, were "always in some stage, waiting for some news, some sign that we can move on to the next stage. This child we want to have has been loved even as an idea."
Eventually the couple settled on a different route and welcomed their daughter Kaavia via surrogate in 2018, a plan that no one outside their inner circle was aware of until the baby arrived.
IVF didn't prove the answer for Tyra Banks, either, and she and then-boyfriend Erik Asla opted for a surrogate to have their son York.
Meanwhile, IVF eventually worked for Gretchen Rossi on what was apparently her third try, but not until she gathered the strength to go through it again after all 14 embryos failed following her first round in 2013.
"This is beyond anything I had ever expected to experience," the Real Housewives of Orange County star recalled on The Doctors last year. "It literally took a good year and a half for us to even get to a point where I was willing to talk about it again." She and Slade Smiley welcomed daughter Skylar Gray Smiley via C-section a week ago.
After several rounds of failed IVF and one miscarriage, Giuliana Rancic and husband b had their son Duke via gestational carrier, meaning the baby was "100 percent genetically [theirs]," using embryos they had frozen after Giuliana was diagnosed with breast cancer in 2011, Bill explained to Us Weekly in 2012.
"Everything happens for a reason, and we believe this is meant to be and the way it was supposed to work out," he said. (Sharing their story also educated people as to the differences between a gestational carrier, who is implanted with another couple's embryo, and a surrogate, whose own egg is usually half the mix. "Surrogate" tends to be the go-to term that's used when the intended parents look to another person to carry their baby, although technically they're not the same.)
After having son Saint, Kim Kardashian was advised by her doctors not to get pregnant again, so she and Kanye West opted for gestational carriers to have babies three and four, Chicago and Psalm.
"Having a gestational carrier is definitely different, but anyone who says or thinks it's the easy way out is completely wrong," Kim wrote on her app after Chicago was born. "People assume it's better because you don't have to deal with the physical changes, pain or complications with delivery, but for me it was so hard to not carry my own child, especially after I carried North and Saint."
Calling their carrier an "amazing" match for their needs, she continued, "I'm so grateful for modern technology and that this is even possible. It's not for everyone, but I absolutely love my gestational carrier and this was the best experience I've ever had. Our gestational carrier gave us the greatest gift one could give."
That was the route Keith Urban and Nicole Kidman took to have Faith, their second daughter together, after having Margaret Rose. The Big Little Lies star is also mom to two adopted children,Isabella and Connor, with ex-husband Tom Cruise, and she later revealed that she had an ectopic pregnancy early on in their marriage and suffered a miscarriage toward the end.
"Anyone that's been in the place of wanting another child, or wanting a child, knows the disappointment, pain and loss you go through trying," Kidman said on Australia's 60 Minutes in 2011. "And struggling with fertility is such a big thing. And it's not something I've ever run away from talking about, I've had a very roller-coaster ride with fertility, I just have. It has never been easy for me."
And, of course, countless celebrities have adopted for a slew of reasons.
"There are so many ways to mother rather than to carry a child in your body," Viola Davis, who adopted daughter Genesis in 2011, told InStyle in 2015. "So many children need parents, and so many of us want to mother. Know that you will experience motherhood to the full extent."
So many women and so many different journeys, and yet there's that throughline of perseverance and hope joining them all. You can never tell what another woman is going through just by looking at her, especially one whose job is to look polished and poised at every turn, but it's becoming ever more apparent that even when you're sure that you're trudging along the most frustrating road imaginable all alone... you're not.