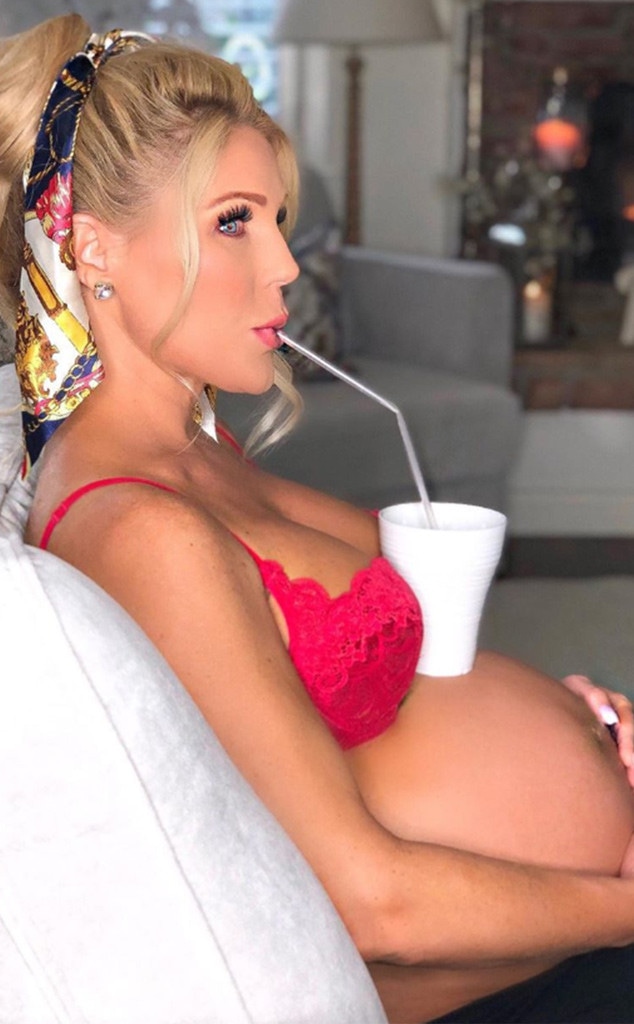 Instagram
By the end of the week, Gretchen Rossi is officially going to be a mom.
With just days to go until the birth of her first child with Slade Smiley, the former Real Housewives of Orange County star is updating fans on her journey to motherhood.
As it turns out, the Bravo star just revealed that she will be welcoming her baby girl earlier than expected.
"After a lot of contemplation, crying, struggling, (and based on the medical pros and cons) the Doctor, Slade and I have decided a c-section is going to be the safest thing for me and baby tomorrow," she wrote on social media. "Doctor said I am only dilated 1cm and I guess I have a 'cervix of steel' so it's not really cooperating at this point and just my pelvic exam yesterday was so beyond painful that I almost passed out, then started to hyperventilate because of that, which then lead to a panic attack! Needless to say I was a hot mess!"
While it may not be what she initially planned, Gretchen is confident that she is making the best decision.
"When you have this vision of how you want your labor and delivery to go and it doesn't turn out the way you imagined, there is this sadness and internal struggle with 'why isn't my body cooperating' or am I making the right decision etc.," she explained to her followers. "So after crying it out, and being sad about not having a 'vaginal birth' yesterday, I asked God to give me a sign that this is the best decision, and he did!"
Through the past several months, Gretchen has been open and honest with fans about her pregnancy. And through all the ups and downs, the reality star has had the support of her longtime partner.
"Thank goodness for Slade as he has been a huge help these past few weeks getting everything done around the house!" she explained in a previous post. "I have been majorly nesting! Getting rid of tons of stuff, cleaning every nook and cranny like a crazy woman and putting each room back together with our new rugs on the floor (from my favorite place @orianrugs) so she can crawl around and not be just on our hardwood floors."
Gretchen added, "It's been a lot of work these past couple months getting the house ready, building cribs and bassinets, washing her clothes and building out her closet (with the help of @thecontainerstore) Getting all the diapers, bottles, and products I think we will need for her arrival!"
But when that special day comes, Gretchen and Slade know that it's all going to be worth it.
"Carrying a baby does something to you!" she shared on Instagram. "Something extraordinary that's hard to explain, but you feel superhuman, you feel so powerful and strong!"