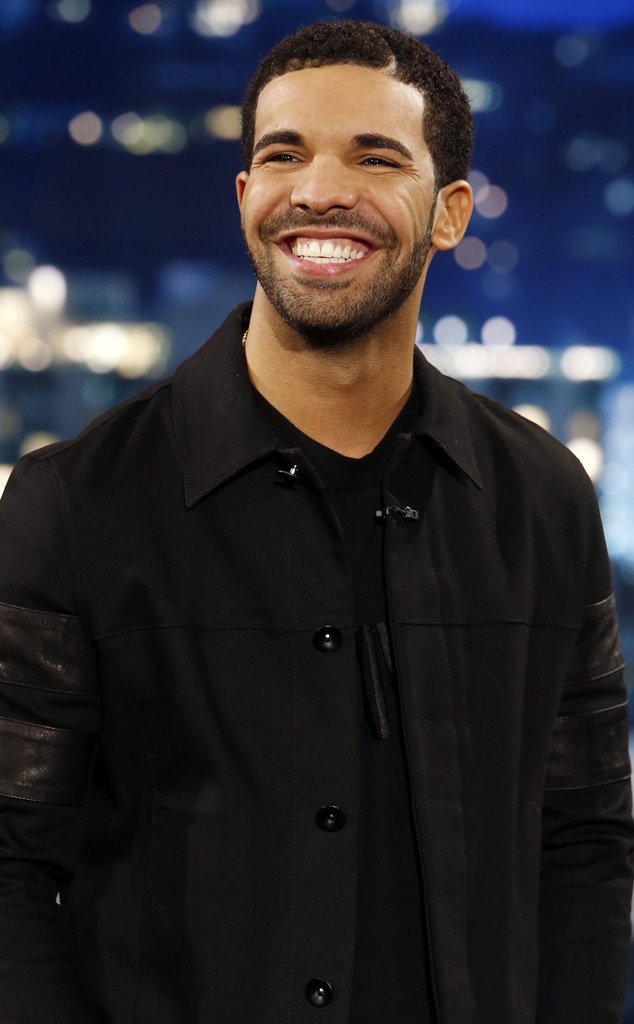 ABC/Randy Holmes
"One of my biggest concerns in my career is just to figure out how to exit gracefully. I watch people overstay their welcome and I just don't ever want to be that guy that's addicted to the feeling of victory, addicted to the emotion of people digesting something that they love and get to the point where I'm feeding them something and they're just like, 'Yeah.'"
That's what Drake had to say about his powerhouse rap career during a recent visit to LeBron James' new HBO series The Shop. And it's a fair concern for anyone at the top of their game, sure. No one wants to be the guy who couldn't read the writing on the wall. But after the year the rapper, whose real name is Aubrey Graham, has had, there's little proof that he has to start eyeing retirement packages just yet.
Not after the latest record he's broken.
As a bit of an early birthday present from his fans—he turns 32 on October 24—Billboard revealed that his latest single, a feature on Bad Bunny's "MIA," which sees him rap in Spanish, is his 12th track of 2018 to land in the Hot 100 Top 10 (debuting at No. 5), surpassing The Beatles' record in 1964. Not too shabby, eh? The achievement is the perfect cap on what's been a banner year for the 6 God, the proverbial icing on one wild cake.
As his record-breaking Billboard chart performance indicates, it's been hard to escape Drake all year—not when you turn on the radio nor when you scroll through social media. And that's due in large part to the war with Pusha T that's he's found himself embroiled in much of the year. Though their beef had been bubbling for years, it erupted back in May when Pusha attacked with the release of his third studio album, Daytona, produced in part by Kanye West. On the track "Infrared," Pusha takes aim at rumors of ghostwriting on Drake's tracks, name-checking the rapper who's supposedly supplying the lyrics. 
Drake immediately retaliated, releasing "The Duppy Freestyle" a day later, calling everything out from Kanye for using Drake to generate publicity for the album to Pusha's past as a drug dealer. But it was the mention of Pusha's fiancée Virginia Williams that kicked everything into hyperdrive. And when Pusha responded with "The Story of Adidon," all hell broke loose.
Not only did he use an old photo of Drake in blackface as the cover art, but he seemed to confirm the rumor that Drake had gotten a woman named Sophie Brussaux pregnant in 2017 with the lyrics,  "Since you name-dropped my fiancée, let 'em know who you chose as your Beyoncé/Sophie knows better, ask your baby mother/Cleaned her up for IG, but the stench is on her/A baby's involved, it's deeper than rap/We talkin' character, let me keep with the facts/You are hiding a child, let that boy come home/Deadbeat mothaf--ka playin' border patrol, ooh/Adonis is your son and he deserves more than an Adidas press run, that's real/Love that baby, respect that girl/Forget she's a porn star, let her be your world."
"Why would you mention my fiancée? No women, no children," Pusha said on the Real 92.3 FM show Big Boy's Neighborhood at the end of May, defending his decision to play real dirty. "It was sport to me until the fiancée mention...it just rubs me wrong."
In the same track, he also went over Drake' longtime producer and collaborator Noah Shebib, also known as "40," who has multiple sclerosis. "OVO 40, hunched over like he he 80/ Tick, tick, tick how much time he got? That man is sick, sick, sick," he rapped in a particularly cruel verse.
Immediately Drake went on the offense, trying to explain away the blackface photo in his Instagram Stories. "I know everyone is enjoying the circus but I want to clarify this image in question. This was not from a clothing brand shoot or my music career. This picture is from 2007, a time in my life where I was an actor and I was working on a project that was about young black actors struggling to get roles, being stereotyped and type cast. The photos represented how African Americans were once wrongfully portrayed in entertainment," he explained. "Me and my best friend at the time Mazin Elsadig who is also an actor from Sudan were attempting to use our voice to bring awareness to the issues we dealt with all the time as black actors at auditions. This was to highlight and raise our frustrations with not always getting a fair chance in the industry and to make a point that the struggle for black actors had not changed much."
Pusha wasn't buying it. "I don't believe it," he said on Big Boy's Neighborhood. "You are silent on all black issues, Drake. You really are. You don't stand for nothing. You don't. That's just what it is. You have all the platform in the world. You were so passionate back then, no you weren't."
And though Drake never released a response to the scathing track, he did create one, though, as he revealed on The Shop, he realized it was a step too far. "I got home, listened back to it, and I was like, 'Man, this is not something I ever want to be remembered for. This is not even a place I necessarily want to go,'" he explained.
Besides, Drake would quickly change the conversation with the release of Scorpion, his fifth studio album, in late June. Across several tracks on the album, the rapper confirmed that what Pusha dogged him for was, in fact, true and he had a son out there somewhere. The first mention of a child came on the album's fourth track, "Emotionless," when he rapped, "I wasn't hidin' my kid from the world/I was hidin' the world from my kid/From empty souls who just wake up and look to debate/Until you starin' at your seed, you can never relate."
On the album's final track, "March 14," he detailed the entire story of his son and how he learned of him. "Yesterday morning was crazy/I had to come to terms with the fact that it's not a maybe/That shit is in stone, sealed and signed/She not my lover like Billie Jean but the kid is mine," he rapped.
During the five-minute-long track, Drake revealed that his son was born on October 11 and that he'd only seen him once—on Christmas. He also admitted that he didn't want Adonis to have to worry about living between two parents or deal with their drama. "Hopefully by the time you hear this me and your mother will have come around/Instead of always cutting each other down," he tells his son.
The rapper wouldn't speak publicly again about his son until his appearance on The Shop earlier this month, where he gushed about the kiddo, even showing photos to LeBron and his business partner Maverick Carter that he had on his phone. "[He has] crazy blue eyes — baby blue eyes," Drake said, adding, "He's already in the pool shooting the basketball."
Drake also offered up an update on his relationship with Brussaux, explaining, "I am a single father learning to communicate with a woman who, we've had our moments. I do want to be able to explain to my son what happened. But I don't have any desire for him to not love his mother. I don't ever want the world to be angry at his mother. We have found ourselves in a situation and we are both equally responsible. Now, I'm just really excited to be a great father."
In that same appearance, Drake also re-opened the wound that was his feud with Pusha while incriminating Kanye as the rappper's source of information on his familial situation. According to Drake, Kanye invited him to Wyoming to work on what ultimately became "Lift Yourself"—you know, the "poopty scoopty" song. He said that, while there, Kanye asked him to be "completely transparent" about Scorpion and its release date, while failing to reveal that he had any plans to release an album of his own. 
"I'm in Wyoming. I play him 'March 14.' I send him a picture of my son. I tell him I'm having trouble with my son's mother," the rapper continued, implying that it was Kanye who fed the info to Pusha. He then took things a step further, alleging that Kanye planned his string of G.O.O.D. Music album releases to pull focus from Scorpion. "I wake up, and all these dates are out. One by one by one. All of them around June 15."
The accusations came after Kanye apologized in September for "stepping on" the release date, while denying any involvement in the diss tracks and even admitting he wished he'd spoken to Pusha about the ghostwriting accusation that kicked the whole thing off. And after he called Drake out for not doing more to quash rumors that his wife Kim Kardashian West was the "Kiki" in question in the rapper's smash hit track "In My Feelings."
"What I'm looking for, for my spirit to take accountability is, the fact that there's people making rumors or thinking that you f--ked my wife, and you not saying nothing and you carrying it like that, that don't sit well with my spirit," West tweeted. "You know, if I had a girlfriend from Chicago, her name was Renita and then you was married to Rihanna, I wouldn't make no song called 'Riri.' So when you're like, 'Ah I don't know where it comes from!' You're too smart for that, bro. You know where that comes from. Don't make no record with nothing that could be confused."
Of course, with Drake speaking on him once again, Pusha wasted no time responding, throwing an eyebrow-raising wrench into the works when he denied his source was Kanye. "It may make sense in Drake's mind that, 'Oh Ye told Push about my son and my situation. I was in Wyoming…," Pusha T said on The Joe Budden Podcast last week. "It's wrong. It didn't happen like that."
"The information came from 40," the rapper insisted, referring to the MS-stricked producer he'd so callously called out in "The Story of Adidon." "It didn't come from Kanye at all. 40 is sleeping with a woman...He talks to her daily, five, six hours a day...provides opportunity for her and ultimately speaks about how he's disgruntled about certain things, notoriety and things involving Drake and his career. So on and so forth. With that also came the fact that Drake has a child. With that also came the trip that everybody took to go see the child and bring him gifts and all of this information. She divulged this information. That's where it came from."
Raise your hand if you saw that one coming.
When he wasn't breaking Billboard records or keeping a rap beef alive or welcoming a child into his life, he was busy with new friendships—with Stranger Things star Millie Bobby Brown, oddly enough—, a jaw-dropping reunion with the entire cast of Degrassi, a tour with Migos, and a budding relationship with rumored girlfriend Bella Harris. He was first linked to the 18-year-old model in August when she shared a photo of the two hugging on Instagram with the caption, "No place I'd rather be."
In September, E! News confirmed that the rapper closed down RPM Italian in Washington, D.C. for a private dinner, with a source telling us he waited for the upscale restaurant to "clear out" before heading into the main dining room, where Bella then joined him. Though they returned together the following night alongside friends, Harris took to Instagram to try and dispel the rumors, noting she had been "happily working & dining in NYC everyday" during New York Fashion Week.
One thing you can count on? If the relationship is real, you'll hear all about it whenever Drake releases music next. After all, as this year made abundantly clear, there's no stopping him. Not yet, anyway. Not until he decides it's time to bow out himself.