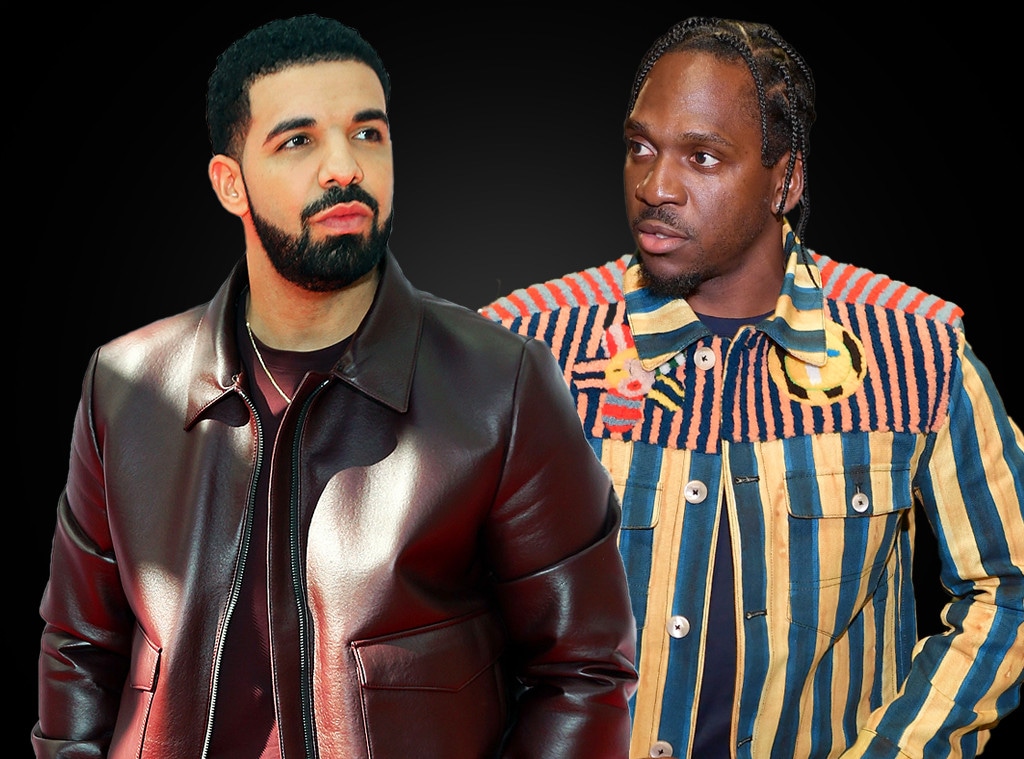 Getty Images
UPDATE: Drake is setting the record straight on one topic featured in the diss track war. On Wednesday evening, the rapper took to Instagram Stories and explained the controversial photo that is part of "The Story of Adidon."
"I know everyone is enjoying the circus but I want to clarify this image in question. This was not from a clothing brand shoot or my music career. This picture is from 2007, a time in my life where I was an actor and I was working on a project that was about young black actors struggling to get roles, being stereotyped and type cast. The photos represented how African Americans were once wrongfully portrayed in entertainment," he explained. "Me and my best friend at the time Mazin Elsadig who is also an actor from Sudan were attempting to use our voice to bring awareness to the issues we dealt with all the time as black actors at auditions. This was to highlight and raise our frustrations with not always getting a fair chance in the industry and to make a point that the struggle for black actors had not changed much."
————
Drake and Pusha T's war of the rhymes wages on—and it seems nothing is off limits between these two. 
In the latest chapter of the two rappers' ongoing diss track battle, the two men have been exchanging musical insults throughout the last week. The feud, which has been building for years, was initially reignited by Pusha T's third studio album, Daytona, produced partly by Kanye West and his label GOOD Music and released on May 25. 
On one track in particular called "Infrared," Pusha T is suspected of taking aim at the 31-year-old star. On the track, Pusha T mentions Quentin Miller, a rapper long accused of being Drake's alleged ghost writer, and compares his success to President Donald Trump's. 
"The lyric pennin' equal the Trumps winnin' / The bigger question is how the Russians did it / It was written like Nas but it came from Quentin," the line goes. 
Less than a day later, Drake dropped "Duppy Freestyle" in response, in which he took aim at Pusha T's drug dealing history.
"Man, you might've sold to college kids for Nike and Mercedes/But you act like you sold drugs for Escobar in the '80s," he raps. 
He also called out Kanye West and asked for money for bringing publicity to the album and, therefore, increasing sales. In the process, he also seemed to take some credit for West's 2016 two-part track, "Father Stretch My Hands"
"So if you rebuke me for workin' with someone else on a couple of V's/What do you really think of the n---a that's makin' your beats? / I've done things for him I thought that he never would need / Father had to stretch his hands out and get it from me," Drake continues.
As he concluded the track, "Tell 'Ye, 'We got a invoice comin' to you' / Considerin' that we just sold another 20 for you."
On Instagram, Drake posted an invoice addressed to GOOD Music and Def Jam charging $100,000 for "promotional assistance and career reviving." 
But, Drake was not about to have the last word. Pusha T issued another retort with "The Story of Adidon," for which he used an alleged photo of Drake in blackface. The rapper credited David Leyes as the photographer, though the image does not appear on Leyes' website. 
"Please stop referring to this picture as 'artwork'...I'm not an internet baby, I don't edit images," Pusha T also tweeted in reference to the photo along with a link to Leyes' website. "This is a REAL picture...these are his truths, see for yourself."
Meanwhile, on the track, Pusha T got to rhyming about a woman who allegedly had a baby with Drake after Drake referenced his fiancée Virginia Williams on "Duppy Freestyle."
"Since you name-dropped my fiancée, let 'em know who you chose as your Beyonce/Sophie knows better, ask your baby mother/Cleaned her up for IG, but the stench is on her/A baby's involved, it's deeper than rap/We talkin' character, let me keep with the facts/You are hiding a child, let that boy come home/Deadbeat mothaf--ka playin' border patrol, ooh/Adonis is your son and he deserves more than an Adidas press run, that's real/Love that baby, respect that girl/Forget she's a porn star, let her be your world," he rapped. 
Rumors surrounding Drake's alleged secret baby popped up last year when Sophie Brussaux came forward claiming she had text messages to prove Drake is the father of her son and had lawyered up for a paternity test. 
"If it is Drake's child, which he doesn't believe it is, then he would do the right thing by the child," Drake's rep told E! News in response to the rumors, claiming that Brussaux had been involved with another rapper at the time. 
On "Adidon," Pusha T also made an offensive reference to Drake's longtime producer and collaborator, Noah Shebib, also known as "40," who has multiple sclerosis. 
"OVO 40, hunched over like he he 80/ Tick, tick, tick how much time he got? That man is sick, sick, sick," he rapped. 
In response, Shebib tweeted on Tuesday, "Coincidentally... tomorrow is World MS Day."
(Originally published May 30, 2018, at 8:23 a.m. PST)