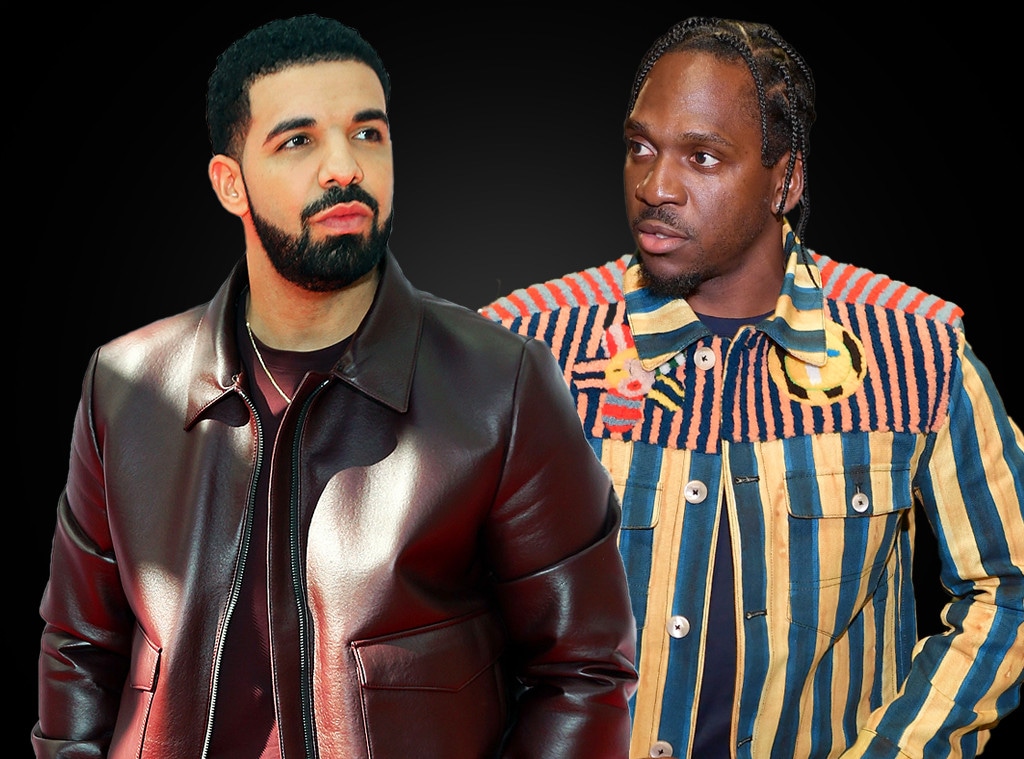 Getty Images
Pusha T is fine competing with Drake via their public feud, which has gotten personal with mentions of women and children, and has also become racially charged.
The two rappers have been engaged in a diss track and Twitter war, during which Pusha-T posted a photo of Drake in blackface and mentioned the rapper's alleged "baby mother" in a song after the latter star rapped the name of the man's fiancée, Virginia Williams.
"Why would you mention my fiancée? No women, no children," Pusha T said on the Real 92.3 FM show Big Boy's Neighborhood. "It was sport to me until the fiancée mention...it just rubs me wrong."
After Drake's track "Duppy Freestyle," which mentions Pusha T's fiancée, was released, Pusha T posted a photo of Drake in blackface as the cover image for his single "The Story of Adidon." The latter star, who rose to fame as a teen actor on Degrassi: The Next Generation, said on Instagram on Wednesday that the picture was taken in 2007, when he was an actor and working on a project about "young black actors struggling to get roles, being stereotyped and typecast," and that the photos he took "represented how African-Americans were once wrongfully portrayed in entertainment."
"I don't believe it," Pusha T said on Big Boy's Neighborhood, in response to Drake's explanation about the photo. "You are silent on all black issues, Drake. You really are. You don't stand for nothing. You don't. That's just what it is. You have all the platform in the world. You were so passionate back then, no you weren't."
Drake, who was born in Canada to a black father and white mother, has not responded to Pusha T's remarks.
Pusha T had responded to "Duppy Freestyle" with the track "The Story of Adidon," rapping, "Since you name-dropped my fiancée, let 'em know who you chose as your Beyoncé/Sophie knows better, ask your baby mother."
Last year, a woman named Sophie Brussaux said she had texts proving Drake was her son's father. The rapper's rep said at the time that Drake did not believe the boy was his, but that if he was wrong, he "would do the right thing by the child."
"I'm extremely tasteful in all this," Pusha T said on Big Boy's Neighborhood. "I'm speaking about the character of a man. I'm speaking about the principles of a man. Even when we get into the part about the child, I'm just trying to get the listeners to see something. You got multi-millions and a whole child that's in arm's reach...You got a whole child you're suppressing. You got a whole child that nobody knows about. It's real. It's real."
"The baby ain't alleged. It's real," he said. "And my point with that is that we can't even know about something so precious. We can know about it when we roll it out with your alleged new Adidas deal. Roll it out with some new sweat suits."
Pusha T said he is not anticipating a reply from Drake to "The Story of Adidon."
"No. What's to talk about? It's all true," he said, adding, "I'm not afraid of nothing. Nothing. Ain't no skeletons with me. I don't have none."
While the feud has been making headlines this week, it appears to have been a long time coming. On another track, "Infrared," Pusha T mentions Quentin Miller, a rapper many speculate has ghostwritren songs for Drake. Pusha T said on Big Boy's Neighborhood that his song was a "response" that he "held onto in regards to '2 Birds 1 Stone,'" Drake's 2016 track that Pusha T and many fans speculate is a diss track about Pusha T and fellow rappers Meek Mill and Kid Cudi.
Pusha T denied that he baited Drake.
"No such thing as bait," he said. "This is competitive for me, a sport."
During his interview, Pusha T also talked about the controversial cover of his new album Daytona; the image depicts the late Whitney Houston's bathroom counter littered with drugs. Kanye West, an executive producer on the record, had reportedly licensed the photo for $85,000.
"Definitely a Kanye suggestion," Pusha T said on Big Boy's Neighborhood. "It was getting down the wire to turning the album in. They had done a photo shoot, and Kanye felt he wanted something to match the strength of the music. Kanye felt creatively it [the photo] speaks to everything...of street life, every aspect of street life."
"That's really disgusting that he would do that," singer and Houston's ex-husband Bobby Brown told Rolling Stone. "That's in really bad taste. Something should happen to Kanye. He's already crazy. I knew that when I first met him. Now he's pushing the bar a little bit. He needs somebody to slap him up or something. And I'm just the person to do it."
Houston and Brown had been involved in several domestic disputes before they divorced.
"I mean, c'mon man," Pusha T said on Big Boy's Neighborhood, when asked about Brown's remarks about his album cover. "I don't think we should be talking about slapping."
Brown has not responded to his comments.