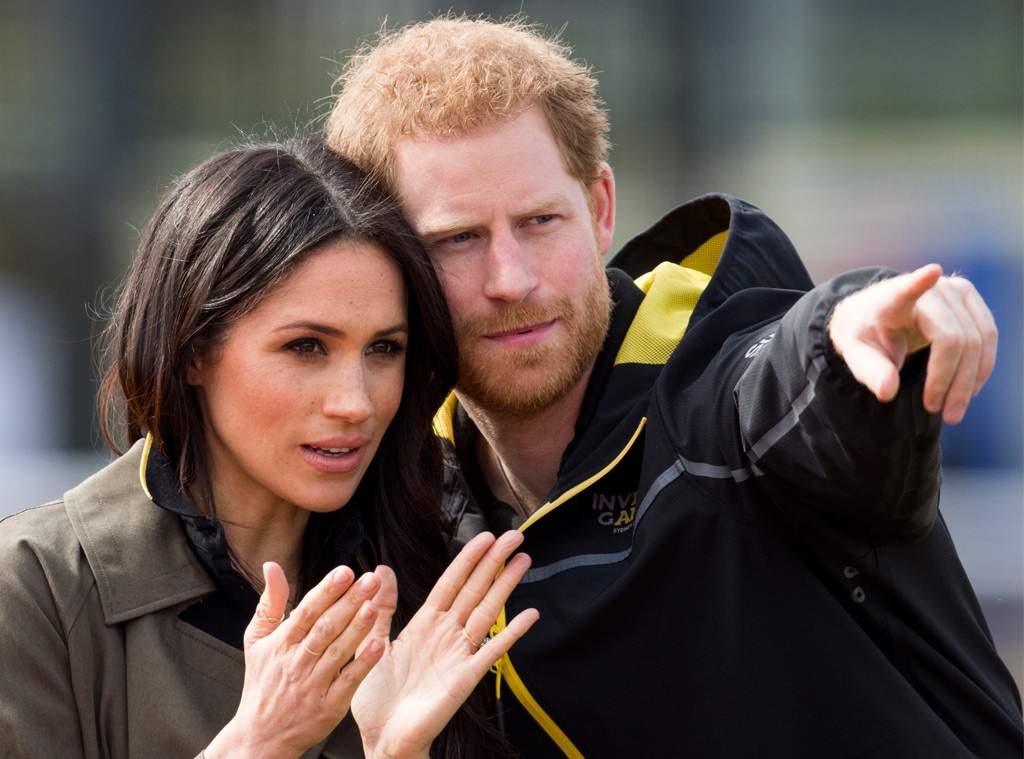 Mark Cuthbert/UK Press via Getty Images
"Oh God, it's a boy! And he's even got red hair."
So Prince Harry, one of the most famous gingers of our time, was welcomed into the world by his father, Prince Charles—who, according to the late Princess Diana, was hoping that their second child would be a girl. (Meanwhile, "rusty hair" is how dad is quoted in Sally Bedell Smith's Prince Charles.)
Father and son have happily put their initial awkward meeting behind them, becoming quite close over the years. But Harry wasn't finished startling the royal family just yet.
Harry, who celebrates his 34th birthday today, did end up being the more troublesome of Charles and Diana's two sons. Perhaps he knew from an early age that not as much was required of the "spare heir" as was required of an almost certain future king, such as his older brother, Prince William. Decorum is always preferred under the queen's roof—her roof being all of the United Kingdom—but hey, boys will be boys.
But while being an undistinguished student and carousing naked in Vegas proved how "normal" he was, only in recent years did Harry feel ready to wear his heart on his sleeve—and thereby re-elevate himself to a lofty level in the country that has always loved him, and loved to pick on him (with good reason at times).
"I can safely say that losing my mum at the age of 12, and therefore shutting down all of my emotions for the last 20 years, has had a quite serious effect on not only my personal life but my work as well," he told the Telegraph's Bryony Gordon for her Mad World podcast in April 2017.
Princess Diana was killed in a car crash on Aug. 31, 1997, and numerous documentaries and special reports were produced in honor of the 20th anniversary of her death last year, including a a few with the cooperation of Harry, William and other members of her family. 
Harry definitely had his PR nightmares, including a run-in with a paparazzo in 2004 (the pap said Harry lashed out; the prince said he was bumped by the pap's camera, but lord knows he had his reasons to despite paparazzi), and his heinous choice of costume at a party in 2005 (Charles hired his boys their first private secretary after that screw-up).
Yui Mok - WPA Pool/Getty Images
"I have probably been very close to a complete breakdown on numerous occasions when all sorts of grief and sort of lies and misconceptions and everything are coming to you from every angle," Harry continued. William finally helped convince him to seek counseling, and he'd seen a therapist "more than a couple of times."
The mass response, naturally, was "who knew?!" (Which in itself was a tremendously important consequence of his candor, the ongoing effort to remove the stigma surrounding mental health concerns still needing all the prominent participants it can get.) And that was followed by a collective "aw...Harry..." 
Ian Stewart/REX/Shutterstock
Since 1997, the world has collectively been inclined to give William and Harry a big hug, the shocking death of their mother leaving a billion people with the lasting image of a 14-year-old and his 12-year-old brother solemnly walking behind Diana's casket in the funeral procession to Westminster Abbey.
William's marriage to Kate Middleton and the couple subsequently welcoming children of their own had shifted the focus on the elder prince from him to whatever was going on with his wife, her clothes and their kids' clothes. But there remained a sort of collective anxiousness about Harry, who served two tours (one abbreviated for safety reasons) in Afghanistan, who was dedicating his life to helping veterans and children in Africa, who was proving himself to be a real stand-up lad after his handful of missteps, and who deserved happiness, darn it. 
And we had good reason to feel that way. He had been open about his desire to have a family and had told his friends that he was having trouble finding the right girl. (And even if they had Royal Tinder, he'd probably be related to almost everyone on it.)
But now, at least, we can rest easy. Harry too has found the person whose sartorial choices will upstage him in nearly every scenario to call his own.
We kid, more or less, but this is his first birthday spent as a married man, Prince Henry Charles Albert David having joined Rachel Meghan Markle in holy matrimony on May 19 in what we can safely say was the most talked about wedding of the year (sorry, Justin and Hailey), watched by more than 29 million people.
In fact, at this time last year, Meghan and Harry hadn't even made their public debut as an official item yet. So what a difference a year makes.
Set up by his childhood friend Violet von Westenholz, Harry met Meghan on a blind date in London a little over two years ago and that was that, one of the world's most eligible bachelors was down for the count.
They managed to enjoy their personal space at first, no one the wiser when they enjoyed their third date under the stars in Botswana, but soon enough the press was onto them. Harry had to make the unprecedented move of confirming that he had a girlfriend by way of a statement released from the Palace asking for the respect of Meghan's privacy—with a polite request for people to not be racist prats while they're at it.
Apparently some had taken issue with the Suits star being biracial (and divorced! and American!), prompting Harry to call out "the racial undertones of comment pieces; and the outright sexism and racism of social media trolls and web article comments."
Long story short, love conquered all, but at least the monarchy—which still gets to approve all the matches—started off by passing the what-year-is-this test with flying colors.
Jeremy Selwyn/Evening Standard/PA Wire
Meanwhile, Meghan still had what would be her final season of Suits to shoot, and as the months went by it became obvious—she shut down The Tig, her lifestyle website, and stopped posting on Instagram—that the couple were serious.
Though she was already well-known, the Los Angeles-area native had become world-famous.
"It has its challenges, and it comes in waves—some days it can feel more challenging than others," Meghan said in the October 2017 issue of Vanity Fair, her first big interview addressing the prince in her life. "And right out of the gate it was surprising the way things changed. But I still have this support system all around me, and, of course, my boyfriend's support."
But, she insisted, at the end of the day it was a simple proposition.
"We're two people who are really happy and in love," she said. "We were very quietly dating for about six months before it became news, and I was working during that whole time, and the only thing that changed was people's perception. Nothing about me changed. I'm still the same person that I am, and I've never defined myself by my relationship."
Best she continue on that track. Someone's got to.
Last November the pair announced their engagement and sat down for their first joint interview, the requisite chat with the BBC that William and Kate did seven years prior.
Noting that he tried to explain to Meghan what sort of scrutiny was in store for her as his official girlfriend, Harry said, "I think you can have as many conversations as you want and try to prepare as much as possible, but we were totally unprepared for what happened after that."
Meghan admitted she was disappointed that her race (her mom is black and her father is white) was still such a point of contention for some people, but she shrugged it off.
"At the end of the day, I'm really proud of who I am and where I come from," she said. "We have never put any focus on that. We've just focused on who we are as a couple. And so, when you take all those extra layers away and all of that noise, I think it makes it really easy to just enjoy being together and tune all of the rest of that out."
Andrew Matthews - WPA Pool/Getty Images
There was a learning curve as Meghan prepared to join the royal family (learn to love pantyhose, no selfies no matter how nicely they ask, etc.), but otherwise the wedding preparations went along smoothly, for the most part.
The one glaring issue that plagues the couple, and may still plague them to this day (or at least it's still entertaining tabloid readers), is the behavior of Meghan's father, Thomas Markle, and her half-siblings on that side.
Only Meghan's mother, Doria Ragland, ended up attending the royal wedding. Thomas, days removed from being caught posing for paparazzi photos in an attempt to get some posher shots in circulation, suffered a heart attack and required a procedure that prevented him from being there to walk his daughter down the aisle. Prince Charles did the honors instead.
There are doubts as to whether some of that may be a stretch, be it the part about the heart attack or the part that he was ever going to walk Meghan down the aisle. Because since the wedding, Thomas has talked to the media numerous times, claiming that Meghan looks "terrified" in photos, that he can't get a hold of his daughter, and that it would be a shame if he were to die before they ever speak again.
So he sent the newlyweds on a guilt trip for their honeymoon, aided by his daughter, Samantha Markle, who in her tweets has compared Meghan to Cruella de Vil and, earlier this week, called her half-sister...a "DUCHASS"?
So this is new territory for Harry, who has reportedly never met his father-in-law in person and, while he's grown up with a portion of Britain questioning the overall usefulness of his family, isn't used to this sort of cyber bullying. Moreover, etiquette watchers had chided the royals for not sending a representative to visit Thomas Markle when he had surgery in May, so perhaps he hasn't felt blameless in this ongoing row. 
"We've had interesting conversations on the phone. He's a smart guy," Thomas Markle said on Good Morning in Britain in June about his son-in-law, calling Harry a "very nice man." A "gentleman, very likable." But in July he said that he hadn't talked to either Harry or Meghan in months. (So far, there's no such thing as a rare Thomas Markle interview.)
His son, Meghan's half-brother Thomas Markle Jr., however, didn't hold back in an interview with the Daily Mail last month, saying this is "not the Meghan I remember. The Meg I remember was very caring and she cared about everybody—that was important to her." Before the wedding, Tom Jr. and Samantha had insisted that Harry didn't know what he was in for. And they weren't kidding.
Geoff Pugh/The Telegraph/PA Wire
"Since Hollywood and being on that show—being a celebrity has changed her. Maybe she feels she is above everybody, maybe even more now," Tom Jr. also told the Mail. "But if she wasn't with Prince Harry right now—even if she was still on Suits right now—she would have stopped what she was doing to go and visit [our dad] and make sure he's OK."
As such a public figure, Harry is caught between a rock and a hard place, so he has largely abided by royal tradition and maintained a polite silence on the matter. (In theory, it's not that hard to avoid these stories, especially if the Duke and Duchess of Sussex abstain from Twitter.) He and Meghan have purposely spent a number of weekends in the Cotswalds together (minus their weekend with the Clooneys), where they're mainly left alone.
"The property is in the middle of woodland and you wouldn't know it was there," a local told Vanity Fair. "It is very remote which is why they like it. It's like a fortress. There's a huge security presence, you can't get close."
Dan Charity - WPA Pool/Getty Images
So while Harry helped the monarchy turn over a new modern leaf this year, his wedding highlighted by a refreshing blending of cultures and being a truly happy occasion amid all the crap news out there, the royal has proved himself, more than ever, to be a reliable part of this family—albeit one who gets to enjoy kissing his wife in public on days other than their wedding day.
An important distinction.
On Thursday he appeared for the first time as Captain General—a post he's taken over from grandfather Prince Philip—at the Royal Marines Commando Training Centre in Devon, alighting from a helicopter. Also this week, Kensington Palace announced the details of Meghan and Harry's first royal tour, which will take them to Australia, Fiji, the Kingdom of Tonga and New Zealand in October, so that's something to look forward to.
And today, knowing them, or royals in general, they will celebrate Harry's birthday privately, perhaps even just the two of them. Prince Harry knows he can keep the outside world waiting. It's not going anywhere.