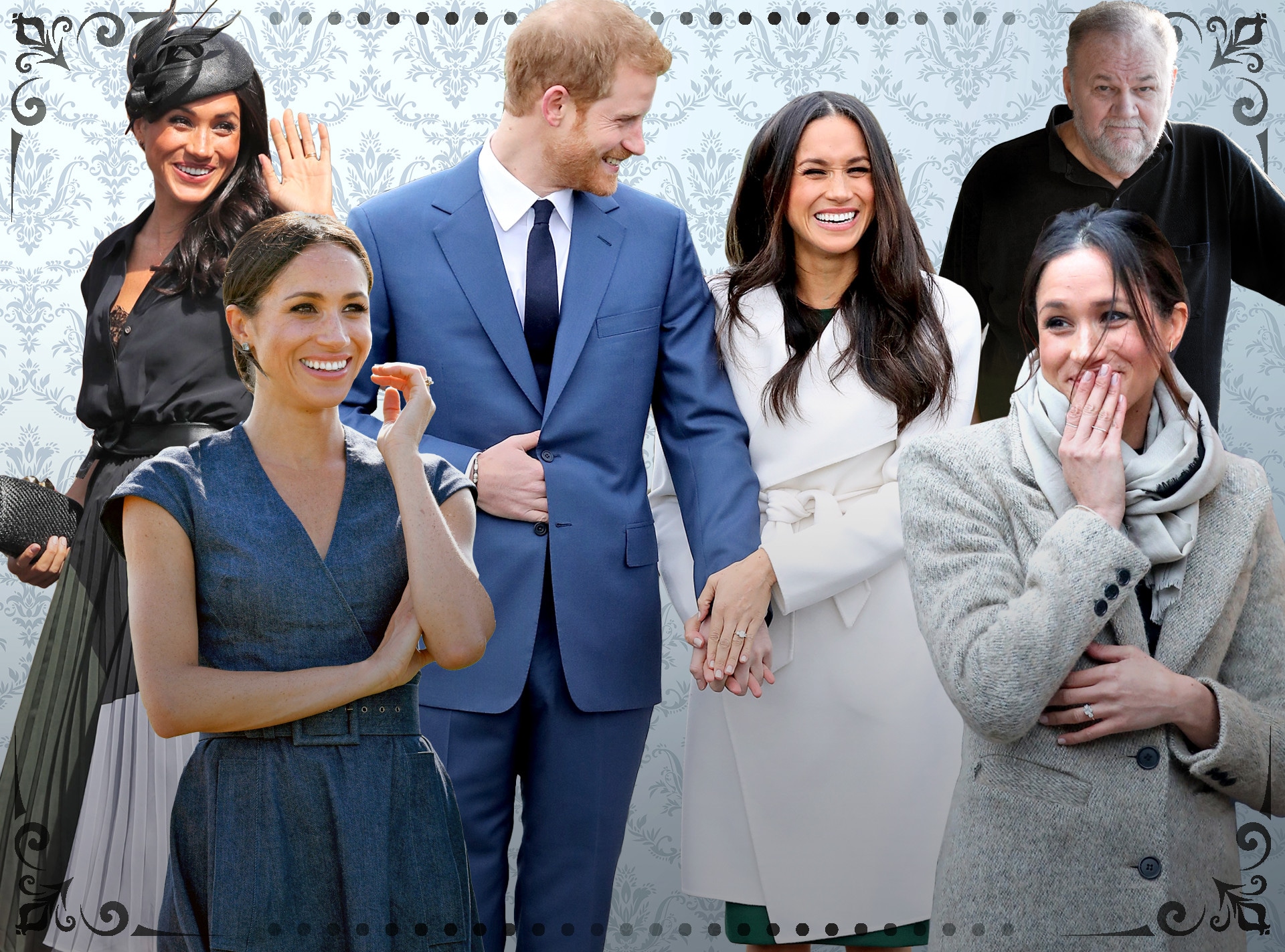 Getty Images/MEGA/Shutterstock; Melissa Herwitt/E! Illustration
What isn't unusual, be it good or bad, about Meghan Markle's life these days?
We can go on about how relatable she is, with her perfectly tousled updos and her initial reluctance to wear pantyhose, or how she's injected a dose of freshness into the perennially stodgy British monarchy. But really, her life is mainly just weird.
Since marrying Prince Harry on May 19, the inarguable fairy-tale aspects of her existence—from the sheer fact that she married a prince and now lives in a palace to her new status as a VIP weekend guest over at Casa Clooney—have run up against some stiff competition from the real world, a world that's so far proved very unwilling to let her go.
"It's interesting that Meghan has just joined the biggest soap opera in the world and she has just landed the biggest role of her life as an actress," Paul Burrell, Princess Diana's former butler, said on Yahoo! UK's The Royal Box this month. "I think, yes, she did want to be famous, she's got everything that she wanted, but I [also] think 'be careful what you wish for,' because sometimes it's not all that it seems."
That's a rather jaded prism through which to view the most talked-about love story of the past two years, but at the same time Burrell saw firsthand the toll that constant scrutiny took on Harry's late mother.
Yet Princess Diana, the "People's Princess," may still be the most beloved member of that family next to the Queen despite having been gone for almost 21 years, so she obviously had staying power in spades.
And speaking of digging implements...
"They are either like Scientologists or the Stepford family," Meghan's father, Thomas Markle, who's been putting the "strange" in "estrangement" since before the wedding, lamented earlier this month to The Sun, which apparently can't get enough of these patrilineal grievances and has been one of many outlets to gladly provide a public forum for the retired TV lighting director. Samantha Markle, Meghan's half-sister, marked the newest royal's birthday with a series of tweets, including one calling her Cruella de Vil.
Thomas Markle and Meghan's mother, the stoic, supportive and still-in-the-picture Doria Ragland, separated when she was 2 and divorced a few years later—and though Meghan and her dad had by all accounts a decent relationship when she was growing up, it hasn't looked pretty since Meghan burst onto the global stage as the girlfriend of one of the most eligible bachelors in the world. (And it wasn't looking pretty in 2011, either, when Markle married her first husband, Trevor Engleson, in Jamaica in front of a group that included her mother but not her father.)
"If they hear anybody say anything they just lock the doors," Thomas said of the royals. "They need to speak up...They close the door, pull the shades down and put their fingers in their ears so they don't have to hear."
Really, it isn't all that hard to block out the noise of the hoi polloi, even when you're related to the noise, so no photos of the Duke and Duchess of Sussex in a petulant "I can't hear you!" pose have cropped up yet.
But because of the Markle side of the family's insistence on not shutting up, the first 100 days of Meghan's life as a royal haven't all qualified as part of the honeymoon period.
"There is no protocol for people like Thomas Markle, or in-laws, and people who marry into the royal family are lost at sea," Burrell said on The Royal Box. "They have embraced Meghan, they are keeping Meghan safe, but how about all the people in her world? I think they need to think about this, it's a problem."
By all accounts, Harry is head over heels in love with his wife, he certainly doesn't want to see her suffer and he reportedly felt terrible about Meghan's father not attending their wedding, the need to undergo a procedure following a heart attack rendering Markle unable to travel. But at the same time, all of Harry's gentlemanly ways have been put to the test in recent months as he's maintained the stoic demeanor he's been more or less required to display in public since he was a boy.
John Stillwell/PA Wire/AP Images
Some believe he's following in Diana's footsteps by turning the other cheek. Yet he's also taking a page from his grandmother Queen Elizabeth II's playbook: Refuse to acknowledge a disturbance publicly, which would give credence to the situation, and then handle the situation however you see fit in private.
Meanwhile, it's the royals who've gotten heat for mismanaging the situation, for not reaching out to mend fences or otherwise try to soothe Meghan's obviously wounded dad.
"It's been over the phone, always over the phone," Markle described his sole interactions with his new son-in-law to Good Morning Britain in June. "We have yet to see each other face to face. We've had interesting conversations on the phone. He's a smart guy." Harry was a "very nice man," he said. "Gentleman. Very likable."
In early July, however, he said he hadn't spoken to either Harry or Meghan in a long time.
Mark Cuthbert/UK Press via Getty Images
"I think Meghan should have handled this from the beginning," her half-brother Thomas Markle Jr. told the Daily Mail recently. "And I think it got ignored and swept under the carpet for so long, it's a shame where it's ended up, especially between her and my father. She's capable of doing anything, she's just got to want to do it."
But Meghan, no matter what decisions her relatives think she should be making on her own, is on board with whatever her new family has decided when it comes to this pernicious problem.
And perhaps it hasn't been easy for Meghan to freeze out an entire side of her family (according to them), but once you join the Firm, that's just the way it is.
Then again, with her dad going around saying he hopes that they reconcile before he dies and adding his 2 cents to even the family-planning conversation, telling GMB, "I don't think there is a stork in the air yet but I think it will happen sooner or later," maybe it hasn't been so difficult. (Though prospective grandparents do tend to be a little over-eager in that department...)
The Daily Mail reported that a "deeply hurt" Meghan told a close friend that she "just wishes her dad would 'stop blathering' to the press." Until she feels she can trust him, the source continued, she had no plans to contact him.
In certain other aspects of her married life, however, Meghan will have freedoms not afforded to her sister-in-law Kate Middleton, who as the wife of Prince William will always have certain pressures on her shoulders that even the Queen's other grandchildren don't have—because William is second in line to the throne and Kate will in all likelihood be called queen one day. Harry, upon the arrival of Kate and Will's third child, moved to sixth in line.
One day Harry and Meghan may be sharing their spotlight with a little heir of their own. People other than Meghan's dad have commented upon her expressed interest in having children (not including Paul Burrell, who said confidently that he thinks Meghan will be pregnant within her first year of marriage), and Harry has talked openly about hoping to have his own family, telling the BBC last November that he hoped it would happen "in the near future."
Should they have kids, Meghan and Harry would surely build upon the more hands-on style of parenting adopted by Diana and Charles and expanded upon by Kate and William—never mind that the Queen is technically the legal custodian of all her minor grandchildren, thanks to a 300-year-old law.
"The grand opinion has never been changed, but the Queen has a far better relationship with her kids than George I had with his son, the future George II" in the 1700s, royal expert Marlene Koenig told The Sun. Still, Harry and Meghan will have free-rein-within-reason (i.e. live your life and try not to embarrass anybody) when it comes to their offspring's upbringing and schooling. 
DAVID HARTLEY/Shutterstock
Contentedly distanced from supreme responsibility, however, Harry is still devoting his life to public service in the vein of his brother, father and grandparents, patronizing numerous organizations in the U.K. and maintaining his own charitable foundations. Meghan, who was an activist already before meeting Harry on a blind date, fits neatly into that life plan.
But like his late mother, it's his personable charm and his rebellious-youth-made-good story that has had an entire commonwealth in a dither over Prince Harry for years. Understandably everyone, from his closest observers to his most distant admirers, wanted him to find someone who would both make him happy and—because when is she not on our minds?—Princess Diana proud. 
"Diana wanted her sons to be 'men first and princes second,'" Lady Colin Campbell, author of the 1998 biography The Real Diana, told the Daily Express in May. "That was her goal. She felt the royals were out of touch with society." In that respect, Campbell called Meghan a "godsend for the monarchy."
In their engagement interview with the BBC, Harry said he thought his mother and his fiancée would have been "thick as thieves." He imagined Diana, who died in a car crash in 1997, being "over the moon, jumping up and down, you know so excited for me, but then, as I said, would have probably been best friends—best friends with Meghan." He utilized diamonds from his mother's jewelry collection in the ring he gave Meghan. On their wedding day she carried a bouquet containing some flowers that Harry had handpicked from his mother's former garden at Kensington Palace, where the couple and Kate and William now live, and the bride wore a massive aquamarine cocktail ring that belonged to the late Princess of Wales to their evening reception.
In many respects, Meghan's first hundred days as a royal have been par for the course. She has overwhelmingly delighted her admirers and sent coats, dresses, shoes and handbags flying off the shelves. Her Givenchy wedding dress is expected to attract plenty of tourists when it goes on display at Windsor Castle, as Kate's Alexander McQueen gown did in an exhibit at Buckingham Palace in 2011. Propriety-wise, her manners have been impeccable, the duchess having been schooled beforehand on the royals' no-selfie rule.
Can't have oodles of unauthorized pics floating all over the Internet, now can they?
There's been the occasional mild wardrobe malfunction (royals edition), such as the merest flash of her presumably very high-end bra getting captured for posterity when she attended a wedding this month, or the expanse of clavicle shown in a dress with a portrait neckline proving too much for the pearl-clutching set.
The choice hasn't presented itself too many times during London's record-hot summer, but Meghan has picked pants on occasions when a sportier look sufficed (notice, Kate's Zara skinny jeans may have been among her most lauded garments, but she always wears skirts on official business and to high-profile events), a très chic fashion choice. But even as the mercury climbed in May, she dutifully slipped into a pair of stockings, per royal protocol that frowns on bare legs.
Kate has been obliging the House of Windsor's rules with $7 pairs of John Lewis Barely-There Non-Slip Tights, and no one's ever seen her with fabric bunched around her ankles, so perhaps that's Meghan's go-to brand now too.
James Gourley/BPI/Shutterstock
Paul Burrell talked about how difficult it was for Diana to lose her anonymity and her freedom in the way that she did, marrying Charles when she was only 20 and realizing as early as their honeymoon that they were not a match made in heaven. But at least the circumstances under which Meghan married Harry couldn't have been more different. For one thing, they only have eyes for each other and, both staunchly in their 30s, they had been around the block enough times to know what they were looking for in a partner.
And, of course, as a star of the hit USA show Suits, Meghan was already famous. Yes, she's exponentially more famous now, but she knew her way around a camera.
Meghan's social sphere was also already star-studded, and since her wedding she's cheered on Serena Williams at Wimbledon, congratulated Priyanka Chopra on her engagement to Nick Jonas and visited George and Amal Clooney at Lake Como. Harry and George knew each other from the philanthropy circuit and their better halves happily hit it off—and now even patronize the same hairdresser in London.
"They've been able to relate on a lot about their lifestyles," a source tells E! News, "especially how to deal with being thrust into new situations in the public spotlight."
Meghan has also had Kate, who sat alongside her in the royal box at Wimbledon, to help show her the ropes. But there will inevitably be more of a trial and error period as her adjustment to this life continues. It's only been 100 days, after all.
Anwar Hussein/Getty Images
"Once you become immersed with the royals, life does change, and you're trying not to make mistakes," etiquette expert Liz Brewer said on The Royal Box. "You're trying to be approved of.  You can be made to feel that small." She held two fingers an inch apart. "There are people dictating how to behave. You know, protocol. Protocol is different to etiquette, it's to do with precedence. Who enters the room first, who's an heir to the throne." 
"So you are aware that you will be told when you've done something wrong. It can be quite lonely being a member of the royal family, even with somebody as wonderful as Kate and with a husband as sensational as Harry."
Vanity Fair, meanwhile, reports that it's Harry who's been more perturbed by the media scrutiny, caused in no small part by Meghan's talkative family.
"He worries there is too much hysteria around Meghan and he wants to row back a bit," a source told the magazine this month. But overall, both Harry and Meghan "expect a code of silence. If you talk to the press you're out. Harry didn't used to care that much about what was written [about him], he just said it was a load of shite, but he's very protective of Meghan and defensive these days."
So it's no wonder the still fairly newly wedded pair have been spending most weekends at their country cottage in the Cotswalds, prompting some harrumphs from your friendly British royals correspondents, who are hard-pressed for insider news about the couple.
"It's very clear they want to be private and left alone," a Cotswalds local told Vanity Fair. "The property is in the middle of woodland and you wouldn't know it was there. It is very remote which is why they like it. It's like a fortress. There's a huge security presence, you can't get close."
Interestingly, Diana biographer Andrew Morton said on The Royal Box that the best source of information had come from Meghan herself, the former actress having given interviews and written essays, traveled extensively and maintained her own website and an aesthetically pleasing Instagram presence before getting engaged to Harry.
And from his own observations and conversations he's had with people who know Meghan, Morton gleaned that "she's someone with a moral compass. Quite spiritual, she can debate theology. There's a different side to her than the glamour of her pictures. Quite ambitious, obviously, but at the same time very, very smart."
It hasn't been smooth sailing every step of the way so far, but if anyone can navigate the next hundred days and beyond, it will be Meghan and Harry together. Plus, if they continue to throw caution—and protocol—to the wind and keep sharing kisses in public, the press will forgive them anything.