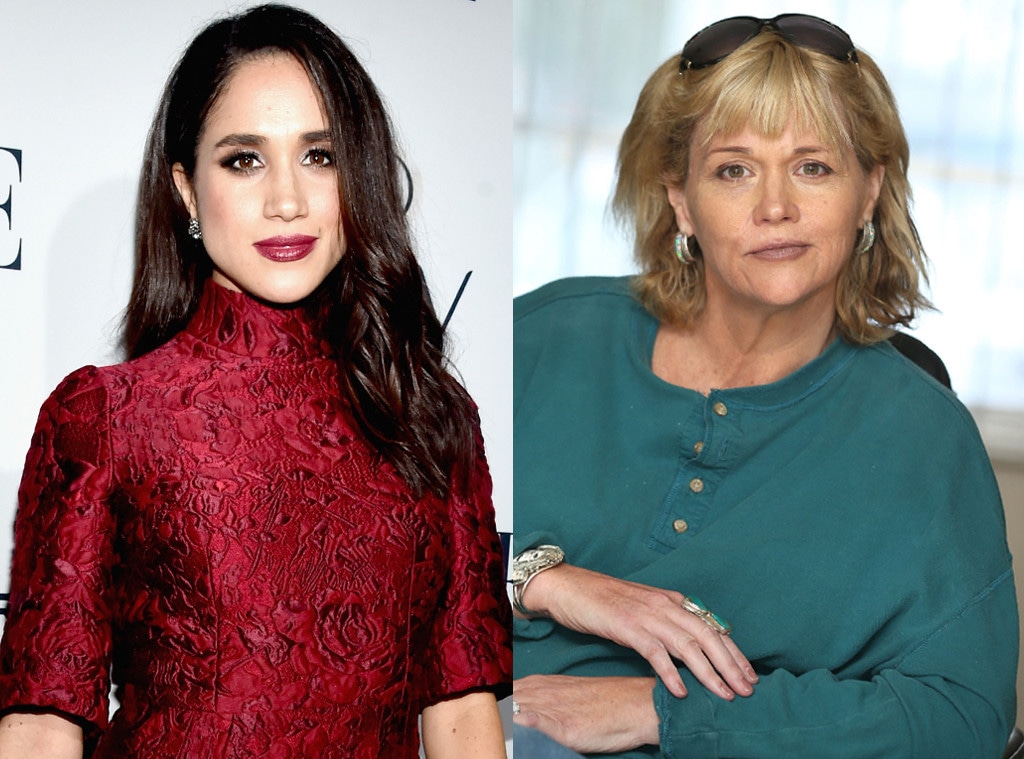 Getty Images; Splash News
Meghan Markle celebrates her 37th birthday on Saturday and her estranged and outspoken half-sister Samantha Markle marked the occasion early with some shade, comparing her to Disney's 101 Dalmatians villain Cruella de Vil.
The 53-year-old took to her private Twitter to rant about the Duchess of Sussex and urge her to send her own birthday wishes to their father, Thomas Markle, who turned 74 two weeks ago. He has recently complained in the press about how Meghan and Kensington Palace have recently severed ties with him and has also expressed concern over her public royal appearances.
"Happy Birthday Meg! It would be so lovely and appropriate of you to send DAD a BELATED birthday card for his July 18th [cake emoji] @KensingtonRoyal Cheers!" Samantha tweeted on Friday, according to a screenshot published by The Daily Mail.
Earlier on Friday, Samantha shared an Elle article that said Meghan and Harry "are rumored to be taking a step away from the media spotlight," writing, "OK so Cruella Deville is retreating LOL...Let me know how that works out for you [sic],'" as seen in a screenshot posted by The Evening Standard.
In another tweet, she called Meghan, "Witchy Poo."
Samantha had slammed Meghan last month as well, tweeting, "How about you pay tribute to your own father?! Enough is enough. Act like a humanitarian act like a woman! If our father dies I'm holding you responsible, Meg! @KensingtonRoyal."
She also made a public plea for Meghan to reunite with their dad, saying on ITV's Good Morning Britain, "He's very worried about her given the distance and the inability to have live communication, so he just needs to know that she's well, she's happy, she's OK and to touch bases, so I hope they get to do that soon." 
In his interview with The Sun, Thomas had also said that he thinks Meghan looks "terrified" while on outings with Harry and the royal family.
"I see it in her eyes, I see it in her face and I see it in her smile," he said. "I've seen her smile for years. I know her smile. I don't like the one I'm seeing now. This one isn't even a stage smile—this is a pained smile."
He also criticized her new royal style, modeled partially after her in-laws' fashions, saying, "Why in 2018 are we dressing like the 1930s?" he said. "Why do they have to cover their knees?"
In an interview with The Mail on Sunday last week, Thomas said, "I used to have a phone number and text number for her personal aides at the Palace, but after I said a few critical words about the Royal Family changing Meghan, they cut me off."
He added, "What riles me is Meghan's sense of superiority. She'd be nothing without me. I made her the Duchess she is today. Everything that Meghan is, I made her...She became the woman that she is today thanks to everything I did for her," he said. "And did I get any recognition for it? Any thanks? She doesn't even speak to me now. How cold is that?"
"It's her birthday on August 4 and I want to send her a card," he continued. "But if I send a birthday card to Kensington Palace, or wherever she's living now, it'll just be one among thousands. She'll probably never see it."
Meghan and Kensington Palace have not commented on his or Samantha's remarks.