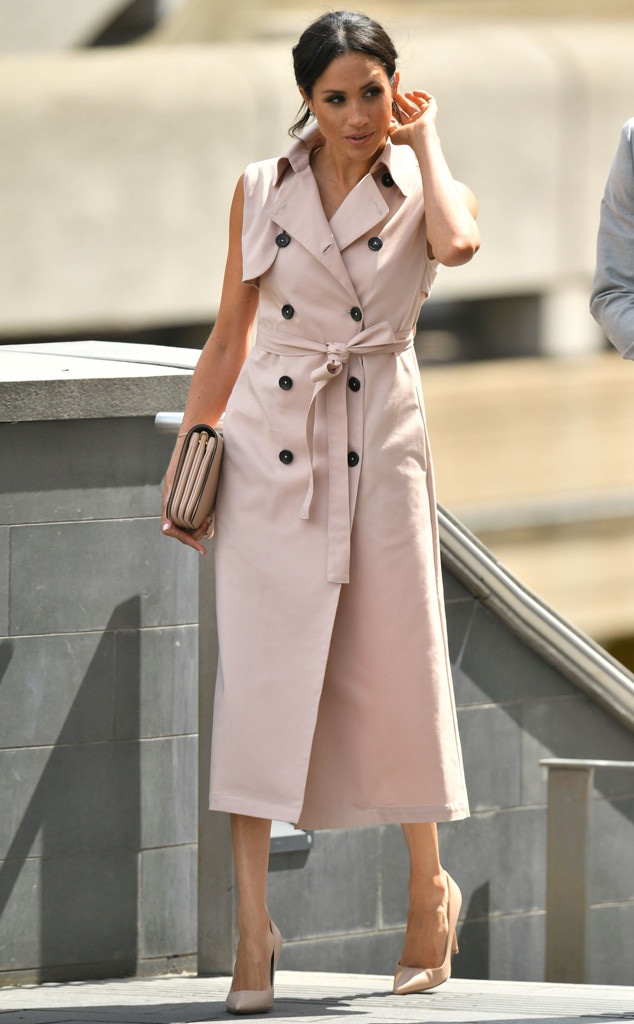 Dominic Lipinski/PA Wire
It's not always easy being royal, even when you're born into it, groomed for the life from day one and know what is expected of you.
So imagine the trial by fire that constitutes being born decidedly not royal and then joining the family down the road.
Meghan Markle is still in the infancy of her royalty, having just married Prince Harry on May 19, less than two years after they first met on a blind date. While her public life for the foreseeable future will be a blur of appearances, protocol and calculated style decisions, she and Harry have managed to carve out time for themselves, stealing away to an as-yet undisclosed place in East Africa for a honeymoon and joining forces to combat the mental exhaustion that's been plaguing them from the Markle side of the family tree.
Wait, what?
Yes, the honeymoon period has been uncomfortably shadowed by Meghan's father, Thomas Markle, who suffered a heart attack barely a week before the wedding, rendering him unable to attend, and since has been chatting with whomever will listen (a great many people, apparently) about his so-called concerns over his daughter's emotional state. She looks "terrified," he surmised after looking at photos and videos of Meghan at work (aka out and about fulfilling her new set of duties as wife of Queen Elizabeth II's rumored favorite grandson).
"Dad, I don't come to your job and judge you!"
DOMINIC LIPINSKI/AFP via Getty Images
At this point, it's hard to imagine that this man was going to be welcome anywhere in the U.K. in May, let alone at the royal wedding, inside the chapel.
Add to that Meghan's half-sister, Samantha Markle, who painted an unsparing portrait of her sister before the wedding—enough to merit an on-air dressing-down from Piers Morgan while he was interviewing her—and just chimed in on Twitter this week to insist the new Duchess of Sussex quit ignoring their father.
"Act like a humanitarian act like a woman! If our father dies I'm holding you responsible, Meg! @KensingtonRoyal," Samantha tweeted, per DailyMail.com's screengrabs.
OK, then.
Now, while we've never seen the queen pouring over a mobile looking at tweets, there's no way any of this is occurring in a "let's not bother granny about this now" fashion. The 92-year-old monarch is apprised of everything that happens among her sprawling family, particularly when it pertains to their public image.
And she can't be pleased. Nor can Meghan for that matter.
DailyMail.com, meanwhile, is wondering whether Thomas even had a heart attack, but was instead trying to save face after it came out days before the wedding that he had posed for staged paparazzi shots.
"He had to come up with a good enough reason not to attend her wedding and avoid any further embarrassment after those staged photos went public," claimed a source close to Meghan.
Thomas, an Emmy-winning lighting director who had been living a previously quiet life in Mexico, said he had a stent fitted at Sharp Chula Vista Medical Center in San Diego, Calif. Before the wedding, the royals were chided (in the media, that is) by etiquette experts who felt it wasn't right of them to not send a family representative to see Markle in person.
Among other things, the source added, "Don't feel sorry for him. If anything, feel sorry for Meghan."
Worrying about what your dad might say next certainly isn't any way to spend your newlywed days.
But Meghan, a former commoner, can at least rest a little easier knowing that her still-commoner relatives aren't the first regular people to prove a thorn in the royals' side. For starters, a lot of things qualify as an affront in their book, so if it wasn't this, it was going to be something else.
Just ask Kate Middleton and her sister.
James Gourley/BPI/Shutterstock
Though the world appreciated the view, the royals were none too impressed by Pippa Middleton's attention-grabbing posterior that was—in Hollywood terms, anyway—barely on display when she served as Kate's maid of honor in 2011.
CARL DE SOUZA/AFP/Getty Images
There was no lingering effect on the sisters' relationship, Kate probably being the only one who appreciated sharing the spotlight in the middle of the nuptial pressure cooker. But it was only the beginning of the realization that the royals' proverbial leash extended to the in-laws.
With her sister's college romance really working out, Pippa too became a household name. Her style, her affinity for sport and charity runs, and her dating life were prime subjects for the parsing—and she wisely struck while the iron was hot. In 2012 she released a book, Celebrate: A Year of Festivities for Family and Friends. Her byline started appearing in the likes of Vanity Fair and Spectatorand she had her own column, "Sport and Social," in the Telegraph for about nine months.
She was even rumored in 2012 to be mulling a regular gig as a Today correspondent, after doing a reporting piece on assignment in America, but the NBC morning show said no such offer had been made. "She is of course welcome as a guest on Today any time," a show rep told E! News.
It's not as if the lifestyle and event-planning world is the easiest market to break into, even for celebrities, but rumor had it that it wasn't entirely Pippa's idea to not continue building her brand in favor of focusing more prominently on philanthropic work.
"It was felt by William in particular that she needed some guidance and support," a friend of Pippa's told the Mail on Sunday in 2016. The reining-in reportedly even included no longer being the face of her parents' party-supply business, Party Pieces.
Another source said that at one point all sorts of offers in fitness, nutrition, sports and other opportunities in Pippa's wheelhouse were coming in, but "when it got down to signing off on any of the deals and doing any business, a line was drawn. Pippa would always say no. She was the one driving it all and then it got to a point where she backed out and nothing would happen.
"Some of us assumed it was the Palace and I think at times it was quite frustrating for Pippa, because there was never any progression when she wanted things to move forward."
At least Pippa, who's currently pregnant with her first child with husband James Matthews (whose wild-card brother Spencer Matthews coincidentally dropped out of the reality show Made in Chelsea two years ago), seems to have since found her niche in the philanthropic world.
Meanwhile, the toning down of Pippa's public profile was said to have been inspired by the desire to not have a repeat of what William's Aunt Sarah Ferguson, Duchess of York, got up to after her divorce from Prince Andrew. Her various post-split business endeavors, including becoming a longtime spokeswoman for Weight Watchers and in 2009 appearing on the real estate reality show The Duchess on the Estate, certainly upped her celebrity profile but served as a source of annoyance for The Firm, aka the royal family. (All of this being in addition to the tabloid-friendly toe-licking scandal.)
Ferguson getting caught on tape in 2010 negotiating a 500,000-pound fee from a reporter in exchange for access to her ex-husband is said to have cost her an invitation to Will and Kate's wedding the following year. Of course, as the mother of Princess Beatrice and Princess Eugenie, who's getting married in October, the original Fergie has never been too far from the fold, and Prince Harry made sure that she was on the guest list to witness his I-dos in May.
Harry perhaps being the queen's favorite, who was she to argue? It's her husband, Prince Philip, however, who's said to have the real issue with the Duchess of York.
Fergie and Andrew joined the ranks of the happily uncoupled and remained close friends over the years, which meant the prince wanted her around the family business (of existing and going places, that is) more than your average ex-husband. The duchess continued to visit the queen's Balmoral estate, for example, and on a trip there in 2005, a friend of Fergie's told the Daily Express, Philip "avoided her like the plague. I don't think they spoke a single word all week."
In 2015, also according to the Express, Philip and the queen had just arrived at the annual Royal Ascot when they met Prince Andrew and his ex-wife coming out of a restaurant in the Royal Enclosure. Andrew bowed toward his parents and, as Sarah curtsied, witnesses said that Elizabeth smiled and waved and Philip couldn't even muster a grin for his former daughter-in-law.
Tim Graham Picture Library/Getty Images
While last year it was reported in Ingrid Seward's book My Husband and I: The Inside Story of Royal Marriage that Prince Philip was the one who, on his last nerve, furiously told his wife that she must insist Prince Charles and Princess Diana divorce after their years-long separation, other accounts suggest the Duke of Edinburgh treated his controversial daughter-in-law, who died in 1997, with empathy after she and Charles split up in 1992. (They didn't divorce till 1996.)
In the summer of 1992, Philip wrote Diana letters, the princess' friend Rosa Monckton—who said she was privy to the correspondence—explained to the Telegraph in 2007. "I was struck by how kind and compassionate and understanding he was of her circumstances," Monckton said.
He also affectionately signed them "Pa," the Telegraph reported.
None of which is to say that Philip was happy with all of Diana's post-split decisions, such as her eye-opening 1995 interview with Martin Bashir for the BBC's Panorama, in which she discussed Charles' affair with Camilla Parker Bowles and admitted to her own infidelity.
But Philip, like the queen, will never be one to go on the record with what he really thinks about the subjects that have proved most controversial to Britain's royal family over the years.
The queen's storied reaction, or public lack thereof, to Diana's death was not mitigated by the late princess' family, who let it be known just how shabbily they felt the royals had treated Diana in the final years of her life.
"On behalf of your mother and sisters, I pledge that we, your blood family, will do all we can to continue the imaginative and loving way in which you were steering these two exceptional young men, so that their souls are not simply immersed by duty and tradition, but can sing openly as you planned," her brother Charles Spencer said in his eulogy at her funeral.
The Guardian called Spencer "a far more gifted moment-seizer than the Windsors have ever produced."
For the record, however, the former Lady Diana Spencer was not really considered a commoner, but rather was a member of British nobility, before becoming a royal by marrying Charles in 1981.
The future Duchess Camilla of Cornwall, however, was a commoner, though she ran in impressive, royal-inclusive social circles. And despite all the attention understandably paid to the fallout of Diana and Charles' unprecedentedly messy broken marriage, it's not as though the queen was in love with Camilla, whose former husband Andrew Parker Bowles had previously dated the queen's daughter and Charles' sister Princess Anne. (Camilla's maternal great-grandmother, Alice Keppel, was also a mistress of King Edward VII, the queen's great-grandfather, from 1898 until 1910.)
Hugo Burnand via Getty Images
Charles and Camilla were nuts about each other, and perfectly well-suited, personality-wise, but the future King of England wasn't thinking about marriage yet when they first met and as Patricia Mountbatten says in Sally Bedell Smith's 2017 biography Prince Charles, there were "obviously problems" with Camilla.
"You didn't want a past that hung about," said Patricia, a first cousin to Prince Philip.
Maybe not, but by the time Camilla and Charles finally married in 2005, everybody had a past.
"They have come through, and I'm very proud and wish them well," the Queen said at the wedding reception she hosted for them at Waterloo Chamber, according to Prince Charles. "My son is home and dry with the woman he loves."
Every royal coin has two sides, however. Tom Bower's 2018 tome Rebel Prince: The Power, Passion and Defiance maintains that, while the Queen did indeed make those tender-sounding remarks, the mother of the groom barely spoke to Camilla at the wedding and spent less than a minute taking photographs. She also went into a side room to watch a horse race with Camilla's ex-husband.
After Diana died, Bower wrote, the Queen and her mother, the Queen Mother (who was also named Elizabeth) openly disapproved of Charles and Camilla's relationship, which in turn prompted Charles to try and maintain a low profile with the love of his life—which subsequently frustrated Camilla.
According to Bower, when Charles finally asked his mother for at least her approval for him to live with Camilla, the queen refused and referred to the divorcée as "that wicked woman." At the same time, Charles' mother and grandmother were very kind to Camilla's ex-husband, Andrew Parker Bowles, and had no problem receiving him at the various royal residences and other events.
It actually wasn't until the Queen Mother died, in 2002, that Queen Elizabeth II came around. Somewhat.
Chris Jackson-WPA Pool/Getty Images
After Charles proposed in 2005, the Queen still had to grapple with public opinion, which seemed firmly against the idea of Camilla one day being queen to Charles' king. According to Bower, to assuage the people, Buckingham Palace referred to Camilla in briefings as an "unwilling bride" who had no interest in the role—which was not at all the case.
"The best thing about the royal family is that they're so lovely," Mike Tindall, husband of Princess Anne's daughter, Zara Tindall, told ITV's Good Morning Britain before Meghan and Harry's wedding.
While the former professional rugby player and known appreciator of a good time would seem to be a prime candidate for getting under the queen's skin, Zara's grandmother doesn't seem to mind that he's quite the talker—mainly about himself and Zara, of course, as spilling family secrets would be another story altogether. But still, it appears as though Anne's decision to not give her children royal titles really paid off down the road when it came to not attracting as much ire from the monarchy.
Going by his own experience, Tindall expressed confidence that Prince Harry's future wife would do just fine on her big day, and beyond.
"I think she'll be nervous, but coming from her background in TV she's used to public spotlight," he said.  "Not quite as much probably as has gone on this week, but she'll be fine and I think she's experienced enough to know that all she can do is enjoy the day. And it's a special day for them both, and as long as they get a quiet moment during the day and actually have enjoyed the day that's what I wish for them, and hopefully they'll live happily ever after."
Her dad and sister have made for a less than fairy-tale beginning, but rest assured, Duchess Meghan, there's nothing more royal than commoner intrigue.