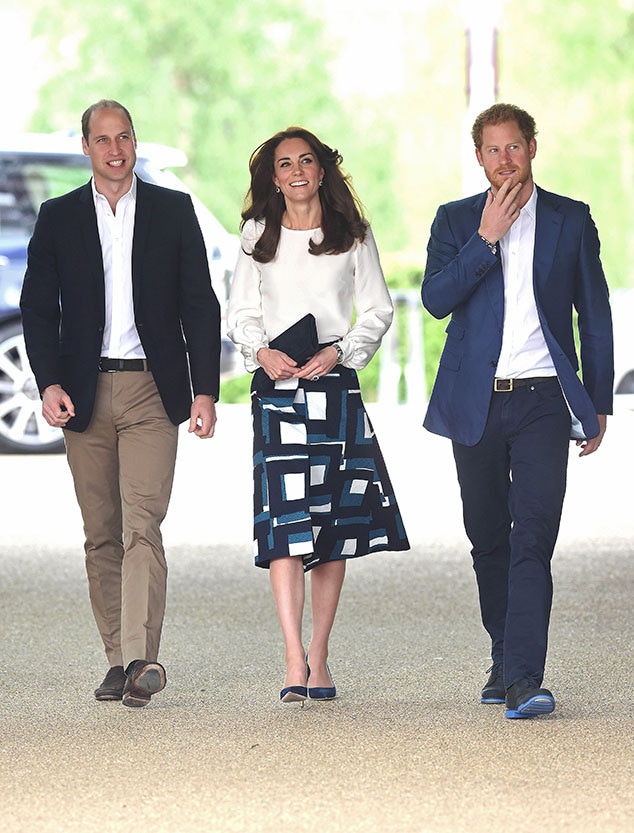 Stuart C. Wilson/Getty Images
The word "scandal" is thrown about so loosely these days.
Every arrest, every ugly divorce, every insinuation of an affair, every off-kilter tweet. These are, to be sure, tumultuous times—but outside of the political arena, are we all as really scandalized as we enjoy pretending to be at any given time? Shouldn't we be saving ourselves for the really good stuff?
Besides, if we're hankering for a good scandal, we can just think about the royal family.
Actually, Britain's royals aren't always a proper litmus test for what qualifies as a scandal—the tabloids love to make a big deal out of every move they make, and it was really hard to get whipped up into a frenzy on this side of the pond over Prince William skipping church. Concerns that he's shirking his royal duties? Meh.
Kate Middleton wearing fur-lined gloves. Who hasn't PETA called out? They go on expensive vacations and spent a few million pounds to renovate their palace. Wouldn't you?
We're getting a little closer to the real thing when you bring up Prince Harry's naked romp in Las Vegas in 2012, when a game of billiards took a turn for the pantsless. 
And that occurred during a bit of a rough patch for that generation. There was also quite the to-do when a French tabloid magazine published topless photos of Kate, snapped surreptitiously while she and Will were on holiday and sunning themselves on private property—rendering the pictures illegal.
But the Duke and Duchess of Cambridge didn't actually do anything. They were enjoying themselves like the sexy, young and responsible (there was a pic of them putting on sunscreen!) couple they are.
Frankly, Will and Kate are quite boring, but we really wouldn't want them any other way. Everyone needs at least one famous couple to believe in.
And Harry was just a lad being a lad...perhaps a little ribald for a royal, but that's an average party night in Vegas for a lot of guys. Not to mention, Harry was about to report for military duty in Afghanistan, so he could be forgiven for blowing off a little steam, and he still retained his title as one of the most eligible bachelors in the world.
But when the royal family really becomes enmeshed in scandal—when they engage in honest-to-goodness scandalous behavior—they don't mess around.
JIM WATSON/AFP/Getty Images
For instance, Harry's nudity was a lot better than the Afrika Korps costume, complete with swastika armband, he wore to a "colonials and natives" costume party in 2005, when he was 20. That was awfully...stupid of him. 
He publicly apologized and his poor judgment was chalked up to his relative youth. But it's a good thing for the queen that Harry turned out so well in the end, because otherwise he'd be the black sheep of the family, perennially referred to as "the one who wore the Nazi outfit that time." (Meanwhile, The Sun's relationship with the royal family has been mutually prickly since before they published the photos, and that certainly didn't help. Nor did the decision to publish the uncensored Vegas pics.)
However, what the millennials have been doing in the 21st century pales in comparison to what previous generations got up to. There's a reason why so many movies like to include a British royal as an unsavory character, or treat the monarchy as a sinister presence. Jack the Ripper was carrying out Queen Victoria's will in the gory Johnny Depp thriller From Hell, and in 2008's The Bank Job, Jason Statham was leading a team of thieves on a mission to snatch back some, yes, scandalous photos of Princess Margaret (the queen's sister) from a safety deposit box.
The producers of The Bank Job actually insisted the film was based in fact, though it wasn't necessarily Margaret who had been compromised. (Margaret did fall in love with a married man, but couldn't marry him due to crown-dictated propriety, and then became the first royal since Henry VIII to get divorced when she did marry. And yes, that Henry VIII.)
"This is an amazing, untold story of murder, sex and corruption. It's going to excite and entertain audiences everywhere, but it will also give them plenty to think about," producer Charles Raven told The Guardian.
As if they didn't already have plenty to think about, ever since King Edward VIII abdicated the throne to marry American divorcée Wallis Simpson, right up until Sarah Ferguson, Duchess of York, was photographed on vacation in 1992 with an American businessman licking her toe. Then, 18 years later, Fergie was caught on video promising an undercover reporter access to her ex-husband, Prince Andrew, in exchange for 500,000 pounds, reportedly causing her invitation to Kate and William's wedding to get lost in the mail. (And that's the same Prince Andrew who has categorically denied being involved in a sex slave ring at the home of American investment banker Jeffrey Epstein.)
As for films about undeniably true royal scandals, 2008's The Queen—for which Helen Mirren won the Oscar playing Queen Elizabeth II—pulled back the curtain on how the monarch dealt with Princess Diana's shocking, untimely death. The nation itself was in turn quite scandalized by Elizabeth's seeming coldness, though history has warmed to her reaction as one belonging to a person whose main job description includes upholding morale and keeping a calm head.
Meanwhile, it's hard to pinpoint which parts of Diana's tragically short life were actually scandalous and which parts were merely heartbreaking. Her separation and subsequent divorce from Prince Charles certainly threw the world, let alone the United Kingdom for a loop, especially after it was revealed that Charles had been in love with Camilla Parker-Bowles all along. 
"Oh god. I'll just live inside your trousers or something. It would be much easier," Charles was overheard telling Camilla in a recording that was published in 1992. When she asked if he fancied himself turning into a pair of underpants, he replied, "Or, God forbid, a Tampax. Just my luck!"
Just everyone's luck, your highness.
"The most daunting aspect [of marrying into the royal family] was the media attention," Diana told the BBC's Martin Bashir in 1995, "because my husband and I, we were told when we got engaged that the media would go quietly, and it didn't; and then when we were married they said it would go quietly and it didn't; and then it started to focus very much on me, and I seemed to be on the front of a newspaper every single day, which is an isolating experience, and the higher the media put you, place you, is the bigger the drop."
That interview, in which she opened up about postpartum depression, self-harm, extramarital relationships and more intimate topics, was a mini-scandal in itself. A decade later, her former aide would say that she "deeply regretted" the sit-down.
Jerzy Dabrowski/ZUMA Press
Her death in August 1997, in a car crash that also killed her boyfriend Dodi Fayed, was a wildly disturbing ending for a woman whom the media feasted on, but who used her global celebrity to draw attention to the world's most pressing issues, such as mental health care, land mine proliferation in war-torn regions, and the scourge of HIV/AIDS.
And while the crash was investigated on and off for a decade, culminating in a 2007-08 inquest, so too has Diana's love life continued to be a hot topic of conversation for all these years.
In her 1995 interview, Diana admitted to an affair with her riding instructor James Hewitt, whom she felt had betrayed her when a book was published spilling details of their relationship.
"Yes [I was unfaithful], I adored him," she told Bashir. "Yes, I was in love with him. But I was very let down."
Over the years, Hewitt repeatedly denied a pernicious rumor that he was Prince Harry's real father—yet just this past March, he was asked point-blank, yet again.
"No, I'm not," he told Sunday Night's Melissa Doyle. Asked why he thought people wouldn't let it go, Hewitt fired back, "Sells papers. It's worse for [Harry] probably, poor chap."
To be sure, while their behavior is the most likely to be mis-categorized as scandalous, with even the slightest err in protocol destined for a tabloid headline, the royal family does not fascinate for nothing. 
Most everything they do still has that larger-than-life quality to it—and that goes for their proper scandals, too.