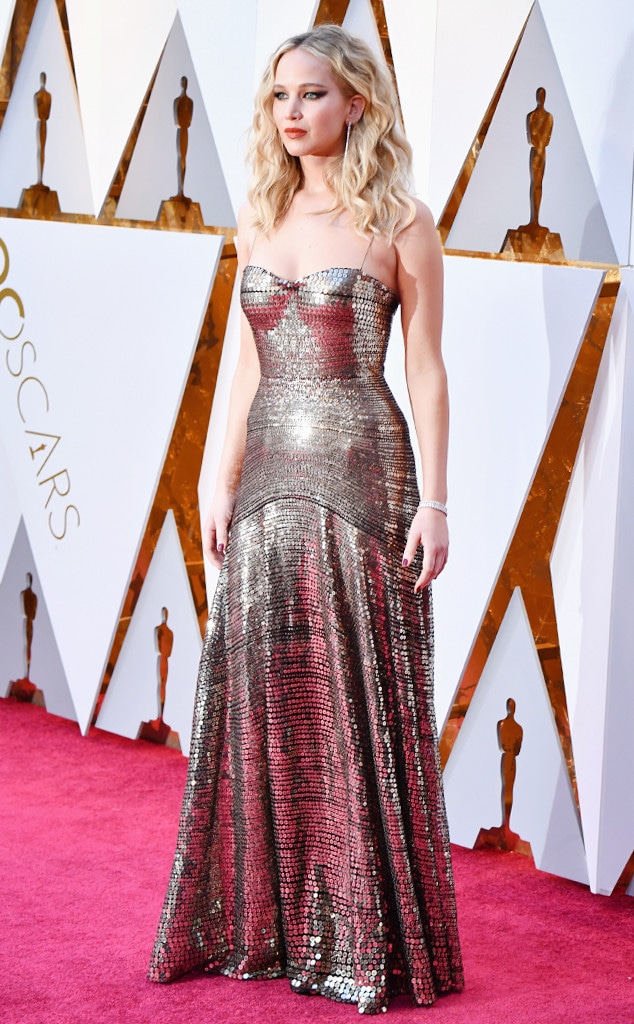 Jeff Kravitz/FilmMagic
When Jennifer Lawrence is out and about, no one is more visible.
Since she rocketed to the tippity-top tier of Hollywood with her roles in the Hunger Games and X Men franchises and an incredibly fruitful collaborative relationship with David O. Russell that resulted in an Oscar win at 22, few truly A-list stars have compelled more headlines than the frank, filter-less actress from Louisville, Ky.
Her candor, of course, is what has made her one of the more enjoyable, almost relatable big stars who, when she first booked The Hunger Games needed a security escort to get her safely out of a Whole Foods, so many paparazzi had followed her there.
"I kind of struggled with impostor syndrome a little bit, 'cause people were just so, you know...I don't know, just 'ah, la la,'" she recalled, describing what it was like going from working actress to all-eyes-on-her practically overnight. (She was on a podcast, The Hollywood Reporter's Awards Chatter, but you could still see Lawrence's eyes rolling.)
Impostor syndrome being, she explained, "where you're like 'I don't belong here and everybody's lying to me,' and you feel like you've put the wool over everyone's eyes, and then everyone's going to find out you're a huge hack."
Lawrence, who is turning 28 today, hasn't ceased being the real deal, but on the other side of that success coin, the side where everyone is thrilled to see you and hang on your every word, lies scrutiny. And since a what-you-see-is-what-you-get vibe has shaped her public persona, her answer lately has been to ensure that you see—and therefore get—much less.
"It's not healthy to realize how many people are actually looking and listening to you," she said last November during an installment of Variety's "Actors on Actors" series. "That is such a mindf--k."
It's also one thing when it's just a bunch of anonymous people picking over what you wear (where's her coat?!) or what she's doing (having fun?!). Film critics are a whole other story.
"It's so bizarre because you're so in the zone, you put your whole soul and body, you move to shoot a movie, and you then love it, obviously because you wouldn't be there if you didn't love it, and then people just destroy it," Lawrence also said in the Variety chat, in which she sat opposite Adam Sandler, someone who knows something about rough reviews.
At the time Lawrence was coming down from the mixed, but largely negative, reaction to Mother!, for which she would end up nominated for a Razzie for Worst Actress despite generally good reviews of her performance. The Alliance of Women Film Journalists also nominated her for Actress Most In Need of a New Agent for its tongue-in-cheek EDA Special Mention Awards. (Fun fact: she didn't give it to her agent, or anybody, to read first, figuring someone would try to talk her out of it.)
But despite its star's considerable charms, Lawrence's next film, the R-rated spy thriller Red Sparrow, also turned out to be a major disappointment when it came out in March, financially and critically—and then you didn't see the actress for several months, until she surfaced May 30 at the BAM Gala in New York.
Yet while a panned project might be enough to send any actor scurrying for the solace of solitude, Lawrence had said during her pre-release media blitz that she was planning to take a year off from making movies—and, happily, most of the public life that entails.
"'Cause I'm so miserable," Lawrence joked to Stephen Colbert on The Late Show in February when he inquired about her scheduled break. "It's not like a big, dramatic thing."
Asked what she planned to do during her time off, the movie star who told Vanity Fair that she found the idea of "waking up with nothing to do or going to sleep without accomplishing anything" depressing said she was going to be "talking to kids about corruption." (Stricken and chastened as many were after the 2016 presidential election, she's on the board of Represent.Us, a campaign finance reform organization that's trying to rein in the influence of lobbyists, super PACs and other corrupting influences in our politics.)
Kevin Winter/Getty Images
Colbert also asked about Harvey Weinstein, whose Weinstein Company distributed Silver Linings Playbook, having just used her comment that he had "only been nice" to her in a court filing, as an example of why a lawsuit against him should be dismissed. Lawrence kicked off her shoes, tucked her feet underneath her and called the disgraced mogul, who's now facing criminal sexual assault charges, a "horrible ass boil who does not go away."
"He drags you into his pile of bulls--t," Colbert commiserated with her. "Yeah. Yeah, so," she quipped, "everybody does." Lawrence giggled, almost to herself, and added, "But I'm very lucky and happy," before dissolving into laughter. But still, her break was "just by coincidence. I really love my job and I'm very happy."
She punctuated the sentiment with a knowing glance at the audience.
No doubt she loves acting (she repeated as much), and the job itself, but Colbert was her last stop before The Red Sparrow premiere and you could almost see the second hand ticking down to the moment where she could put a big J.Law-shaped hole in the Hollywood gauntlet's door.
"I am just a normal girl and a human being, and I haven't been in this long enough to feel like this is my new normal," she told Vogue in 2013, referring to not-so-hypothetical intrepid "fans" who would just show up outside her house. "I'm not going to find peace with it."
She later mused, "It still makes me a little emotional, just to see how quickly everything kind of changes...that it changes so fast. So I've kind of been a big homebody lately. But I think eventually, one of these days, I guess when the next franchise starts and I'm not in it, and the new Jennifer Lawrence is born, then I'll be able to go outside."
Elder Ordonez / Splash News
Lawrence has by necessity gotten adept at gauging when it's the right time for her to go away—more to tend to her own needs than keep 'em guessing, but also because her fame experience has included some treacherous lows along with the heady highs, such as when her phone hacked and intimate pictures of her leaked online in 2014.
"That was really an impossible thing to process," she said on Awards Chatter. No legal recourse she could think of "was going to really bring me peace, like none of that was going to bring my nude body back to me and Nick, the person they were intended for." (Nick being Nicholas Hoult, whom she met making X-Men: First Class in 2010 and dated for years.)
"I wasn't interested in suing everybody," Lawrence continued. "I was just interested in healing...I think like a year and a half ago, somebody said something to me about how I was a good role model for girls, and I had to go into the bathroom and sob because I felt like an impostor, or I felt like I can't believe somebody still feels that way...It's so many different feelings to process when you've been violated like that."
Then, via another technological breach—the mass email hacking at Sony Pictures and subsequent information dump—she found out she had been paid less than her male co-stars on David O. Russell's American Hustle, which was made after she'd won the Oscar for Silver Linings Playbook. "It brought up something that I was not prepared to talk about publicly, which was gender discrimination pay gap, but then it was kind of like 'well, you don't always choose those moments.'"
In addition to the conversation among her peers that the email started, Lawrence took up the issue, penning an essay about her personal experience settling for less, and why she thought in the moment that she needed to, for Lenny Letter.
All of which is ironic when you think about the outside perception of Jennifer Lawrence, perpetuated by the tough-woman roles she's primarily chosen and her ability to seemingly lay it all out there in interviews.
In fact, Lawrence thinks Mother! got the reception it did because "people saw me being soft-spoken and meek and they hated it. They were like, 'I like her better when she's Katniss!' I think people do fall in love with this idea, but I'm an actor. I have to push myself. I have to try as hard as I can to transform. That's what scared me about a franchise, and also doing too much press, is people get to know you and then they think they know you, and they can't lose themselves in one of your characters."
She laughed. "So I guess one of my biggest fears has now been confirmed."
Another reason why any kind of overexposure has become increasingly distasteful to her.
"I don't think there's any actor who has more power in terms of box office," The Hunger Games producer Nina Jacobson told Vogue ahead of the release of the franchise's final installment, Mockingjay Part 2 in November 2015. "I would be hard-pressed to think of anybody who has the freedom of choice that she has. What is great about her success is that her stardom is an incentive for Hollywood to do better—to write those roles so that they can then get Jen Lawrence in their movie. That's real power."
She still has that power and then some, but the reality is that movie stars aren't necessarily box office magnets any more than they're always critical darlings.
Passengers, her much-anticipated 2016 sci-fi-thriller-romance with Chris Pratt, for which she was reportedly paid about $20 million, plus a profit share, did...OK, earning $100 million domestically and twice as much internationally. But it was a critical dud, a lump that Lawrence took in stride, acknowledging to Vogue last year that the dynamic in the movie—guy wakes up from induced coma on spaceship but waits a year before waking up girl—may have been a little off.
"I thought the script was beautiful—it was this tainted, complicated love story. It definitely wasn't a failure," she said. "I'm not embarrassed by it by any means. There was just stuff that I wished I'd looked into deeper before jumping on."
Jaimie Trueblood/Columbia Pictures Industries, Inc.
Even more fun than the film getting panned, meanwhile, was the chatter about Lawrence and Pratt's chemistry, all those long hours spent on set and then traveling around for premieres and press.
"I think women can sense if you are the kind of woman who is going to run off with their husband," Lawrence, who reportedly got along great with her co-star's then-wife Anna Faris, told Vanity Fair before the film came out in December 2016. "I don't think I give off that vibe. I give off the 'Please like me!' desperation. Which is not threatening."
J.Law's name came up again when Pratt and Faris announced in August 2017 that they had separated, but the speculation had no staying power. Talking about the weirdest rumors to have plagued her over the years, Lawrence told KISS FM UK in February, "This isn't weird, it was super flattering, but at one point, I was just, like, dating Brad Pitt. Like, we were having secret rendezvous. That was weird." She continued, "I mean, I never had an affair with Chris Pratt on Passengers. They got a divorce like two years later [the movie was shot in 2015] and everybody was like, 'Jennifer Lawrence!' and I was like, 'What the...? What? I'm in Montreal.' Two years later!"
Lawrence had resisted doing Passengers at first, wanting to make a smaller film after the massive undertakings that were the billion-dollar Hunger Games and X-Men franchises, but the script eventually sold her on it. She was similarly unsure about returning to do X-Men: Dark Phoenix after her contract ended post-Apocalypse, not wanting to breathe in the fumes from head-to-toe blue body paint, etc. But, as she told Entertainment Weekly last year, when it came down to working with franchise producer turned first-time director Simon Kinberg, "I kind of f--ked mysel. Because when I was trying to talk Simon into directing, he said something like, 'If I direct it, you have to do it,' and I was like, 'Of course! Duh!' Then they offered me the movie, and I was like, 'Goddammit!'"
"It was the fan base, though, too," she added, citing the need for continuity. "The other reason was for the fans."
After doing all the Passengers press that was required of her, Lawrence took a months-long break from the public eye in 2017—noticeable because she had been so ubiquitous during what had been a prolific previous seven years, in which she starred in 15 films after her breakthrough, Oscar-nominated role in Winter's Bone.
She was still working, shooting Red Sparrow in Austria and then Dark Phoenix in Montreal. But she had caught the latest wave of publicity and rode it right out of the room, figuring everyone—herself included—could do with a little less "J.Law" for awhile.
Meanwhile, business had happened to coincide with pleasure in 2016, when she and Mother! director Darren Aronofsky started dating once shooting wrapped on the hardest-to-watch film Lawrence has ever made.
"The way I see we treat Mother Earth is incredibly disrespectful. We pillage her, we rape her, we call her dirt," Aronofsky said at SXSW, explaining the environmental allegory he claimed was behind the disturbing, gory film. "That's why Jennifer played the character the way she did. There's a lot of emotion."
Shooting the movie was trying, as was promoting it—and hearing what people had to say. Even knowing what Aronofsky—whom Lawrence called "a visionary"—intended going in, it still felt like more of a plain old "watch this woman give up everything, including her sanity, for this man" plot rather than a scathing indictment of the way human beings treat the planet.
"We'd be on the tour together, I'd come back to the hotel and the last thing I want to talk about or think about is the movie, and he comes back and that's all he wants to talk about," Lawrence said in her Variety sit-down. "I was doing double duty of trying to be a supportive partner while also being like, 'Can I please, for the love of God, not think about Mother! for one second?'"
She and Aronofsky broke up about a month after the movie came out, but remained friends—and she attended the BAM Gala in May to honor him.
Early this year Lawrence really promoted the heck out of Red Sparrow, for which she spent three hours a day for four months training with a ballet instructor. "It was most important to move and hold my body differently, and get behind a dancer's mental and physical discipline," she told The New York Times.
She also unabashedly expressed hope that it would do well...with one caveat.
"If you're, like, a typical 'hater,' and you have a blog, don't go," she encouraged any and all haters while on The Late Show. "You're officially, totally uninvited. I would like to officially uninvite all my haters to go see Red Sparrow."
The box office could've done with a few more lovers.
But at least she had that break in the works.
It's unclear whether or not Lawrence's presence is needed in Canada for the reshoots taking place on X-Men: Dark Phoenix (Sophie Turner knew last month that she herself would be called upon), but she's certainly been enjoying her time off while it lasts.
Aside from a quick trip to L.A. last month, Lawrence has been living primarily in New York, doing regular New Yorker things—except taking the subway, because while life isn't so out of control that she has to have a security detail all the time, she still Ubers pretty much everywhere.
She's attended a few choice events, had close pal Emma Stone and their newer pal Justin Theroux over for dinner, and—since Larry David still wasn't taking the bait when she flirted with him at Amy Schumer's wedding in February—enjoying some quiet time with art gallery director Cooke Maroney, whom she met through a mutual friend.
The pair were strolling hand-in-hand in Paris last week, and though Lawrence didn't look thrilled to see photographers, she was probably still pretty darn pleased knowing she doesn't have to think about another press tour until 2019.