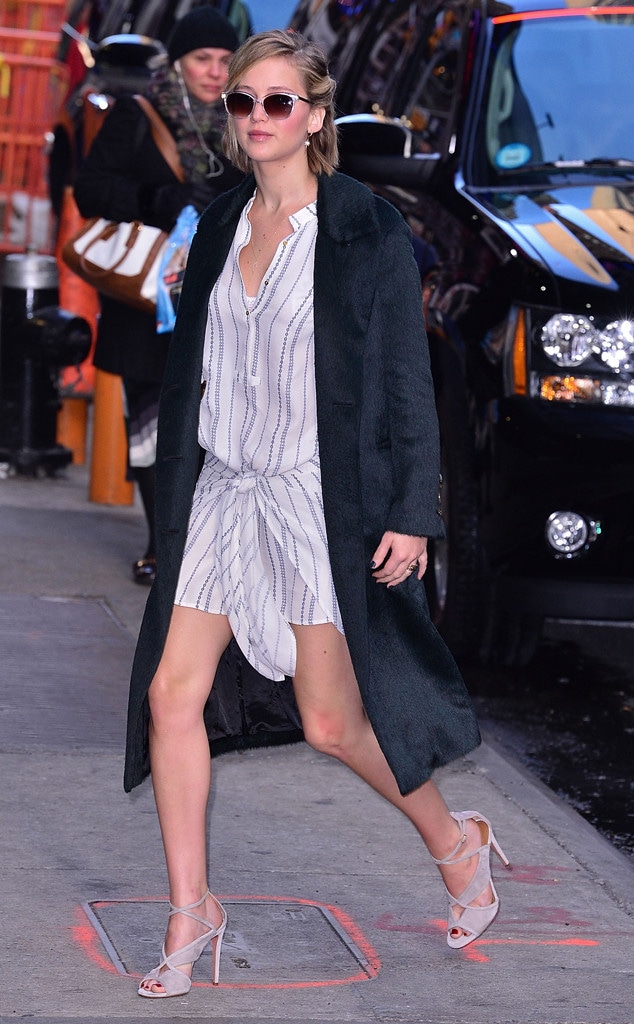 James Devaney/GC Images
Jennifer Lawrence might be one of Hollywood's most beloved stars, but the Oscar winner opens up in a new op-ed about how her darling reputation has hindered her career in a big way.
Penning a scathing essay in Lena Dunham's Lenny Letter, titled Why Do I Make Less Than My Co-Stars?, J.Law writes that she has had enough of the gender wage gap in Hollywood and explains how she's going to better herself in the future in order to receive the salary she deserves—one that's equivalent to her male co-stars'. Of course, she did it in the typical Jennifer-Lawrence way, using humor and brutal honesty to make light of a serious situation.
"I want to be honest and open and, fingers crossed, not piss anyone off," she writes. "It's hard for me to speak about my experience as a working woman because I can safely say my problems aren't exactly relatable. 
"When the Sony hack happened and I found out how much less I was being paid than the lucky people with dicks, I didn't get mad at Sony," the 25-year-old actress adds, referencing her American Hustle deal. "I got mad at myself."
Admitting to accepting her deal without much of a fight, Lawrence says she "failed as a negotiator" because she "gave up early." She also admits that her desire to be liked inhibited her ability to ask for money for fear that people wouldn't find her as endearing anymore.
"But if I'm honest with myself, I would be lying if I didn't say there was an element of wanting to be liked that influenced my decision to close the deal without a real fight," she writes in her essay. "I didn't want to seem 'difficult' or 'spoiled.'"
The Serena actress also adds that she believes she's not the only one experiencing this fear and wonders how many more are out there who are worrying about their young age affecting their worth. 
Jamie McCarthy/Getty Images
"Based on the statistics, I don't think I'm the only woman with this issue. Are we socially conditioned to behave this way?" she ponders. "Could there still be a lingering habit of trying to express our opinions in a certain way that doesn't 'offend' or 'scare' men?"
She offers an anecdote about a time a man was working for her, and when she gave her opinion to him at one point she received criticism for her tone. That was the final straw for Lawrence and her America's Sweetheart attitude. "I'm over trying to find the 'adorable' way to state my opinion and still be likable!" the Hunger Games franchise star writes.
"F--k that. I don't think I've ever worked for a man in charge who spent time contemplating what angle he should use to have his voice heard. It's just heard." 
She further writes about her American Hustle co-stars, including Bradley Cooper and Jeremy Renner, who she believes received better deals because they were probably "commended for being fierce and tactical" during negotiations, while she was more concerned with not "coming across as a brat and not getting my fair share."
Although her entire essay slams the salary inequality in Hollywood, J.Law notes that she does not need the millions offered to her, but she wonders whether or not her male colleagues share her concerns.
"This might have NOTHING to do with my vagina, but I wasn't completely wrong when another leaked Sony email revealed a producer referring to a fellow lead actress in a negotiation as a 'spoiled brat," she says.
"For some reason, I just can't picture someone saying that about a man."