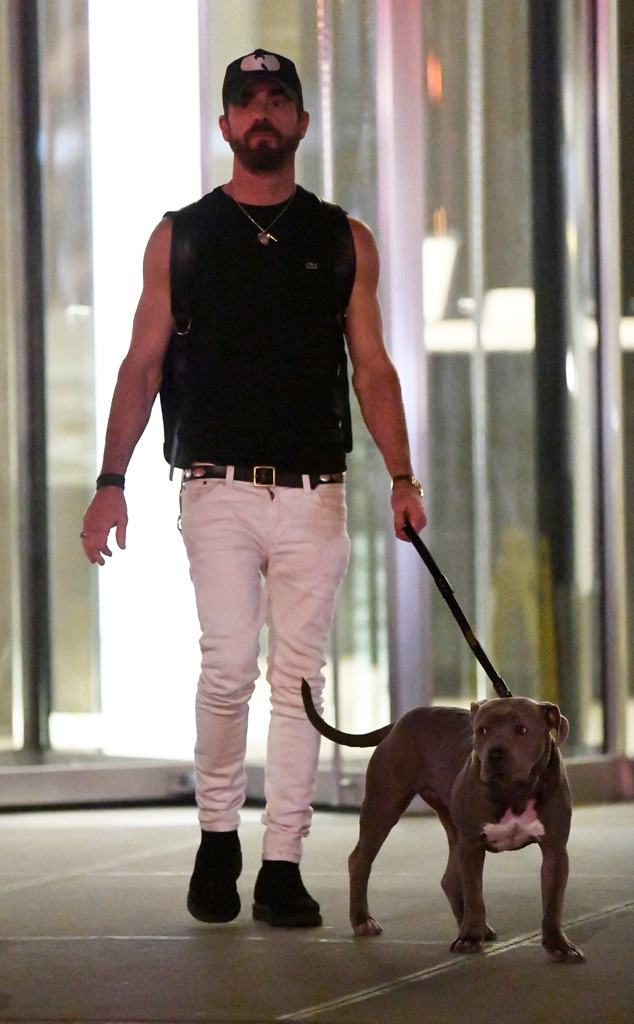 Elder Ordonez / SplashNews.com
Jennifer Lawrence hosted a star-studded dinner at her place in New York City.
The Oscar winner had pals Emma Stone and Justin Theroux over to enjoy a meal on the rooftop of her apartment on Monday evening. "They were eating and drinking and looking at the view and taking selfies," an insider tells E! News of the dinner party, which lasted for a few hours.
After wrapping up their meal, the group, which included journalist Derek Blasberg, then headed back inside Lawrence's apartment. Theroux was later photographed leaving Lawrence's apartment with his new dog Kuma around midnight. Just days earlier, Theroux introduced his new pup to his Instagram followers.
Elder Ordonez / SplashNews.com
"MEET KUMA," the actor wrote alongside a picture of Kuma. "There are too many people to thank for Kuma.... @jesslee81 and William and everyone @chancetobloom You are the heroes who took Kuma from death and loved her back to life. Also @austinpetsalive for steering me towards a new adoption."
This friend dinner comes just about two weeks after Theroux and Stone were spotted hanging out together on vacation in the south of France. The duo, who co-star in the upcoming Netflix series Maniac, were photographed at the Hotel du Cap-Eden Rock alongside Blasberg, Sienna Miller and actress Laura Harrier at the end of May.
That same week, 29-year-old Stone and 46-year-old Theroux also separately attended the Louis Vuitton Cruise fashion show. However, a source recently told E! News that Stone and Theroux "are just friends."
But another source did note that Theroux is "casually dating" after splitting with Jennifer Aniston in February.
As for dinner host Lawrence, she's rumored to have a new boyfriend. Reports surfaced just last week that the 27-year-old actress is dating 33-year-old art gallerist Cooke Maroney.
You can check out more details on Lawrence's rumored new man HERE!