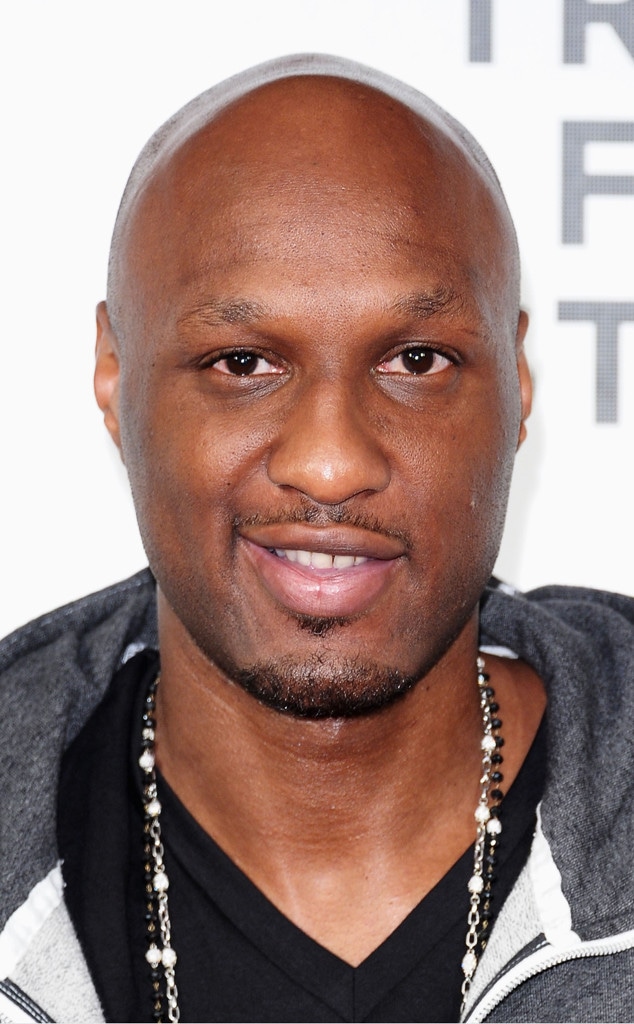 Michael Loccisano/Getty Images
New details surrounding Lamar Odom's medical emergency have been revealed.
E! News has learned that the former NBA star, who is currently hospitalized after he became unconscious in Nevada, was staying at a house that is attached to Dennis Hof's Love Ranch South in the town of Crystal (celebrities stay at the house when they visit the brothel), nearly 20 miles north of Pahrump.
Dennis Hof, owner of the Moonlite Bunny Ranch, tells E! News, "We picked him up at his home in Vegas in a gated community. He was in a great mood and having fun with the girls. We don't think he was doing drugs because he slept every night. He woke up in a great mood."
Hoff added, "He got calls on Sunday that kind of bummed him out. Besides that, he was in great state of mind. He was eating good. My girls were cooking for him." He noted that the girls "gave him a bottle of Cognac on Saturday and there is a third of a bottle left."
A source tells us that Odom was with a girl in the early morning hours on Tuesday. Around 6 a.m., the woman with Lamar touched him to tell him that she was leaving and he acknowledged her before going back to sleep.
 
At approximately 3:15 p.m., two of the girls found Lamar unconscious. E! News learned that he was taking herbal Viagra during his stay at the ranch. The insider adds that there were no illicit drugs found in the room.
"An ambulance from Pahrump Valley Fire and Rescue Service arrived at 3:34 pm and the patient, identified as Lamar Odom was stabilized and transported to Desert View Hospital arriving at 4:16 p.m.," Nye County Sheriff's Sharon Wehrly tells E! News in a statement.
"After being treated by the physicians, arrangements were made to transport him by Mercy Air helicopter. However, Mr. Odom was unable to be transported by air due to his stature. He was immediately transported by Pahrump Valley Fire and Rescue Ambulance to Sunrise Hospital in Las Vegas, Nevada for further treatment." 
While at Sunrise Hospital, a source told E! News "drugs were found in his system" and doctors are treating the situation as an "overdose." The source also said that the basketball player suffered a "loss of oxygen," resulting in what appears to be an "ischemic stroke" caused by a blood clot preventing blood flow to the brain. 
"Likely there's brain damage, but they're not sure how much," the source added. "Virtually every drug imaginable was found in his system."
Crack cocaine, one of the drugs found, caused him to choke, according to an insider. 
"He was doing crack cocaine all weekend and he choked on his mucous," the insider explains. "They're now having to fix all the damage it has done."
Despite the great damage, an insider does not attribute this event to a suicide attempt. More likely, the insider explains, it was an accidental overdose.
"The long term effects of his drug use have taken a toll on his body and the binge this time was too much to handle," the source said.
E! News learned that Odom has not yet regained consciousness and is on a ventilator, but is alive. Still, the prognosis does not look good. A source told E! News late Tuesday evening that Odom is breathing only with machine assistance. (TMZ was the first to report the story.)
Someone claiming to be his manager had called after the news broke and shared that someone was going to pick up his belongings. Odom had a backpack with him, a few phones and personal items. The items have since been picked up.
The news of Lamar being found unconscious in a brothel in Nevada "isn't shocking," a Kardashian family source tells E! News, "but it is sad." Our insider explains that Khloe Kardashian "had cut off contact with Lamar in the summer and she has been worried about Lamar for a very long time." 
Still, both Khloe and mom Kris Jenner rushed to the scene, arriving late Tuesday night in Las Vegas to be at the bedside of the former family member. Kobe Bryant, who happened to be playing a pre-season Lakers game in Vegas, also went to be with his fellow teammate, appearing outside the hospital Tuesday evening.
Kim Kardashian arrived in Las Vegas Wednesday after canceling her baby shower planned to take place over the weekend. Kourtney Kardashian and Kylie Jenner also arrived at the hospital Wednesday afternoon. Kanye West stayed home to watch after daughter North West and Kourtney's three children, Mason, Penelope, and Reign, while father Scott Disick checked into rehab in the middle of the chaos surrounding Odom. 
Khloé has reportedly not left the Intensive Care Unit where Odom is being treated since she arrived at 10 p.m. Tuesday.
E! News has learned that while Khloe and Odom signed off on their divorce back in July, a judge has not signed off on the divorce paperwork yet simply due to a file backlog—the courthouse is estimating that the paperwork will be finalized by the end of this year. This means Khloe and Odom are technically still a married couple. "It is not final until it is final. They are still a married couple in the eyes of the law," legal expert Troy Slaten tells E! News.
E! News has also confirmed that Khloé is Lamar's next of kin. "Khloe is still his wife and she makes all the medical decisions." 
"If Lamar were to pass away, because she does not need anything from him, I doubt that she would take anything in his will or estate and she would defer everything to his children," he continues. Slaten notes that if the couple signed a medical directive during the divorce, Khloe would no longer have the power to make medical decisions on her husband's behalf.
Khloe also arranged to have Odom's two children, Destiny Odom and Joe Odom Jr., their mother Liza Morales and Odom's father Joe Odom flown to Las Vegas Wednesday to see him. 
In a press conference Wednesday afternoon, Nye County Sheriff Sharon Wehrly confirmed many previous reports. She revealed that the person who called 911 informed the operator that Odom had cocaine in his system Saturday.
Police also confirmed that the athlete used up to 10 tabs of sexual enhancement supplements over a three-day period. Investigators later issued a warrant to obtain a blood sample to determine if Odom suffered a drug or alcohol overdose.
On Thursday morning, E! News learned that Odom's condition remains "no better, no worse." However, on Friday, he woke up and spoke for the first time since he was hospitalized on Tuesday following a drug overdose at a brothel in Nevada, telling Khloe Kardashian, "Hey, baby," and giving her the thumbs up. He was taken off a ventilator. Doctors are continuing to treat and evaluate him.
—Reporting by Holly Passalaqua and Ken Baker
Originally published on Oct. 13, 2015, at 7:20 p.m. PT