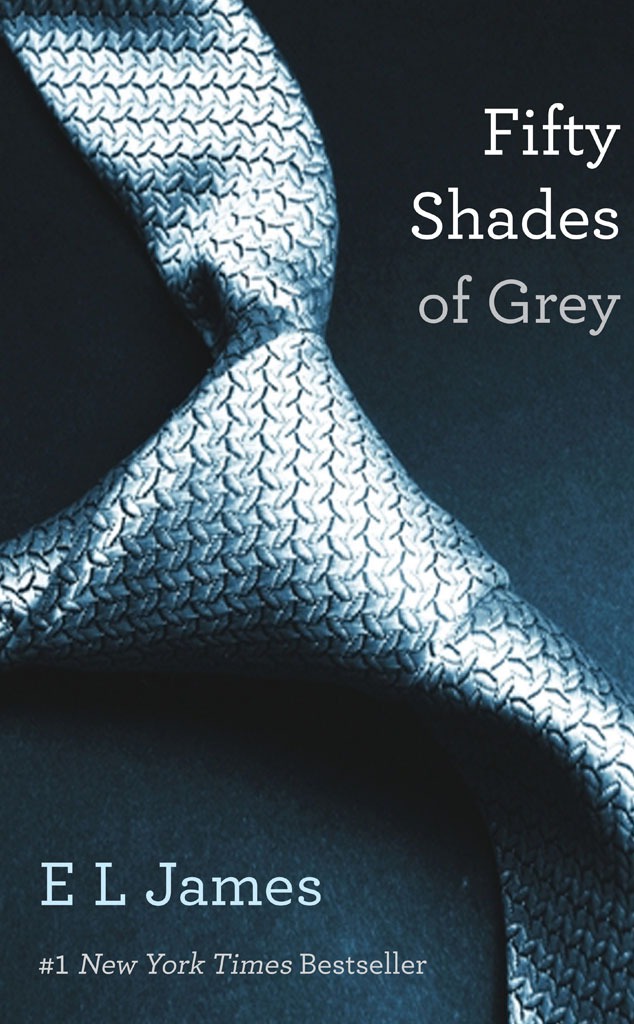 Let your inner goddess rejoice!
On Monday, Universal and Focus Features announced that Kelly Marcel will write the screenplay for the film adaptation of Fifty Shades of Grey. Author E.L. James tweeted she was "thrilled" that Marcel, who wrote the script for Saving Mr. Banks last year and cocreated Terra Nova, would be bringing her book to the silver screen.
"Kelly's work demonstrates her flawless structural technique and passionate commitment to emotion, humor and depth of character which is particularly visible in the celebrated screenplay for the upcoming Saving Mr. Banks," said Michael De Luca, who will be producing Fifty Shades of Grey along with Dana Brunetti. (Saving Mr. Banks, starring Tom Hanks, Emma Thompson and Colin Farrell, tells the tale of Walt Disney's 20-year pursuit to the film rights for P.L. Travers' novel Mary Poppins and the tumultuous relationship between the two of them.)
Marcel is also friends with Tom Hardy (a potential Mr. Grey perhaps?) and founded the Bad Dog Theater Company in London with the Dark Knight Rises star.
But beyond the screenwriter, the studio and the producers, here's everything we now so far about the upcoming Fifty Shades of Grey movie.
Gerry Angus/ZUMAPRESS.com
E.L. James Is Biting Her Lower Lip: Much like Christian Grey, the British erotica author is torturing us by playing coy! So why won't she get too specific about her dream cast? "It gets messy," she told E! News in September. "You might end up with somebody else [that I originally said]."
Ryan Gosling Is Not the Frontrunner to Play Christian Grey: Hey girl, bad news. As much as we'd like to see Ryan's dominant side in this role, the rumors of him being a shoo-in for the part are just not true. In late September, E.L. James told Ryan Seacrest on his radio show that her husband's quotes about the Notebook star being the No. 1 choice to star in the film had been "completely misreported."
Ian Somerhalder "Gets It": With his piercing blue eyes and devilish smirk, the Vampire Diaries star certainly seems like a natural fit for the role of Christian Grey. He's been a fan favorite since Universal's Focus Features acquired the movie rights in March and told Ryan Seacrest in April he'd "absolutely" be up for the role. In September, Somerhalder told E! News with a grin, "I get why it's taken off the way it has."
But Alexander Skarsgård "Was Born to Play" Mr. Grey!: The hunky True Blood star quipped to Access Hollywood that he was a natural to play Seattle's billionaire bad boy. "Where do I sign?" he asked. "He's got a sex chamber? My character has that on True Blood!" Skarsgård, who seems like he'd feel right at home in Christian's Red Room of Pain, said with a smile he "was born to play that part."
In Fantasyland, Matt Bomer Has No Hard Limits: The White Collar star was fan Photoshopped into the role of Mr. Fifty Shades on a (totally fake) Entertainment Weekly cover in July. Filmmakers were quick to point out that this was, sadly, just a hoax. And while Bret Easton Ellis (who expressed his frustration on Twitter for not being chosen to write the Fifty Shades screenplay) does not want to see Bomer playing the role of Christian, we're sure there are plenty of people who would love to see the Magic Mike star strip down on screen again.
A Whole Lot of Schmidt: New Girl's Max Greenfield threw his name into the casting rumor mill at the Emmys. When E! News' Giuliana Rancic asked whether he'd be up for full frontal he quipped, "Yeah, that's not a problem." The only possible hang-up? "It's the issue of whether they wanna see that much intensity onscreen, because that's what I plan to bring." Douchebag jar—now!
Anastasia Steele Is—Oh My!—Tougher to Guess: Emma Watson is a rumored frontrunner to play Christian Grey's brunette love. Her Perks of Being a Wallflower costar Nina Dobrev told Ryan Seacrest Emma was familiar with the series and was "laughing, a little bit nervously as I'm sure everybody was when they read those books." Other names in the mix? Anna Kendrick, who turned bright red when a Watch What Happens Live caller suggested she might like being "tied up by a hot guy," and fan favorite Alexis Bledel. One definite no is Selena Gomez. While Justin Bieber's girlfriend did star in a Funny Or Die parody called Fifty Shades of Blue, she told MTV News playing the real version of the kinky character would be "too much."
Angelina Jolie Might Direct: This one's a long shot, but if she's not too busy marrying Brad Pitt, raising six kids or saving the world, it could still be possible. Back in June, Deadline reported that Jolie was in early talks with Universal about directing the Ana and Christian on the big screen. We won't hold our breath (or choke anyone with a necktie), but this would be cool.
Laters, babe!
(E!, Universal Pictures and Focus Features are part of the NBCUniversal Family.)