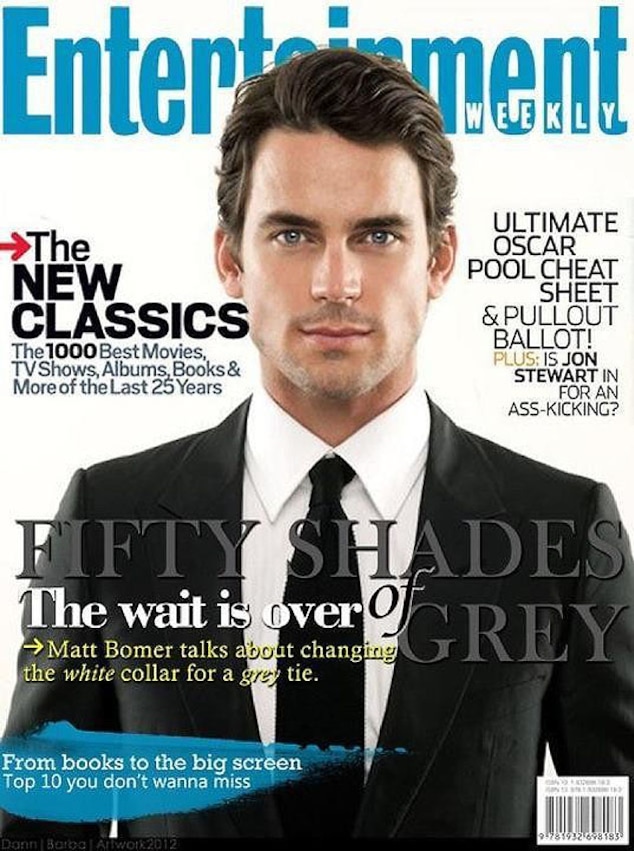 EW
Matt Bomer, put down the whip and step out of the Red Room.
Though an Entertainment Weekly cover showcasing the White Collar star's beautiful blue eyes and flawless face above the headline "Fifty Shades of Grey: The Wait is Over" allegedly leaked to the Internet, it turns out the cover is simply a convincing hoax.
"Matt Bomer talks about changing the white collar for a grey tie," the fan-photoshopped cover continues, implying that Bomer has locked down the role of Christian Grey, the mysterious millionaire with an affinity for whips and chains at the heart of E.L. James' bestseller.
But the filmmakers confirm that the casting is nothing more than wishful thinking.
Dana Brunetti, one of the co-producers of the hotly anticipated big screen adaptation, took to Twitter to dispel the buzz, tweeting, "All of the rumors on #FiftyShades are just that - rumors. No one has been cast in any role. We have to get a writer and director first."
Bomer—who most recently stripped down and talked dirty for Magic Mike—has been a fan favorite for Mr. Grey for a while now, but he got a bump of credibility when writer Bret Easton Ellis (who has made it no secret he wants to adapt the saga) championed the actor.
"Fifty Shades of Grey: So is Matt Bomer THE Christian Grey? I think the t-shirt says it all..." Ellis tweeted, including a paparazzi pic of Bomer wearing a shirt reading "Easton."
Bomer is hardly the first victim of a homemade magazine cover (remember Taylor Lautner's debunked People cover) but the real question is: Do you want to see this real-life Disney prince go dark for the S&M filled series?!
We certainly wouldn't say no to seeing Matt get sexy on the big screen again.