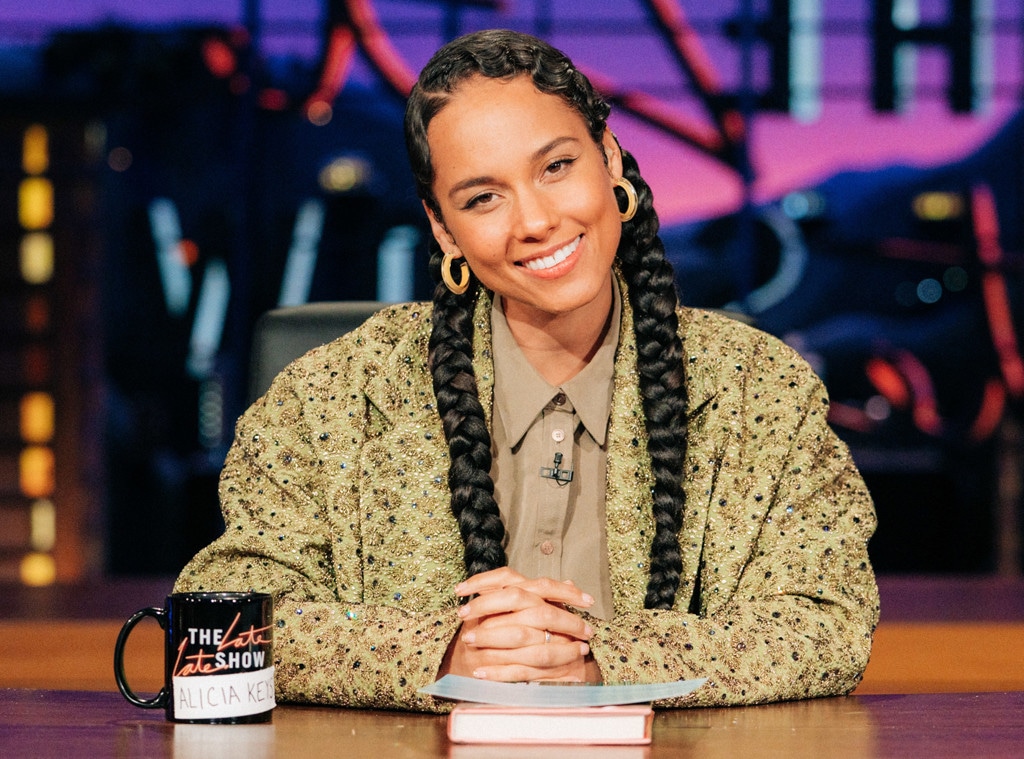 Terence Patrick/CBS
Alicia Keys just wrapped 2019 up in a pretty, little bow.
The singer served as the guest host of James Corden's The Late Late Show on Monday night, putting her own twist on the talk show by performing a 2019 in review song. Lifting the lid of Corden's desk to reveal a piano underneath, the "Fallin'" singer reminded everyone of her singing/songwriting talents as she crooned about the events of the past year. With every event, came a picture for reference.
And she began with everyone's favorite member of the church. "Fleabag's priest couldn't get much hotter," she said, then shouting out the blowjob guy from Netflix's Fyre documentary, "We learned what this guy would do for water."
As she continued, "Beyoncé's new special was about coming home. A Starbucks cup was in the Game of Thrones. The Bagel Boss guy really lost his cool. Aunt Becky paid off a ton of schools. We got Apple TV and Disney+. John Legend was named the sexiest."
Then she switched to social issues. As Keys crooned, "Greta Thunberg gave a climate talk. NASA had an all-female space walk. 2019 showed us women are strong, 'cause Hot Girl Summer last all year long!"
After some additional lines about sports and politics, Keys went back to the entertainment industry references, starting off with a shout out to Ariana Grande's historic year, as well as the end of Katy Perry and Taylor Swift's feud. As she sang, "Ariana was 1, 2 and 3 on the charts. KP and T.Swift touched all of our hearts."
Next up was the latest celebrity couple of the moment. "Shawn and Camila did mad PDA, but Bradley and Gaga are just actors, okay?"
The "If I Ain't Got You" singer continued with the music references, eventually throwing her own name (and her Grammys hosting game) into the mix. "Capaldi sang about someone you loved. My girl, Billie Eilish, was the bad guy, duh," she sang. "Lizzo just took a DNA test, and we already know she's 100 percent the best! Old Town Road took rap and made it rural. At the Grammys, I played pianos. Plural."
"I hosted it once and Imma do it again," the star continued, then she gave a shout out to her iconic 2019 Grammys moment with Lady Gaga, Michelle Obama, Jada Pinkett Smith and Jennifer Lopez with the line, "As long as I get a little help from my friends."
Watch:
5 Surprising Things About 2019 Grammys' Host Alicia Keys
And now, movies! The Grammy winner continued, "The Joker danced down a flight of stairs. Queen and Slim made the best of pairs. The Irishman was a de-aged mobster. J.Lo in Hustlers deserves as Oscar."
Then, she poked some hilarious fun at Corden with the line, "New Sonic's less creepy and that's a fact, but if you wanna be scared, look at James in Cats."
Keys closed out this excellent recap with the lines, "Harry and Meghan had a baby boy. Elon Musk made the dumbest toy. The Masked Singer was a massive draw. Baby Yoda made us all go, 'Awwww!' That was 2019, I hope you were recording. Imma tell my kids that this is James Corden."
Ah, 2019. What a year.