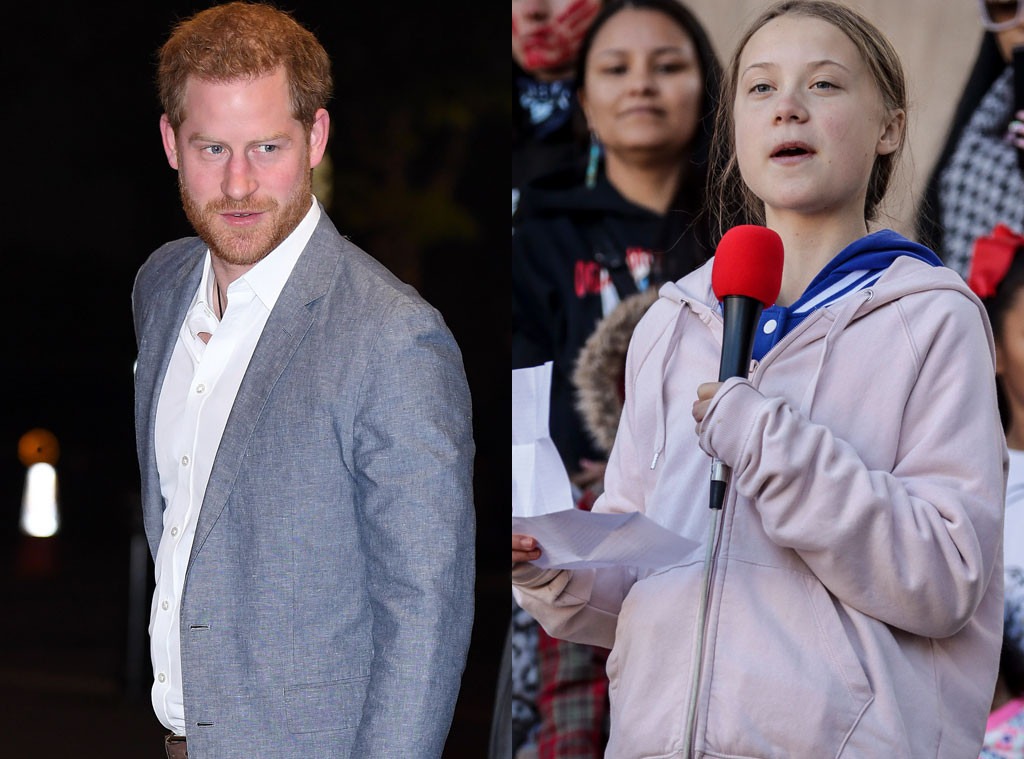 Karwai Tang/WireImage; Marc Piscotty/Getty Images
Need another reason to love Prince Harry? 
The Duke of Sussex attended the OnSide Awards at the Royal Albert Hall in London on Sunday, Nov. 17 to deliver an inspiring speech to a crowd of over 2,500 young people.
But it wasn't just his speech that made us love and respect the royal even more so than we already do, it was that during the speech Prince Harry gave a special mention to the young climate change activist Greta Thunberg. 
In case you don't know who this young trailblazer this, the Swedish 16-year-old pioneered the climate strike movement, has spoken at the United Nations General Assembly's Climate Action Summit and has inspired many—both younger and older generations—to step up and fight for climate change. 
"It feels so good to be here and to be part of the first-ever OnSide Awards," Prince Harry said during his speech presenting the OnSide Health and Wellbeing Awards. "I've been to lots of events in this evening, but the energy here tonight is truly something special and of course, I feel privileged to be part of this community." 
During his speech, he also stressed that the awards would not be possible without the incredible work that like-minded organizations who are united in showing young people a more positive future are doing. And when speaking about the importance that those young movers and shakers have on their immediate and greater communities, Prince Harry made sure to give Thunberg a shoutout.
"When Greta started her climate change protest she was just 15 years old—one voice, with just one placard, sitting on her own outside the Swedish parliament," Prince Harry said. "Many people... actually, I should say, many adults... dismissed her. Yet today, millions upon millions of young people have joined her fight."
The young activist is already being immortalized even. Earlier this month, CNN reported that the teen climate activist would be getting a huge mural in downtown San Francisco. Located near Union Square, the mural features a 59-foot portrait of Thunberg and the mural was funded by OneAtmosphere.org.
Of the mural and the reasoning behind the project, executive director of the nonprofit, Paul Scott, told the publication: "If we can amplify her message and get more people involved and listening to what she's saying, then we're doing some good." 
Now, the change that started with her has created a bigger movement and Prince Harry rightfully acknowledged that during his speech at OnSide Awards.
"She may have been just one person at the beginning, but she had a belief, a mission, and a desire to do something not just for herself but for everyone, and now—the whole world is paying attention," the royal said. 
Throughout his moving speech, Prince Harry also spoke about the importance of treating one's mental health as important as how we treat our physical health, especially when it comes to the youth. "By knowing what makes us thrive rather just survive, we'll be unlocking such incredible potential for ourselves and more young people up and down the country," he said. 
Further, Prince Harry encouraged everyone in the room and anyone watching or reading his speech to unlock their "true potential and realize the difference that you can make." 
He added: "Whatever your dream—every country, every community, every school, every friendship group, every family needs their own Greta—someone who can lead the way, someone who is prepared to stand up for what they believe in, and show how much they care for the people in their lives and the community around them."