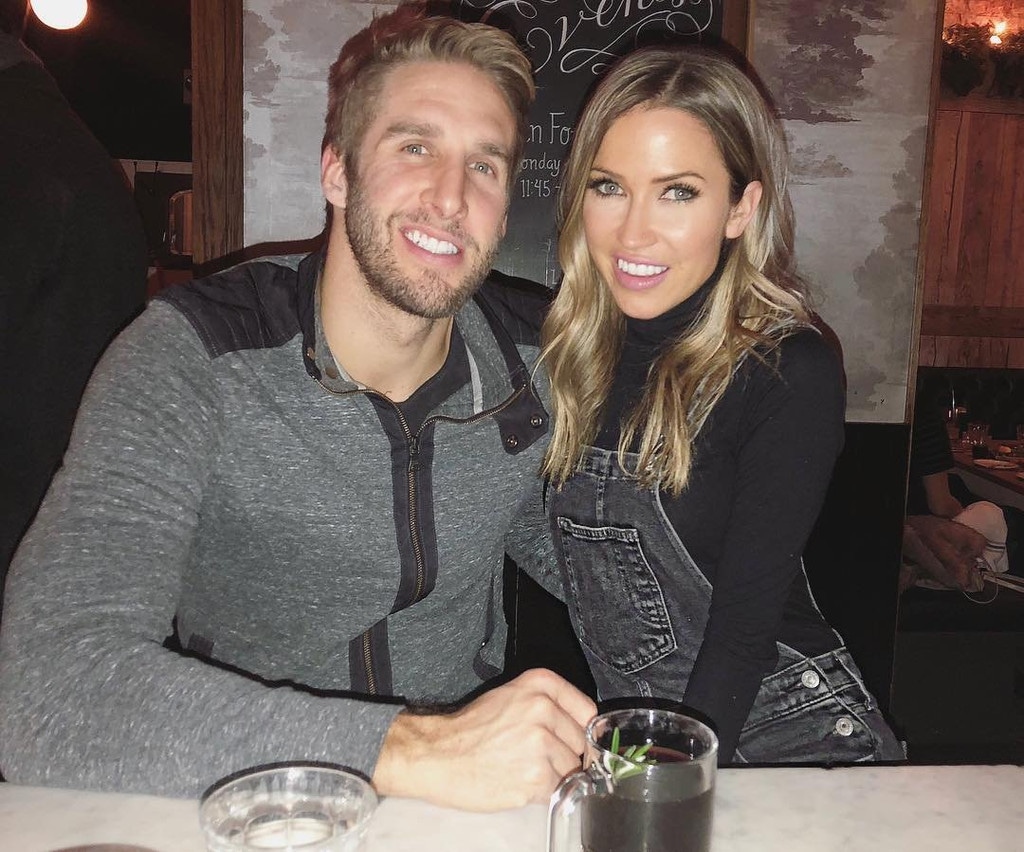 Instagram
Kaitlyn Bristowe is sharing some more details about events that could have led up to her breakup with Shawn Booth.
Kaitlyn caught up with fellow Bachelor Nation alum and perpetual Sarah Hyland body-defender Wells Adams on her podcast, Off the Vine with Kaitlyn Bristowe. Wells is currently dating and living with the Modern Family star, although the two of them differ on when their official  anniversary date is. Adams believes it to be the day of their first kiss, and Hyland sees it as the day they made things "official." 
The Bachelorette star shared similar ideas. She and Shawn tried to figure out their anniversary as well. Was it the day they got engaged? "We met and had our first date, but I was also dating multiple men," she explained. "So does that count as our anniversary? Or does our anniversary count as the time we got engaged?"
Needless to say, the timeline is rather muddled for the Bachelorette couple. "He actually forgot our anniversary last year," Kaitlyn revealed.
She continued with her ex-fiancé's reason for forgetting the day. "He was like, 'To be fair, you had just dumped a guy five minutes before deciding I guess I'll pick this guy,'" she added. "Okay at the end of the day, you forgot our anniversary. You're being a dick right now. Just own that."
Granted, she and Wells recorded the podcast in October on his and Sarah's anniversary, but there could have been some foreshadowing there. Last year, she got Shawn's birthday wrong and bought balloons that said "32" instead of "31." Oops!
Shawn and Kaitlyn called it quits Nov. 2 after three years together. They wrote about why they decided to "go our separate ways" in a statement to People. It said, "This difficult decision comes after thoughtful, respectful consideration. Even though we are parting as a couple, we're very much committed to remaining friends. We have both evolved as people, which is taking us in different directions, but with the hope that we will continue to support each other in new ways."
One day before the Bachelor Nation favorites announced their split, E! News exclusively reported that their separation could be on the horizon. One source told E! News they were having "major issues" and have been "spending a lot of time apart." A second source revealed to E! News that their career paths were diverging, which caused some difficulties. "He's focused on the gym and building his business and she wants to be out and about. Their priorities are more different than they've ever been. They used to do everything together—both in personal and business. Now, a lot of their time is being spent apart," the insider said.
Kaitlyn had talked about breakup speculation on another podcast episode before and immediately shut down those rumors, but did address some dilemmas in their relationship. "We are both so busy and unfortunately that means that we are spending all of this time apart," she said. "If you've ever been a person who is running a successful brand or business and with someone who is doing the same, but in a different career path, you know that times can be tough. You're both always away. You're exhausted at the end of the day. Sometimes the relationship isn't being put first, but does that mean, 'Oh, you call it quits?' No."
Despite the collective hearts breaking around Bachelor Nation and with its fans, many Bachelor alums were expecting it. "It was not a shock," one former contestant told E! News. "No one in our circle is surprised by their decision to split." The source added, "Everyone knew they have been having problems, but they weren't ready to address it and we respected that. Kaitlyn and Shawn are great people on their own but you could tell they weren't going to ever make it down the aisle together."
Another Bachelor Nation fan favorite couple, Jared Haibon and Ashley Iaconetti, spoke to E! News about Kaitlyn and Shawn's breakup. "We're just so sad, we always looked at them as such an ideal couple," Ashley told us. "We always strived to have their playfulness, it's just really sad."
According to Jared and Ashley, fellow Bachelor Nation couples really looked to Shawn and Kaitlyn as "ideal." Jared explained to E! News, "I think it might be the most heart-wrenching break-up."