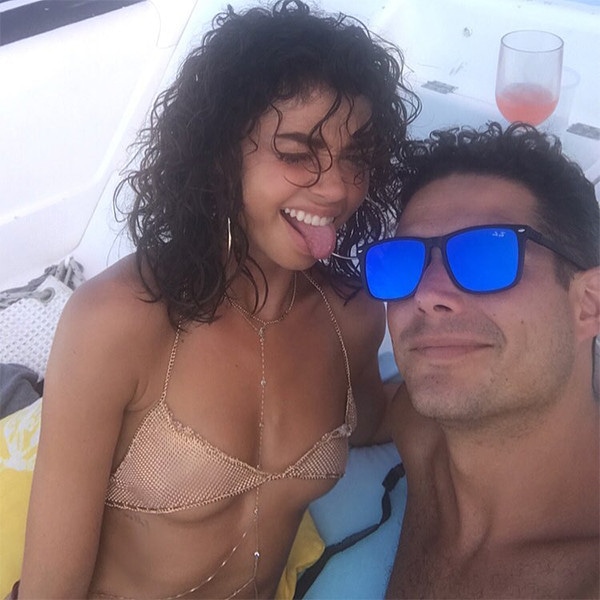 Instagram
Happy anniversary, Sarah Hyland and Wells Adams!
The 27-year-old Modern Family actress and 34-year-old Bachelorette alum are celebrating the one-year anniversary of their relationship—specifically, their first kiss.
"1 year ago today, You asked to hold my purse when I was dancing," Hyland wrote on her Instagram page on Sunday, alongside a selfie of the two basking in the sun. "In that moment you took my heart. You then gave me my last first kiss. And in that moment you took my breath away. I love you to Pluto and back @wellsadams ❤️ *YES PLUTO IS A PLANET. IT WILL ALWAYS BE*"
"I kissed this beautiful woman for the 1st time a year ago today. Best year of my life. I love you to Pluto and back @sarahhyland," Adams wrote on his own Instagram.
He shared a photo of the two smiling and looking into each other's eyes at EW's recent pre-2018 Emmys party. Hyland and Adams attended several pre-Emmys bashes this weekend.
The two met online and went public with their relationship last October, shocking fans around Halloween when they revealed joint Stranger Things costumes.
Watch:
Sarah Hyland Reveals If She Still Watches "The Bachelor"
Earlier this summer, Hyland and Adams moved in together, also uniting his dog Carl with her pooch Boo.
"I think it's brought us closer," the actress said in August, at Variety's Power of Young Hollywood event. "I don't think it's been long enough to discover pet peeves in each other." 
"He's more anal and cleaner than I am," she added. "So, it's great for me."
She added, "There's a little bit of a power struggle with Boo and Carl since they're both big dogs. But Boo is more of a dominant alpha personality where Carl is an alpha-sized dog.  But they're having fun finally playing, and it's really nice to see Boo finally play with a dog her own size."