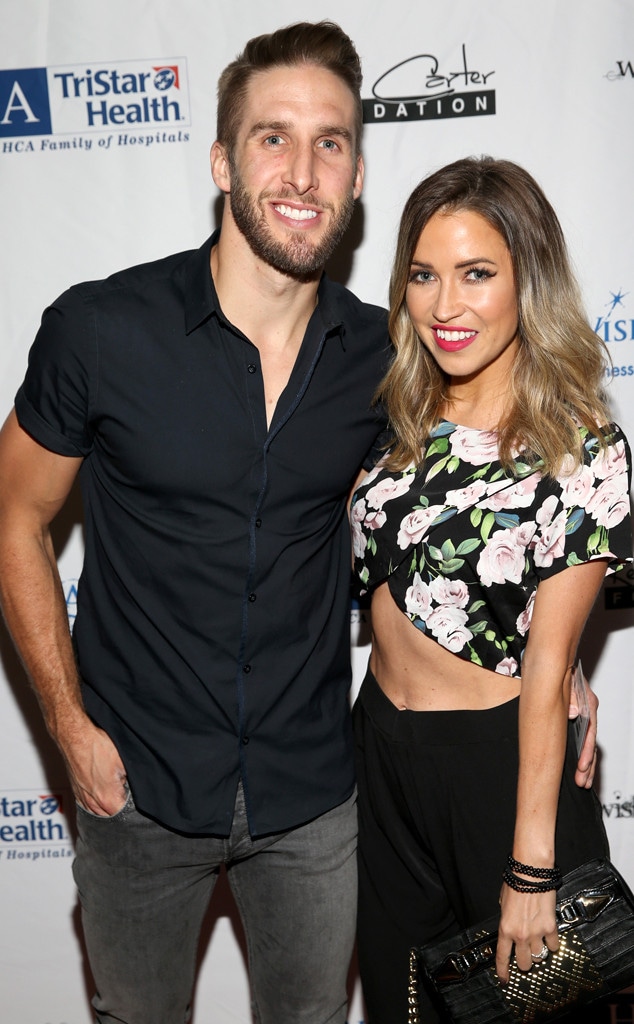 Terry Wyatt/Getty Images for The Kevin Carter Foundation
Kaitlyn Bristowe and Shawn Booth—one of Bachelor Nation's last remaining engaged couples—have gone their separate ways.
The Bachelorette stars recently split after more than three years together.
"After three incredible years, we have decided to go our separate ways. This difficult decision comes after thoughtful, respectful consideration. Even though we are parting as a couple, we're very much committed to remaining friends. We have both evolved as people, which is taking us in different directions, but with the hope that we will continue to support each other in new ways," the pair said in a statement to People. "Due to the nature of how we met, our relationship has always been very public, and we have enjoyed sharing it with all of you, but we ask that you respect our decision and our privacy at this time."
Bristowe accepted a proposal from Booth on the Season 11 finale of The Bachelorette after first appearing on Chris Soules' season of The Bachelor in 2015. Following their whirlwind engagement, the couple then relocated to Nashville, Tenn, where their professional passions took Kaitlyn and Shawn in completely different directions—and ultimately further and further away from a trip down the aisle.
As E! News exclusively reported just hours before the breakup was announced, Kaitlyn and Shawn were having "major issues" in their relationship.
"They technically live together, but they barely see or spend time together anymore," one source shared. "It's been a rough couple of months for them and they've been trying to figure out their balance, but it just isn't working."
Added a second insider, "He's focused on the gym and building his business and she wants to be out and about. Their priorities are more different than they've ever been. They used to do everything together—both in personal and business. Now, a lot of their time is being spent apart."
The 33-year-old native Canadian launched the wildly popular podcast, Off the Vine With Kaitlyn Bristowe, while Shawn, 31, remained committed to opening his very own fitness facility called Boothcamp.
Speculation that Kaitlyn and Shawn had indeed called it quits sparked months ago when fans pointed out that she was not wearing her engagement ring. She denied the possibility of any trouble in paradise, telling her podcast listeners at the time that she and Shawn were "110 percent committed to each other" and "still together."
"We are both so busy and unfortunately that means that we are spending all of this time apart," Bristowe explained, adding, "If you've ever been a person who is running a successful brand or business and with someone who is doing the same, but in a different career path, you know that times can be tough. You're both always away. You're exhausted at the end of the day. Sometimes the relationship isn't being put first, but does that mean, 'Oh, you call it quits?' No."
Kaitlyn then said, "You love the s--t out of each other and you work through it and you work on yourselves to be better and you know that times aren't always going to be smooth sailing. You know that times aren't always going to be tough."
Watch:
Kaitlyn Bristowe Suffers Emmys Wardrobe Malfunction
When the former lovebirds celebrated their third anniversary this year, Kaitlyn told E! News exclusively that they'd yet to set a wedding date and were simply focused on the present moment.
"We don't even know where we see ourselves next week," she teased. "We just hope we are healthy and happy. Maybe married. Maybe babies? Ok I'll calm down."
"How soon are we talking?" Kaitlyn shared, "If soon is in the next three years then yes... We're having fun being the crazy aunt and uncle for now."
In 2017, Kaitlyn made headlines for her decision to freeze her eggs. Shawn offered his full support to his then-fiancée, saying they wanted at least five children.
"I think Shawn's role in this was, I mean, it was crucial for me," Bristowe shared while discussing the IVF process on Good Morning America. "I don't know what I would have done without you."