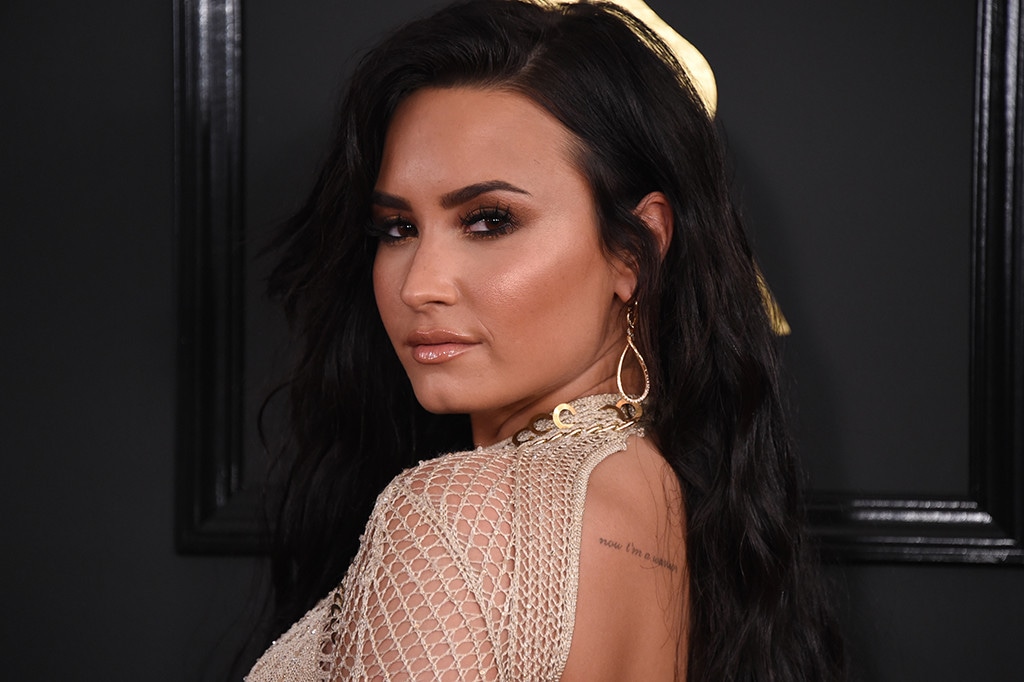 Phil McCarten/CBS
Demi Lovato has reached her 60-day mark in rehab following an apparent overdose at her Hollywood Hills home on July 24. 
Lovato remained at Cedars-Sinai hospital in Los Angeles for two weeks, where she dealt with nausea and a high fever for a few days as side effects during her stay. An insider told E! News Lovato was "scared and grateful to be alive" after her hospitalization. Since leaving Cedars, the "Confident" singer flew to a rehab center and then traveled to another facility in Chicago where she apparently met with a therapist who specializes in sobriety, mental health and wellness.
When Lovato first entered rehab, a source told E! News the singer would be undergoing an "extensive program to ensure she gets the help she needs."
The "Sorry Not Sorry" singer has always been open about her struggle with mental health and past addictions, and that played a part in her decision to go to rehab. An insider told E! News that Lovato "wants to make a statement to her fans, family and friends that she is strong and can recover."
It has been nearly two months since she began her most recent journey in rehabilitation, here's a look at what we know so far about her recovery process.
On Aug. 5, Lovato broke her silence on social media and wrote a lengthy post about her drug use as well as her commitment to her fans. "I have always been transparent about my journey with addiction. What I've learned is that this illness is not something that disappears or fades with time. It is something I must continue to overcome and have not done yet," she wrote.
The singer added she was "forever grateful" to her fans for their "love and support." She concluded the letter, "I now need time to heal and focus on my sobriety and road to recovery. The love you have all shown me will never be forgotten and I look forward to the day where I can say I came out on the other side. I will keep fighting."
She has not posted on social media since that note.
While she remained at Cedars, Lovato's family stayed by her side the entire time. Her mom, Dianna De La Garza, and her sisters Dallas Lovato and Madison De La Garza, rushed to the hospital and supported her throughout her time here. The "Tell Me You Love Me" singer had another special visitor during her stay at Cedars: her ex-boyfriend Wilmer Valderrama was seen at the hospital the next day and continued to be a steady presence throughout her two-week stay.
Julian Mackler/BFA/REX/Shutterstock
According to sources, before July 24 Lovato was in the midst of a "downward spiral"  after she "cut out" her sober coach, Mike Bayer, from her life.
In the days leading up to Lovato's hospitalization, fans at her concert in Paso Robles, Calif. noticed something was amiss. She reportedly "forgot" the lyrics to her song "Sober," which is actually about breaking her sobriety. Poignant lyrics include, "Mama, I'm so sorry I'm not sober anymore / And Daddy please forgive me for the drinks spilled on the floor / To the ones who never left me / We've been down this road before I'm so sorry, I'm not sober anymore."
The night before her alleged overdose, the singer and her friends enjoyed a night out in West Hollywood where she "was taking shots with her friends," who were "cheering her on."
According to insiders, her Hollywood home had become a hotbed for after parties. Another source told E! News that the day of her overdose, "She had been partying for 12 straight hours and it caught up with her. This was going on for a few weeks and the warning signs were there. She slipped up and thought she could handle it. This is obviously a huge wake-up call."
She was administered Naloxone, an emergency opioid overdose treatment, when ambulances arrived.
Since Lovato's relapse, friends and family have been vocal about their support for her. In early September, Lovato's close friend Selena Gomez told Elle how she coped with the news. She kept her feelings rather private, but her affection for her friend was very apparent. She told the magazine, "All I'm saying is, I reached out personally. I didn't do a public thing. I didn't want to. I…I love her. I've known her since I was 7. So…it's…that's what I'll say." 
A source told E! News at the time that Gomez was "very upset and emotional" when she heard about the news.
On Sept. 19, Lovato's mom spoke out on Newsmax TV about her emotions following her daughter's overdose. "It's still a really difficult thing to talk about," she said.
According to her interview, she learned about the overdose from Lovato's assistant Kelsey Kershner. "It was just something that I never, ever expected to hear, as a parent, about any of my kids," she explained.
De La Garza revealed her daughter "was in bad shape" when she arrived at Cedars, but praying helped her get through those difficult few days. On Oct. 1, De La Garza appeared on MSNBC's Morning Joe alongside Eric Bolling, whose son died from an accidental overdose in 2017. Bolling and De La Garza discussed the opioid epidemic and their involvement in trying to put an end to it.
On Aug. 20, the singer's 26th birthday, her sister Madison posted an Instagram that described how "thankful" she was that her sister survived. She captioned a throwback photo of them, "today could have been one of the worst days of my life, but instead i get to spend it thanking God, the incredible doctors, demi's team, and everyone across the world who offered their support - without all of these people i wouldn't have my big sister anymore."
Nicholas Hunt/Getty Images
Lovato went to rehab in 2010 when she was 18 for "emotional and physical issues," which turned out to be substance abuse, bulimia and self-harm. She discussed her drug use in her 2017 documentary, Simply Complicated, which painted a very candid image of her addiction and relationships. She said of her cocaine use, "I loved it. I felt out of control with coke the first time that I did it."
She added, "I was using while I had a sober companion, and I went through like 20 sober companions. I was either craving drugs or on drugs. I was not easy to work with."
Also in 2017, she won a "Spirit of Sobriety" award and said at the time, "Every day is a battle. You just have to take it one day at a time."
In March, Lovato celebrated six years of being substance-free and spoke about it onstage during one of her concerts in New York. "The reason why I became so open about my story is because I know that there are people here tonight that need to ask for help and I want them to know that it's OK. Mental health is something that we all need to talk about and we need to take the stigma away from it. So let's raise the awareness. Let's let everybody know it's OK to have a mental illness and addiction problem. I'm bipolar, whatever. I take care of myself," she said.
The musician has also been very open about her father, Patrick Lovato's, battle with alcoholism and how it affected her. She said in Simply Complicated, "My dad was an addict and an alcoholic, and I guess I always searched for what he found in drugs and alcohol because it fulfilled him and he chose that over a family."
Lovato has been making changes from a distance as well. After her relapse and during her time in rehab, the singer canceled her remaining Tell Me You Love Me tour dates. When the concerts were nixed, a source told E! News, "Demi's team was hopeful that she would complete the tour dates, but Demi's recovery comes first."
She has also listed her Hollywood Hills home for sale. A source confirmed at the time that her house was on the market because she's "focusing on getting healthy and moving forward."
On Sept. 24, TMZ published an alleged photo of Lovato talking to a woman walking her dog while holding a cup of coffee. 
During her Newsmax TV interview, De La Garza provided an update as to how her daughter is doing as of now, which should fill fans with reassurance. She said, "I can honestly say today that she is doing really well. She's happy, she's healthy, she's working on her sobriety and she's getting the help she needs. That in itself encourages me about her future and about the future of our family."