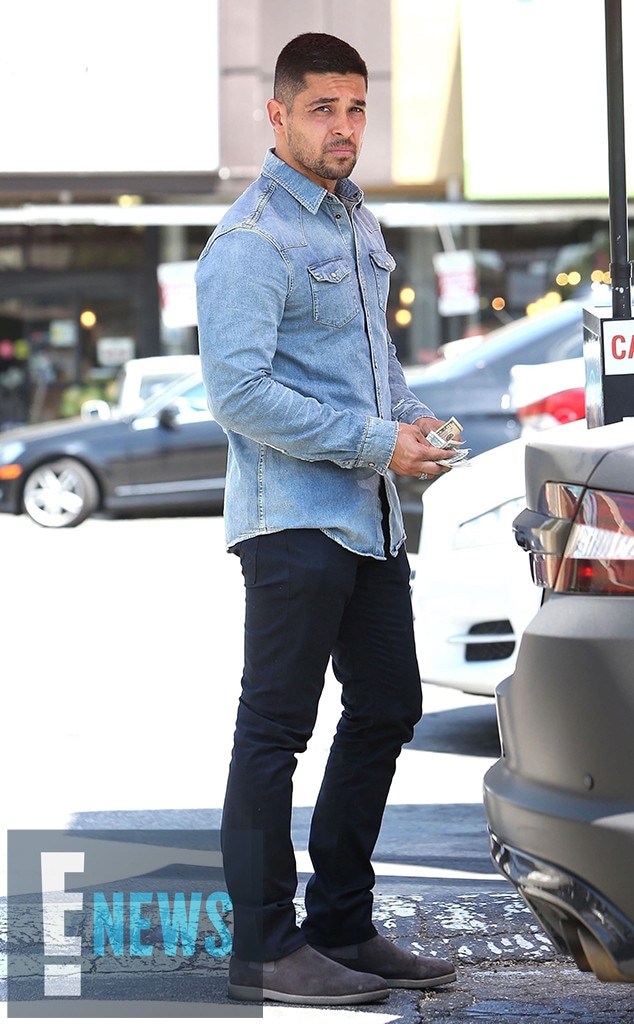 Backgrid / Pacific Coast News
It didn't take long for Demi Lovato's first love to arrive by her side. 
In photos obtained exclusively by E! News, Wilmer Valderrama's car is seen entering Cedars-Sinai Medical Center in Los Angeles, where the pop star and his ex-girlfriend is receiving treatment for a drug overdose. E! News has learned that Wilmer arrived at approximately 3 p.m. on Wednesday and a security ushered him into a staff parking lot on site. He stayed for over two hours and seemed "very down," a source shares. "He was somber and quiet and you could tell he was in a very serious mood. He arrived and left by himself."
Shortly before his visit, Valderrama was spotted grabbing lunch in Encino, Calif., located about 17 miles from the hospital. The actor refrained from showing emotion as he waited in a parking lot wearing a chambray shirt, dark jeans and boots.
An eyewitness says of his demeanor, "He was serious, intense and seemed distant, but focused and very calm at the same time."
By all accounts, Valderrama is the first celebrity guest to visit Lovato in the hospital. E! News previously reported her mother and sister had arrived on Tuesday afternoon. 
Backgrid / Pacific Coast News
Just over 24 hours have passed since ambulances rushed an unconscious Lovato from a home in the Hollywood Hills to the hospital after suffering an apparent overdose. The "Sober" singer's publicist later confirmed Demi was "awake" in a statement to E! News, refuting tabloid claims that she overdosed on heroin. 
"Demi is awake and with her family who want to express thanks to everyone for the love, prayers and support," the full statement read. "Some of the information being reported is incorrect and they respectfully ask for privacy and not speculation as her health and recovery is the most important thing right now."
It is unclear what substances caused the overdose, but a spokesperson for the LAPD has since confirmed to E! News that Lovato is not under any form of criminal investigation.
As for Demi and Wilmer, the former couple famously dated for almost six years up until 2016.
Christopher Polk/Getty Images for NARAS
Since then, the pair have remained on good terms and most recently reunited for lunch in February 2018. 
"They could definitely end up back together," a source shared with E! News at the time. "They have crazy love for one another and a very special place in each other's hearts. When you have history like theirs, things are so comfortable and familiar. Nothing can really compare."
Demi, 25, herself opened up about her feelings for Wilmer, 38, in her Simply Complicated documentary, revealing, "I still love Wilmer. I don't know if I'll lose him for the rest of my life. I think my heart's always with Wilmer. I think that it was with Wilmer, I think that it is with Wilmer, and I think that it will be. You don't share six years with somebody and not give them a piece of your heart, and vice-versa. I'm pretty sure that I'm not gonna meet anybody that compares to him, but I'm trying to keep an open heart and an open mind when it comes to that."
Valderrama has not publicly commented on Demi's hospitalization.