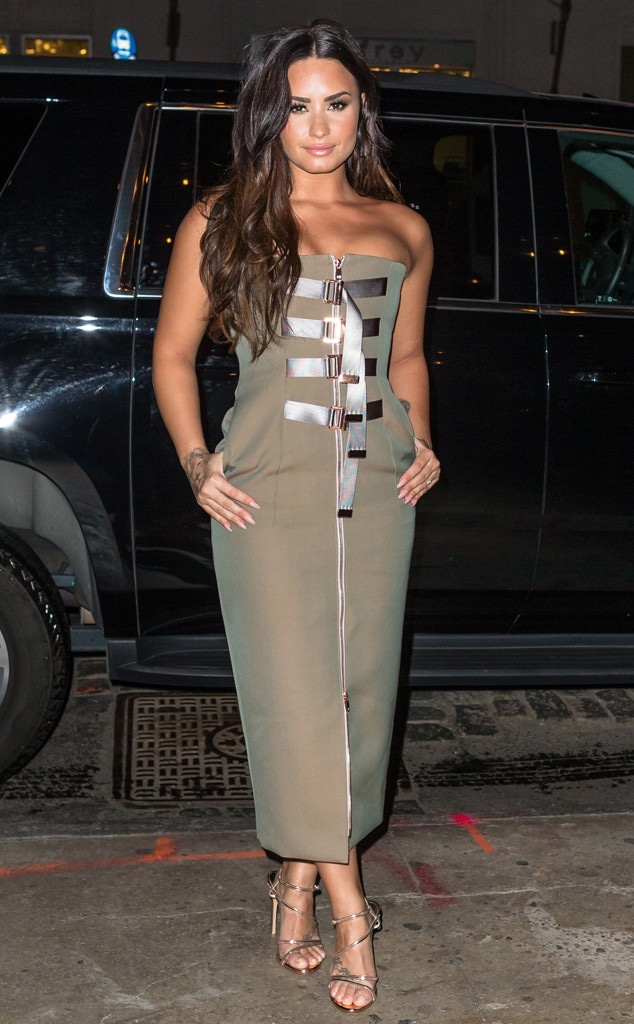 BACKGRID
Demi Lovato's Hollywood Hills home is up for sale after the singer overdosed there in July.
A source confirmed to E! News that the "Sorry Not Sorry" singer is "selling her old place and focusing on getting healthy and moving forward."
According to a listing on Zillow, the 4 bed, 6 bath home is going for $9,495,000. The home has "unobstructed views from Downtown to the Pacific Ocean on over an acre of land."
Lovato was rushed to Cedars Sinai Medical Center around noon on July 24 and was reportedly administered naloxone, the emergency treatment in the case of an opioid overdose, by first responders at her home. She remained in the hospital for over two weeks, suffering for many days from nausea and a high fever. The singer's mom, Dianna De La Garza, her sisters Madison De La Garza and Dallas Lovato and ex-boyfriend Wilmer Valderrama all spent countless hours at Cedars Sinai by the singer's bedside.
A source told E! News at the time of her overdose, "This is obviously a huge wake up call. Demi doesn't want to die and she's very grateful to be alive."
After about a week in rehab, Lovato flew to Chicago to meet with a therapist who focuses on mental health and sobriety. A source told E! News after her hospitalization that a major reason she's going to rehab was because she "wants to make a statement to her fans, family and friends that she is strong and can recover."
Lovato sang about her relapse in the song "Sober." Lyrics include, "Momma, I'm so sorry, I'm not sober anymore / And daddy, please forgive me for the drinks spilled on the floor / To the ones who never left me / We've been down this road before / I'm so sorry, I'm not sober anymore."
In the days leading up to her overdose, the singer flubbed the words to that very song during a concert in Paso Robles, Calif., which raised the eyebrows of some fans. Not long after, the "Confident" singer went out with friends, took shots and continued to party for 12 hours. "She slipped up and thought she could handle it," a source told E! News.
In March, Lovato celebrated 6 years of being substance-free and said on Twitter, "So grateful for another year of joy, health and happiness. It IS possible."
Many of the singer's friends have offered their love and support for the singer. Country star Brad Paisley called Lovato "one of the kindest, most talented people I've ever met." Keith Urban offered up some advice as well. He spoke about "a willingness to want to live a different way if that's what she wants to do."
Selena Gomez and Lovato have been friends since they were young and spoke up in a new cover story for Elle about how she reacted to Lovato's overdose. "I reached out personally. I didn't do a public thing. I didn't want to. I…I love her," she told the magazine.
On Aug. 5, Lovato broke her silence nearly two weeks after entering the hospital. She posted a lengthy note on Instagram and opened up about her struggles. "I have always been transparent about my journey with addiction. What I've learned is that this illness is not something that disappears or fades with time. It is something I must continue to overcome and have not done yet," she wrote.
She gave a special shout-out to her fans, too. "To my fans, I am forever grateful for all of your love and support throughout this past week and beyond. Your positive thoughts and prayers have helped me navigate through this difficult time."
Lovato concluded her note saying she needs "time to heal and to focus on my sobriety and the road to recovery." 
She promised her family, friends and fans, "I will keep fighting."