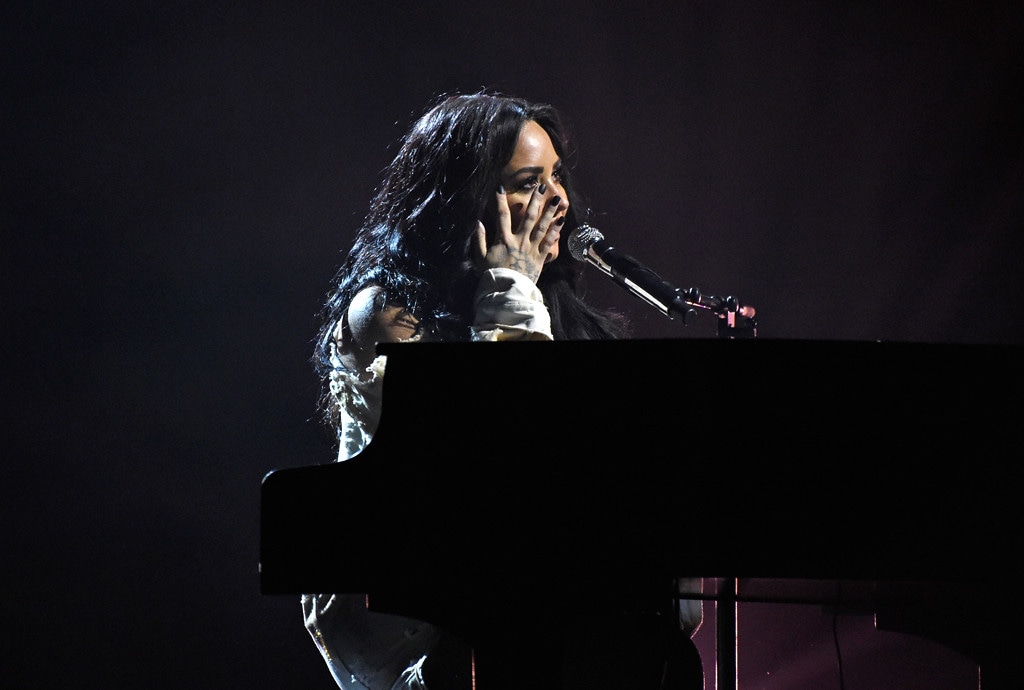 Kevin Mazur/Getty Images for Philymack
Demi Lovato got tearful onstage at a recent concert as she celebrated her recent six years of sobriety milestone with her fans. 
The 25-year-old singer has for years been open about her battles with drug and alcohol addictions, bipolar disorder, eating disorders and self-harm.
At her concert at Barclays Center in Brooklyn on Friday, supporting acts DJ Khaled and Kehlani paid tribute to Lovato onstage and celebrated her sober "birthday" with her, as she wiped away tears. DJ Khaled led the crowd in a rendition of "Happy Birthday."
"Yesterday was a really big day for me," Lovato told the audience, getting emotional. "Yesterday, six years ago, I was drinking vodka out of a Sprite bottle at nine in the morning, throwing up in the car and I just remember thinking, 'This is no longer cute. This is no longer fun. And I'm just like my dad.'"
Kevin Mazur/Getty Images for Philymack
The singer said she then decided to get sober.
"So I made changes in my life," she said. "The reason why I became so open about my story is because I know that there are people here tonight that need to ask for help and I want them to know that it's OK. Mental health is something that we all need to talk about and we need to take the stigma away from it. So let's raise the awareness. Let's let everybody know it's OK to have a mental illness and addiction problem. I'm bipolar, whatever. I take care of myself."
"I can never say thank you enough to you guys for the support that you've given me over the years," she said. "And you've forgiven me for my mistakes. So thank you for being a part of saving my life. I love you guys."
In January, Lovato announced that her concerts would be preceded by inspirational speeches and group therapy and wellness workshops by CAST Centers to promote dialogue about mental health. Lovato is an alumna and co-owner of the LA-based mental health and wellness treatment center and was a patient in 2011. She had also offered the services during her and Nick Jonas' 2016 tour.