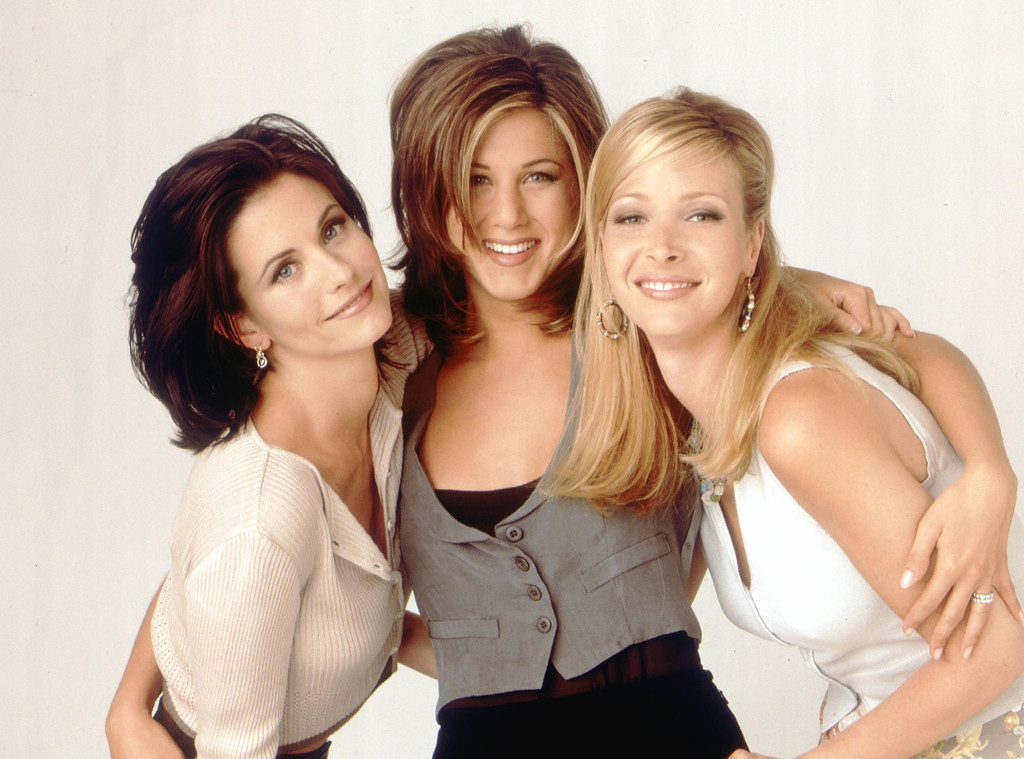 Warner Bros.
As Lisa Kudrow scrolls through her birthday texts today, there's one chain that's likely to get extra attention: her group chat with Jennifer Aniston and Courteney Cox. 
Though it's a collection of witticisms we—and probably some 52 million other loyal Friends viewers—would love to get in on, the 55-year-old says it can get overwhelming. "It's a lot," she admitted to Us Weekly. Cox's verdict: "It's too much pressure," she says. "I'm not into the group text chain. I really don't like it!" Even when she comes up with something clever to send off, she worries her dearest friends somehow won't understand her humor. "You have something funny to say and you say it," notes Cox, "but then you send the text and they don't get it."
Yes, more than 14 years after the actresses took their final bows on the venerable sitcom, they're still going for laughs. And despite Cox's protestations if their collection of nights out, joint talk show appearances and willingness to um, be there for each other on the most momentous of occasions are any indication (both Kudrow and Cox made the 75-person guest list for Aniston's intimate vows to Justin Theroux), they have a plethora of inside jokes to lean on when they're feeling uninspired. 
At the very least, they could use the exchange to set up another in what has been a series of get togethers. While most costars go back to their individual lives after filming wraps, only to cross paths at the occasional award show or West Hollywood valet line, the women of Friends get together on the regular. And they're continuously striving to have the rest of the sextet—Matt LeBlanc, Matthew Perry and David Schwimmer—join in. Noting their disparate lives and shooting schedules, Kudrow joked during a 2015 appearance at Vulture Festival that they're "constantly" throwing out potential dates. "It's crazy," she says of the six-person coordination, "but it's sweet that we're trying, isn't it?" 
Any amount of scheduling and rescheduling is worth the effort. "We spent 10 years together, almost every day," she reminisced in an interview with The Guardian that same year. "We all went through something significant together, and that's a strong bond. As you get older, you realize, oh, you don't have that with just about everybody."
Kevin Winter / Getty Images
Almost from the jump, the cast was an insular group. Shooting from freshman comedy to literal must-see-TV as the anchor of NBC's weighty Thursday night lineup was a heady experience for a collection of young, more-or-less previously-unknown stars. And in a pre-Instagram world it was hard to predict the glare that would be directed on their personal lives. 
"It's scary, it's jarring, it's not what you thought it would be," Kudrow admitted at Vulture's event. "And then, thank god, there were six of us together at the same time going through it." 
Even in those early weeks, some 20 million viewers were tuning in to watch the collection of 20somethings fumble their way through life in New York City making it the second-rated new comedy. "It's pretty amazing, I mean I think we're all really sort of taken aback by it because to us, down here, it just seems we're all just sort of a theater group," LeBlanc told Katie Couric during a 1994 Today interview. "We're a really tight ensemble, we get along really well. It's just a real productive environment and a great time." 
Perhaps it was a prescient knowledge of what was to come. Or, more likely, a director's desire to have the cast of a show based on friendship truly jell, but the costars felt obligated to live up to their sitcom's premise. 
"I think it was unspoken but we instinctively felt like we need to be friends, we need get along, we need to connect," Kudrow recalled on NBC's Must See TV: An All-Star Tribute to James Burrows in 2016. So the famed director nudged them in the right direction: "We started playing poker and Jimmy gave us his room so we could have a bigger hangout room for us."
Soon, the girls were getting together for lunch "every single day," Cox recalled on the special, "and we ate the same food—a Jennifer salad." (For inquiring minds, that would be a Cobb, but with turkey bacon and garbanzo beans.) Noted Aniston, "We fell in love with each other and wanted to hang out." 
Which made breaking up extremely hard to do. While Kudrow has copped to feeling a pang of wistfulness when she's had to say goodbye to other roles, "With Friends, I actually cried," she said. And it wasn't just the absence of that $1 million-per-episode paycheck. Even before the last season she was fretting about its potential demise. "When I really thought we might not come back, I remember driving home and I burst into tears thinking, 'Oh, I'm going to miss Phoebe, and Monica and Rachel and Joey and Chandler,'" she shared at the Vulture event. "I miss those people. I really do. They were fun."
Both she and Perry have gone on-record saying that just maybe they should have eked out a few more seasons. "I find myself sort of reminiscing about about how much fun the show was, and the hours that we worked. You know, you can see how much we laughed and everything," Perry revealed during a joint appearance on CNN's Piers Morgan Tonight, adding that when asked to reminisce by The Hollywood Reporter, "I found myself saying, 'If I had a time machine, I would like to go back to 2004 and not have stopped." 
Kudrow may have signed up for that particular ride. "If it were up to us, like, individually, oh, I would keep going," she said. "There would have come a time anyway when someone would have said, 'We've had enough.' But why not have fun until they do?"
Ron Galella, Ltd./WireImage
Nostalgia on the part of two of the show's leads led to the obvious question: Why not forget the time machine and just sign on for a reunion? It's something fans have been clamoring for pretty much since the day the finale aired in 2004—a request that's only grown more fervent now that Hollywood has turned reviving old hits into its favorite pastime. 
With the exception of one Aniston crack about how avowed bachelor George Clooney's wedding his proved that anything is possible, each of the show's principals have shot the idea down for a myriad of entirely valid reasons.
Though Kudrow said rumors have been so prevalent she was almost duped—"I went, 'Wait a minute, was I not invited? Oh my God, maybe there is one and I wasn't asked to do it,'"—she has some serious questions about what a revamp would look like. 
"They're rebooting everything, but I don't know how does that work with Friends, though?" she inquired during a January appearance on Conan. "That was about people in their, you know, 20s, 30s. The show isn't about people in their 40s, 50s. And if we have the same problems then that's just sad. That's not fun!"
Ultimately, it was co-creator Marta Kaufman who delivered the end-all, be-all shut down, telling E! News, "Friends was about that time in your life when your friends are your family and once you have a family, there's no need anymore."
That's not to say the cast is opposed to one-off trips down memory lane. There was the time Cox and Kudrow crushed a round of Friends trivia on a 2016 episode of CBS' Celebrity Name Game. The time she and Aniston competed to deliver the most inventive curse words during a 2014 appearance on Jimmy Kimmel Live! And of course the one where they all indulged Kimmel in a little fan fiction. 
Due to the aforementioned scheduling concerns, the closest they've gotten to getting all six together for an in-person reunion was the 2016 tribute to Burrows when Perry had to send his love via video message while performing in a play in London. But they are going to have that dinner. One day. 
Until then, the female half of the cast will continue to gather for dinners at West Hollywood mainstays such as Sunset Tower and Craig's and a series of red carpet luncheons, play openings and after parties. Other parts of the group manage to catch up as well. When Perry and LeBlanc were both filming on the CBS lot in 2016 they'd often meet in the middle of their two sets, though, noted LeBlanc, "I could not see him for five years, and then put me in a room with him, and it will be like I saw him yesterday. We still have this shorthand with one another. It's amazing, really."
Kudrow agrees, calling time spent with her costars as "heaven," outings filled with competing jokes and nonstop laughter. (Oh, to be a fly on that well-appointed wall.)
When they're not taking turns guesting on each other's shows (both Kudrow and Aniston made appearances on Cox's comedy Cougar Town while Cox took a turn on the Kudrow-produced Who Do You Think You Are?), they're turning turning up simply to celebrate each other. 
Alberto E. Rodriguez/Getty Images for UCLA Semel Institute
Last summer, Aniston and Kudrow joined Jennifer Meyer, Sara Foster, Molly McNearney and Jason Bateman to fete Cox's 53rd birthday at Chateau Marmont. 
Holding down their outdoor table well past 1 a.m., "Everyone was in high spirits, laughing and telling stories," said one onlooker. "They were having such a great time." 
That's pretty standard with this crew. 
Because, as Aniston noted at the Burrows tribute, they've been through something that's hard to explain to those on the outside looking in. "We experienced friendship, family, heartbreak, babies, everything, together," she said. "And we also had a wonderful experience with the world loving us as well." 
Almost as much as they love each other.