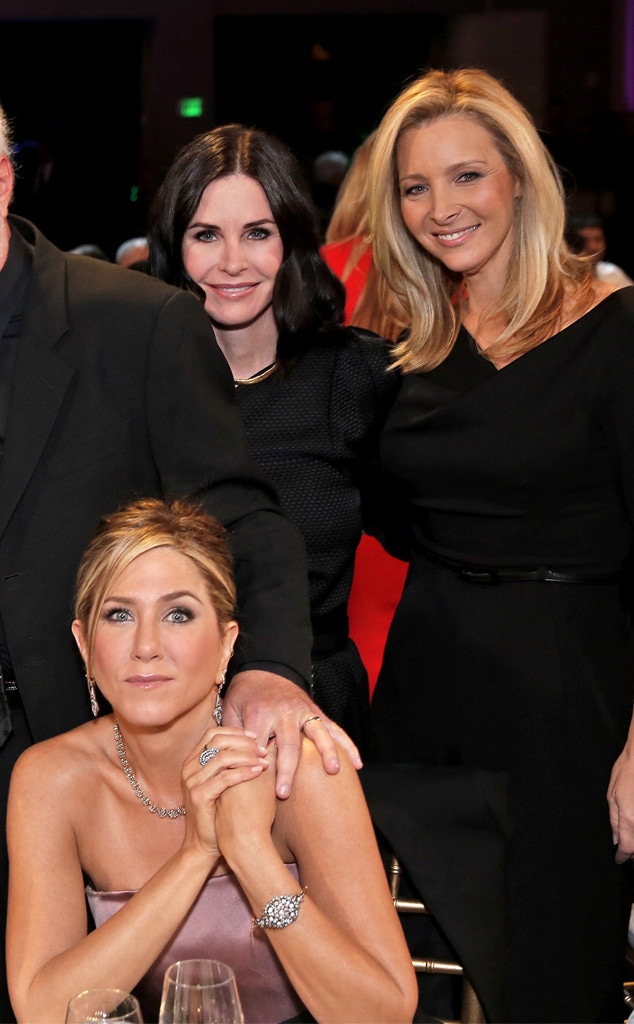 Chris Haston/NBC/NBCU Photo Bank via Getty Images
This is the one where we cry all the tears. Could this be any cuter?!
Check this out: Courteney Cox and Lisa Kudrow say they and fellow Friends alum Jennifer Aniston maintain a group text chain.
However, Cox is probably the lurker of the trio.
"Lisa, Jennifer and I all have a text chain, but to me it's too much pressure. I'm not into the group text chain. I really don't like it!" Cox told Us Weekly on Friday at the Burn to Remember: First Responder Studio Challenge event in West Hollywood, where she and Kudrow worked out together to honor first responders.
"It's a lot," Kudrow said.
"And then you have something funny to say and you say it but then you send the text and they don't get it," Cox added.
Cox, Kudrow and Aniston played BFFs Monica Gellar, Phoebe Buffay and Rachel Green on Friends. NBC's hit sitcom ended in 2004 after 10 seasons but remains in our hearts...and on TV, in reruns and on Netflix.
NBC/NBCU Photo Bank via Getty Images
Watch:
Lisa Kudrow Says No to "Friends" Reunion
The cast and crew of Friends are routinely asked about reuniting as networks continue to churn out revivals of popular shows.
"Anything is a possibility, Ellen," Aniston told Ellen DeGeneres on her show this week, when asked about an official Friends reunion. "Anything! Right? I mean, George Clooney got married…That's like an anything can happen."