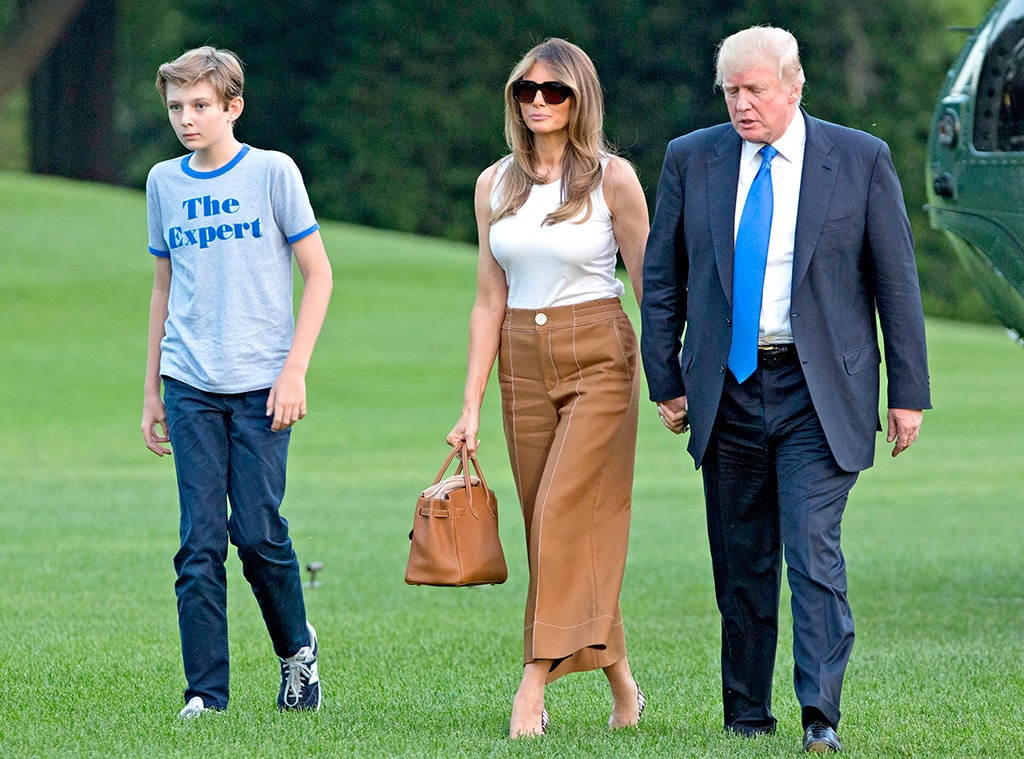 Chris Kleponis-Pool/Getty Images
At first sweep, you could say there's nothing normal going on in the White House.
But that wouldn't be entirely true. As was the case with the last administration, and with a number of them over the years, there's a child growing up at 1600 Pennsylvania Avenue.
Eleven-year-old Barron Trump has lived there since June, the first young son since John F. Kennedy Jr. to reside there with his parents. But JFK Jr. was born just a couple months before the family moved into the White House in January 1961, making Barron the first cognizant pre-teen boy to have the run of the place since Charles Taft II, who was 11 when his father, William Howard Taft, was elected president in 1908.
While that storied address comes with its perks (there's a swimming pool, bowling alley, theater and, since the Obamas came to town, a basketball court and a vegetable garden), it can't be an easy transition for any child to go from going about life normally to going everywhere with an armed escort and not being able to do whatever you want—even more than most kids. 
Then again, maybe that's where Barron's upbringing pre-2017 comes in handy. Growing up the son of celebrities in a gilded penthouse at Trump Tower and knowing how to look politely at the occasional camera may have prepared Barron better than most first kids for that famous-but-fiercely-shielded existence.
Over the past century, all of the sons who were young enough to live in the White House for even a bit, such as FDR's 17-year-old son John Aspinwall Roosevelt, were the youngest of their siblings. John Roosevelt's older brother James would later write that John "had the smoothest, least exciting life of all of us."
"The youngest, he was also the least close to father," James wrote. 
"It isn't always easy being a member of the club you are about to join," Barbara and Jenna Bush, who were 19 and in college when George W. Bush was elected, wrote in a letter to Malia and Sasha Obama in 2009. "Remember who your dad really is."
President Donald Trump hasn't offered up a lot of super-personal father-son anecdotes about Barron's childhood, but nor has he about any of his other four kids' childhoods. He of course speaks with nothing but pride about his fifth child, but, unlike some dads who get to spend more time with kids born later in their lives because they retire or otherwise re-prioritize...
Well, not really an option here.
Gustavo Caballero/Getty Images
"Barron's terrific," Trump told E! News in January 2015, six months before he announced he was running for president, about his then-8-year-old son. "He's a great boy, he's working hard, he's starting the school thing—you know, the beginning of the process, and he's going to be a very good boy." Asked if Barron was aware yet of his dad's celebrity status, Trump replied, "I don't know what he's aware of, but he is a fantastic young boy—so I hope he becomes aware fast."
The next year became a crash course in how much influence his father had for more than just Barron.
"I tell him: Take it day by day, enjoy your life, live your meaningful life as I like to do," Melania Trump told Us Weekly in January 2016 as the race was starting to heat up. "...Of course, at that age, every child would worry, especially if they love school, if they love friends, they don't want to lose that. Everything is a new opportunity, and it brings new friends and a new school. You never know, you never know what happens. Enjoy it day by day, live your life and don't stress yourself."
Chip Somodevilla/Getty Images
Then 10, Barron was an infrequent presence on the 2016 campaign trail, future first lady Melania Trump making it clear that his schooling was the priority and her priority was caring for Barron, but he did attend the Republican National Convention and, of course, was there with the whole family on election night.
Chip Somodevilla/Getty Images
And then, unlike the adolescent first kids who came before him, he didn't move into the White House right away. Rather, he and his mother remained in New York so he could finish out the year at Columbia Grammar and Preparatory School.
They would make weekend trips to D.C. and their Mar-a-Lago estate in Palm Beach, Fla., but otherwise lived a very private life in Manhattan.
John McDonnell / The Washington Post via Getty Images
The NYPD estimated it cost between $127,000 and $146,000 a day to protect the first lady and first son in New York, including their mini-motorcade rides to and from school on the Upper West Side.
Also in New York, and often with them as well at Mar-a-Lago, are Barron's Slovenian grandparents, Viktor and Amalija Knavs, who are legal permanent residents of the United States. The Washington Post reports that they're close to becoming U.S. citizens, as Melania did in 2006. Trump's in-laws have also been frequenting Washington, D.C., since Melania and Barron moved there last June.
Chris Kleponis-Pool/Getty Images
So like Malia and Sasha Obama, whose maternal grandmother, Marian Robinson, lived as part of the first family at the White House through President Barack Obama's two terms, Barron gets to have grandparents around to dote on him.
The Knavses have not spoken publicly since their son-in-law was elected president, but Robinson's grandmotherly sentiments about getting to be so close to her granddaughters translates.
"One of my biggest blessings is getting to see my granddaughters grow up before my eyes," she reflected in an essay for Essence in 2012. "I go to all their school plays and sports games; I'll answer their questions, and like any grandparent, I try to make myself scarce when their friends are around."
"What amazes me the most, though," she also wrote, "is that Barack still makes time for family dinner almost every night. He's still calling out plays from the sideline for Sasha's basketball team. He's talking the girls through their days, helping them with their homework, and laughing and joking with them every single day."
Robinson also wrote that she was glad to be there for her daughter, when she needed her. And as it turned out, vice versa. "I couldn't have done it without you, Mom!" Michelle Obama gave Robinson a shout-out on The Tonight Show in January 2017, days before the inauguration. 
The former first lady also told People in late 2016, as the whole family was getting ready to move out, that living in the White House brought the family closer together.
"So it wasn't until the White House that we were together seven days a week, that we could have dinner together, he had time to coach the girls' teams and go to all their events," Michelle recalled.
"They're ready to get out, just out from their parents' house," former President Barack Obama said about his daughters as well. "The fact that their parents' house is the White House may add to it. But Malia's going off to college. She's a grown woman."
Malia was 10 and Sasha 7 when the Obamas moved into the White House in 2009. 
"There's a sentimentality about this place, that they've had so many amazing experiences, and the staff are part of the family," Obama said. "It is different for them than for most kids in that when they leave, they won't be able to come back home. Malia's spoken about how she regrets the fact that she won't have that home base in the same way."
Barron will be spending similarly formative years in the White House, at least until he's 14, and possibly 18.  
Like Chelsea Clinton, who was 12 when Bill Clinton was elected president, Malia and Sasha attended Sidwell Friends School in Bethesda, Md.; Sasha isn't due to graduate until next year, hence the Obamas immediate decision to stay in Washington. They live in the same neighborhood as Ivanka Trump and Jared Kushner, and other assorted politically connected folks.
Barron Trump, meanwhile, is midway through the sixth grade at St. Andrew's Episcopal School in Potomac, Md., and sightings of him are few and far between.
He attended the kid-friendly annual Easter Egg Roll at the White House last April. Glasses on the whole time, he watched the solar eclipse last August from a balcony with his parents.
Most recently he was photographed at the annual turkey pardoning ceremony and again when the White House Christmas tree was delivered in November. 
"On behalf of Melania, myself, Barron, all of my children, all of my grandchildren—they're here with us tonight—I want to thank you, God bless you, and God bless the United States of America. Thank you very much, merry Christmas, everybody," President Trump said at the National Christmas Tree Lighting Ceremony on Nov. 30.
For the most part, however, Melania is sticking to her promise to keep Barron out of the fray, and in turn he's largely out of the public eye. While the general consensus among non-trolls is to save the criticism for the president and not the kids, especially the super-young ones, Barron—like Chelsea, like the Bush twins and like Malia and Sasha—has been the target of enough online nonsense to make any mother wary.
"It is a longstanding tradition that the children of Presidents are afforded the opportunity to grow up outside of the political spotlight," the White House press office said in a statement a few days after Trump's inauguration. "The White House fully expects this tradition to continue. We appreciate your cooperation in this matter."
Chelsea Clinton has come to his defense on multiple occasions, too, tweeting last April, "I've repeatedly said and will keep saying Barron should be afforded the right and space and privacy to be a kid." And in August, after a Daily Caller blogger criticized Barron's clothing for being too casual (Malia Obama's outfits were scrutinized, too), Clinton wrote, "It's high time the media & everyone leave Barron Trump alone & let him have the private childhood he deserves."
President Trump made history, however, when he made a joke about the special counsel's Russia investigation and invoked his 11-year-old, tweeting last July, "Jared Kushner did very well yesterday into proving he did not collude with the Russians. Witch Hunt. Next up, 11 year old Barron Trump!"
Also unlike the Obamas and the Clintons (and both Bush families and the Reagans... in fact, every first family for the past 130 years), the Trumps don't have a dog and, unless there are reptiles or fish we don't know about, there are no first pets.
But while the Obama girls were the first kids to live in the White House in the Instagram age, Barron Trump might be the first child most likely to be providing his parents tech support.
"I have a son. He's 10 years old. He has computers. He is so good with these computers, it's unbelievable," Trump volunteered at his first debate with Hillary Clinton. "The security aspect of cyber is very, very tough. And maybe it's hardly doable."
Like many fathers of a certain age, Trump was basically marveling at what his son already knows about computers, Barron's generation practically having been born with smart phone in hand. It's unclear what sort of computer set-up he would have access to, considering the amount of security involved and, oh, perhaps you don't want him looking at the Internet all that much... but video games, movies, school work, sports and the usual tween boy pursuits presumably keep him quite busy. 
Ida Mae Astute/ABC via Getty Images
Barron also golfs—something father and son do together, Melania has said—and when he was younger he was into drawing.
"He is a very strong-minded, very special, smart boy," the first lady told Parenting.com when Barron was 6, happily describing herself as a "full time mom."
"He is independent and opinionated and knows exactly what he wants. Sometimes I call him little Donald. He is a mixture of us in looks, but his personality is why I call him little Donald."
Melania Trump also said that her No. 1 parenting secret was having good listening skills.
"I listen to what he says, what troubles him and what he is excited about," she explained. "Then I can guide and support. I don't push my thoughts or likes or dislikes. I want him to grow to be his own person. I think is important to give a child room to make mistakes in order to learn. Mistakes build wings so later in life they can fly and go on their own. Let them fall once in awhile. When they do they will learn how to pick themselves up on their own when you aren't around. If he says no, we listen to him. It's no and we don't try to change it. It's important to let them be who they are.
"Be their friend and parent as well. When they're in trouble they will come to you first. Don't try to change their opinion."
Many of the first kids are said to have made the White House their own in some way, whether it was Amy Carter playing in her specially built tree house or John Jr. and Caroline Kennedy keeping a pony, Macaroni, on the grounds. The Obamas, while they had a unique relationship with the media as politicians who were often treated like celebrities, kept their private residence off-limits. Barron got creative in his childhood bedroom, drawing cars and planes, and even a bakery sign, on the walls, so presumably his bedroom at the White House is tricked out to his specifications.
And he's got some years to get comfortable.