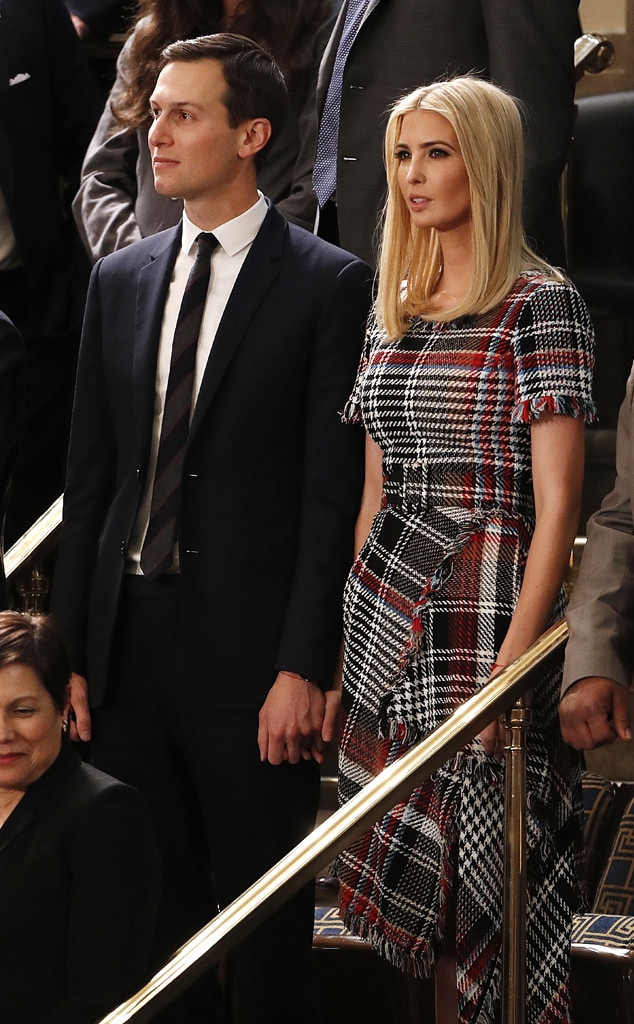 SHAWN THEW/EPA-EFE/REX/Shutterstock
Does Ivanka Trump ever wake up in the morning and wonder how she got here? Not that she's not enjoying "here." But life in Washington, D.C., and the attention paid to her life in D.C., has its striking differences from her previous life as a non-political figure just a few long years ago.
Once upon a time she was the toast of New York City, an Ivy League-educated model, influencer and executive who, like her father, was enjoying the greatest societal and born-into-privilege perks that can be experienced on a daily basis.
"I can't help that I built the Trump Tower and their entrance is right next to Tiffany," Donald Trump told Oprah Winfrey in 2009 about trying to raise his kids normally despite their very un-humble surroundings.
Quincy Jones' startling claim in a conversation with Vulture that he "used to date Ivanka, you know" made us pause—not only because of the "um, what?!" reaction that all of Twitter seems to be having, but also because it reminded us of this whole other life that Ivanka once had, even before The Apprentice made her a reality TV star, the composed class to her dad's braggadocio.
(As for the 84-year-old Jones, whose interview answers ranged from sage and insightful to jaded and bizarre, and who has no love lost for now-President Trump… a source tells E! News that it's not true.)
Patrick McMullan/Patrick McMullan via Getty Images
Ivanka and husband Jared Kushner celebrated their eighth wedding anniversary in October and are parents to three young children. Though she maintains a curated presence on social media, funnily enough Ivanka's life feels even more guarded and private now that she's a hop-skip away from one of the biggest public stages anyone can possibly have.
Mr. and Mrs. Kushner have been together since 2007, breaking up briefly—his parents' objected to her not being Jewish and Ivanka was hurt that he more or less agreed—in 2008 before settling down for good. But oh, if only Ivanka had lived out her single days in the Instagram age…
Though always the apple of her father's eye, she lived primarily with mother Ivana Trump, whom she remains close to, after their highly public divorce in 1992.
"He was very much a part of our lives, especially during the difficult period that was my parents' divorce," Ivanka said of her dad on The Oprah Winfrey Show in 2009. "They sheltered me a lot, as much as they could, from the media. It was always there, so no matter how good a job they did to relieve our anxiety and our fears, there was always the media to undercut that."
Bertrand Rindoff Petroff/Getty Images
Ivanka went to Manhattan's elite Chapin School until she was 15, after which she finished high school at Choate Rosemark Hall in Connecticut, living what she'd later call the "prison of boarding-school life." But she still spent lots of time in New York with friends and pursuing her burgeoning modeling career. (She has said that, whenever she'd call her dad from school, he always put aside whatever he doing to take the call—and if he was in a meeting he'd just pipe her in and let everyone in the room know how beautiful and what a good student she was.)
The 5'11" teen, with a Seventeen cover and campaigns for Sasson Jeans and Thierry Mugler MTM already under her designer belt, made her runway debut in 1997.
Mitchell Gerber/Corbis/VCG via Getty Images
"It's a shock, you stumble upon yourself and you're like, 'Oh!'" the 16-year-old, who was already the subject of a rumor that she had demanded the top-model rate of $10,000 to walk, told Inside Edition backstage at the Katsumi & Malcolm show (where the guy doing her hair asked, mostly joking, if her dad could loan him "half a million").
About that rumor, she said, "I don't need to model. My family has money, they can support me. But I model because I love to model, and it's something that I enjoy doing, so I don't think it's fair that they made me sound greedy about it…That's really are there is to it."
Bertrand Rindoff Petroff/Getty Images
A decade later she told Marie Claire that she "didn't particularly enjoy the act of" modeling. "It's as ruthless an industry as real estate—the people you meet in that business are just as fricking tough," she said. "I used it as an excuse to travel…as a way to break up the monotony."
Ivanka attended Georgetown University for two years but then transferred to her father and brother Donald Trump Jr.'s alma mater, the University of Pennsylvania's Wharton School, which she graduated from in 2004 with a degree in economics. Dad gifted her with her own apartment and then she dove into the family business.
Though she had a coterie of celebrity pals and friends in high places, including onetime first daughter Chelsea Clinton, by all accounts she was never a particularly wild kid. And you'd think we'd know by now if she hadn't avoided the pitfalls that have made so many children-of-the rich-and-famous stumble along the way.
Richard Greene/Getty Images
"My sense was that she was a little removed from the typical bar scene in college, but I feel like she always handled herself with a lot of class and dignity," Jared Work, a fellow alum of Wharton's class of 2004, told the Daily Pennsylvanian last year, as the media tried to get a handle on what to expect from Ivanka as an advisor to her father in the White House.
Another classmate, Roland Oliver, said the first time he ever saw her, however, she was showing up late for a class. "She walked very confidently…there was an air of, 'I am someone.'"
The paper noted that, while Ivanka opted out of having her picture included in the Class of 2004 yearbook, her dad and his then-fiancee Melania Knauss made the what's-happening-in-pop-culture section.
"I've never been very interested in being, sort of, a wild party girl, an It girl," Ivanka reflected on Oprah in 2009. "My dad is very strict. My dad feels very adamantly about no drugs, no drinking, no smoking, because his brother died of alcoholism, which is…it's a horrible, horrible thing."
Trump, agreeing that he was pretty strict, told Winfrey, "She's always been a very spectacular girl, she's a great student, and she's a beautiful girl—a nice girl, most importantly." He also joked that whomever his daughter wanted to date had "no chance."
It is entirely possible that Trump only knew about Ivanka's private life from paparazzi pics.
"I feel like my last boyfriend never got a fair shake because I think [my dad] started getting offended that I just would never bring him around—and started blaming it on the guy, but really it was just me," Ivanka said, smiling, on Late Night With Conan O'Brien in 2007. "I think he can be a little bit intimidating."
Her own preferences ran to strong, slightly older guys—"someone who knows what he wants," she told Marie Claire in 2007. "Aesthetically, Christian Bale is like a god—I find him to be so good-looking. I mean, he was great in American Psycho. Very attractive."
Ron Galella, Ltd./WireImage
(Regarding her father's much-replayed quip on The View in 2006 that, if Ivanka weren't his daughter, perhaps he'd be dating her, she told the magazine, "I mean, I've even heard him say that before. He loves seeing people's reaction when they're flabbergasted. Plus, he was obviously making fun of the fact that he has a tendency to date younger women.")
Arnaldo Magnani/Getty Images
She dated investment banker Greg Hersch—who in 2012 would make it to No. 7 on On Wall Street's Top 40 Under 40 list—for several years back when they were kids and they broke up while she was in college, but they were considered a happening It couple in their day and photographers paid attention when they stepped out together, even for something as simple as a dog walk.
Ivanka started dating producer and fellow New Yorker James "Bingo" Gubelmann in 2001 and they lasted for several years—and in hindsight that might have been her rebellious period. The 2003 documentary Born Rich was produced by Gubelmann and his pal Jamie Johnson, an heir to the Johnson & Johnson fortune, and it featured a number of wealthy scions, including Ivanka, who gave a tour of her immaculately preserved childhood bedroom on the 68th floor of Trump Tower.
Billy Farrell/Patrick McMullan via Getty Images
They broke up in 2005 but their decade-old association was revived in 2016 when Gubelmann was cited for alleged cocaine possession outside an East Village bar along with Maroon 5 bassist Mickey Madden. Gubelmann agreed to enter a treatment readiness program in exchange for a conditional dismissal of the charge, and Madden—who was accused of handing Gubelmann a vial of cocaine, though his lawyer said his client was "purely innocent" and never touched the drugs—agreed to do a day of community service.
Though she spent most of her technically single life in relationships, a more rumor-studded rundown of Ivanka's dating history throws Topher Grace, Lance Armstrong, Pierce Brosnan's son Sean and Dole heir Justin Murdock into the mix. (Quincy Jones never made it into the rumor mill before today.)
On Late Night in March 2007 she described the kind of guy she was open to meeting, prompting some googly eyes from fellow guest Jeff Goldblum that night.
BILLY FARRELL /Patrick McMullan via Getty Image
Asked what kind of man she could envision bringing home to dad, Ivanka confirmed that the bar had been set high.
"The measure of success for me is not necessarily financial with the people I choose to date," she explained. "It's more that they have some degree of success in their chosen field is important, otherwise I think it would be very easy to get insecure around my family and around my father. So it doesn't really matter what field they're in. I just need a guy who's confident, secure—not unlike Jeff." She turned to Goldblum. "Want to come home and meet dad?"
Also that month she appeared on the Late Show With David Letterman, walking out to the strains of Hall and Oates' "Rich Girl."
By then the vice president of development and acquisitions for the Trump Organization, Ivanka reminded Dave of her father's approach to business. "[My title] sounds very important but at the end of the day my father always reminds us—and we don't really need to be reminded—that it's him, and then everyone else."
Billy Farrell/BFAnyc/Sipa USA
Later that year she met Kushner, who also came from a commercial real estate background and at 25 had just purchased the New York Observer, after mutual friends thought they'd make for a good business match.
"They very innocently set us up thinking that our only interest in one another would be transactional," she told Vogue in 2015. "Whenever we see them we're like, 'the best deal we ever made!'"
Ivanka ultimately converted to Judaism for Kushner and they got married in front of about 500 people—including Natalie Portman, Russell Crowe, Barbara Walters, Regis Philbin and Rupert Murdoch, whose then-wife Wendi Deng helped the happy couple reunite after they initially broke up—in an Orthodox Jewish ceremony at the Trump National Golf Club in Bedminster, N.J., on Oct. 25, 2009. The bride wore a Vera Wang gown inspired by Grace Kelly's 1956 wedding dress, and jewelry from her signature collection.
Courtesy Brian Marcus/Fred Marcus Photography via Getty Images
"It was a great wedding," Trump told People afterward. "I'm very happy. They're really a beautiful, smart couple. I think you'll hear a lot of great things from them in the years to come."
"It certainly flew [by], but I got some great advice prior to the actual wedding that I really took to heart and spent a lot of time thinking about," Ivanka reflected on her nuptials in October 2010 on Live With Regis and Kelly. "Which is really just to be in the moment as much as you can and really try to enjoy it…Somebody else actually also told me to try and hold my husband's hand throughout the night as much as possible and not to separate. Which I actually think was great advice because, you know, you can turn around, 45 minutes goes by, a quarter of the wedding, and you haven't found your spouse across the room."
She and Kushner welcomed daughter Arabella in 2011, son Joseph in 2013 and their youngest, Theodore, in 2016.
When she was pregnant with Arabella, Ivanka described her relationship with Kushner to New York magazine's Daily Intelligencer.
"It's very rare we're featured out at some fancy restaurant on a date," she said. "We're very mellow. We go to the park. We go biking together. We go to the 2nd Avenue Deli. We both live in this fancy world. But on a personal level, I don't think I could be with somebody—I know he couldn't be with somebody—who needed to be 'on' all the time." She added, "I don't think we've ever been to a nightclub together in two years. I'm really thankful for that. I have a lot of stamina, but I don't think I have the stamina to work as hard as I do and play that hard."
By then parents of two, Ivanka told Vogue in January 2015, about five months before her father announced his candidacy for president, "You realize in life not that many things matter that much, but your choice of spouse is really everything… If I was married to somebody who, even if beneath the surface, didn't like the fact that I work so hard or didn't support my ambitions for myself or felt self-conscious about my last name…I think it would be very hard to build a solid foundation on that."
And then, everything changed. Not all at once, but the name Trump, however polarizing it might have always been, means so many different things to different people now, depending on whom you ask (such as Quincy Jones), it's mind-boggling. Here lies a scenario that, even with all the storied Trump moments Ivanka confidently smiled through in the past, she couldn't have fully envisioned.
Calling it a "great honor and a privilege" to be in her position, she admitted on CBS This Morning in May, "I never thought I would be in this situation. But I humbled by the opportunity to make a positive impact."
A lot has happened in the past eight months, since that East Wing interview. Most recently Ivanka and Jared attended her father's first State of the Union address, and it was just announced that she'll be the face of the administration at the Olympics closing ceremony in Pyeongchang in a few weeks.
But behind the scenes, like her father, Ivanka has learned some cold, hard truths about politics.
It's been reported that she plans to buckle down this year to work with some of Trump's allies on a comprehensive plan for paid family leave, affordable childcare and equal pay for women, issues she touted as being close to her heart during the 2016 election and which she once figured would be bipartisan issues.
"I'm no longer surprised," she told USA Today last month, referring to the ongoing partisan deadlock in Washington right now. "I think that there are always people that will not move off of their talking points and then there are a lot of people who will. You have to find the people who will, that's how you build coalitions."
Somehow, she's still smiling.