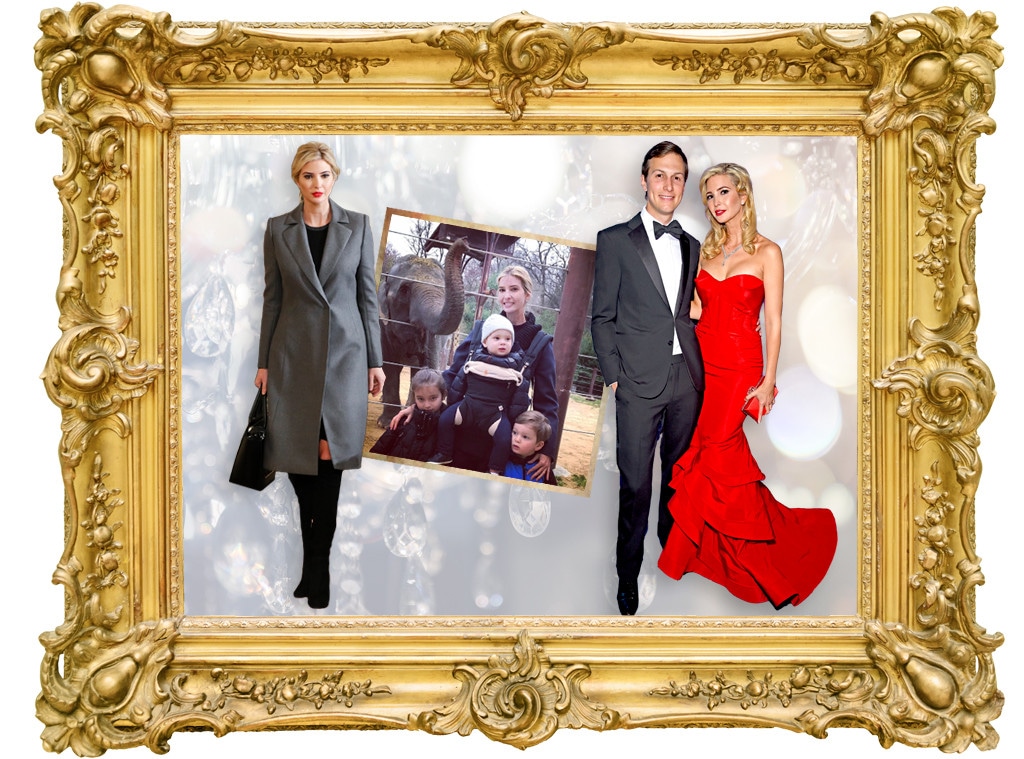 E! Illustration
Ivanka Trump has gone from fashion and business mogul to the equivalent of a glorified volunteer, but she's never been more powerful and her life has never been richer—on multiple levels.
The 35-year-old first daughter and husband Jared Kushner didn't think twice about uprooting their lives in New York and moving their young family to Washington, D.C., in the days leading up to Donald Trump's swearing-in as the 45th president of the United States.
Kushner was a shoo-in for a post in Trump's White House from day one—he's now a senior adviser to the president—and despite her insistence last year that she was going to "be a daughter," not a member of Dad's administration, it quickly became apparent that Ivanka would be right in the thick of things as well.
Ivanka's increased visibility in Washington has been received with mixed reviews, to say the least. A recent report that she and Kushner together combine for an estimated $740 million in business holdings hasn't helped her popularity with those who charge that nepotism is winning the day. (Already the White House had to cite the president's "special hiring authority" in explaining Kushner's job.)
On the flip side, throughout her father's historic and historically abnormal campaign, his eldest daughter was the cool drink of water when the rhetoric got too heated, as well as the person on which all hopes came to rest that women's issues had a chance for the next four years.
Either way, no pressure.
But as we've all noticed at some point over the past decade, Ivanka has never looked stressed out in public in her life. Even Melania Trump was spotted once by the paparazzi on the street with no makeup (before the election, of course), but Ivanka's down-to-earth, makeup-free moments only come courtesy of her Instagram.
Ivanka can't even pull off visibly ruffled. She's always poised, always elegant, always on, always properly dialed into whatever situation is in front of her, be it a teta-a-tete with Angela Merkel or helping Theodore blow out the candles on his first birthday cake.
"You hear that name, Ivanka, and you expect fur, leather, but she's really poised, elegant, down to earth," Mika Brzezinski, co-host of MSNBC's Morning Joe, told Town & Country a year ago for a profile on the Trump campaign's "secret weapon." "You may question the views of Trump, but when you meet his children you'll walk away questioning your own questions."
"I've known enough 'daughters of'—I'm a 'daughter of.' The situation can be difficult to negotiate. I've never met one like Ivanka," Brzezinski, whose father worked in Jimmy Carter's administration, added. "She has managed to get everything good out of the situation and make it better for herself and the people around her."
While the first lady has not yet made the full-time move to Washington, instead waiting out the school year in New York with 10-year-old Barron Trump, Ivanka (who called speculation that she'd serve as a type of first lady surrogate an "inappropriate observation") has been the one left to convey that the Trump family's new life is glamorous yet grounded, normal yet practically perfect in every way.
And sell that message, she does, even as the Trump presidency becomes more engulfed in controversy by the minute. Unlike seemingly everyone else in her father's employ, Ivanka hasn't missed a beat and has been busy ingratiating herself with the power players in Washington and beyond.
But before the inevitable—securing an office in the West Wing, where she's now an official, albeit unpaid, adviser to her father—Ivanka had to get her family of five settled in their new city.
As if she were just any regular new mom in town, settling in included kid-centric trips to the zoo, the American History Museum, Monster Jam—which Ivanka admitted was her first ever monster truck rally—and, of course, the White House.
There was also a jaunt on at least one occasion to Grandpa's Mar-a-Lago estate, the de facto Camp David of Palm Beach, as well as the annual family ski trip in Aspen for spring break last month.
The Kushner family—which includes daughter Arabella, 5, and sons Joseph, 3, and Theodore, 1—has also acquired a new address, a $5.5 million home they're renting for $15,000 a month in D.C.'s Kalorama neighborhood, an area historically popular with the political and politically connected set (and where the Obamas are also renting while they await 15-year-old Sasha's graduation from high school).
The 7,000-square-foot house, which was purchased in December by a company with reported ties to a Chilean billionaire, was built in 1923 and boasts six bedrooms and seven bathrooms, as well as an elevated first floor so looky-loos can't see inside at the street level.
According to the Washington Post, Ivanka and Jared's next-door neighbors sent a handwritten note welcoming them to the area, but didn't immediately hear back from the couple. Fast-forward to March when the Post reported on how even the welcome wagon was having trouble parking, thanks to the Secret Service vehicles taking up spots on Tracy Place NW, two "No Parking" signs that had appeared outside the Kushner house and two more signs in front of the next-door neighbors' place (which were removed after the homeowners complained to the city).
Neighbors, particularly Dianne Bruce, were entertained this week, however, when a dance party, organized by LGBTQ activists, broke out in front of the house (or as close as people could get) in protest of President Trump signing an executive order that rolled back Obama-era regulations that were intended to combat climate change. A picture of Bruce enjoying a glass of wine and wearing a full-length fur coat went viral. 
"People are reading into it as a statement," Bruce, who lives across the street from Ivanka and Jared and has been in her house for 20 years, told Time. "For me, it was people who had something to say, and saying it the way we do in America, with a peaceful march."
Meanwhile, there were also complaints last month about someone from the residence leaving trash bags on the street outside; but perhaps no one in the Kushner family is familiar with proper suburban trash collecting protocol, having lived in a New York City high-rise for so long.
Before making the move D.C., Ivanka reportedly listed a unit in the Trump Park Avenue building in Lenox Hill for $4.1 million—but she and Kushner are hanging onto their family's four-bedroom penthouse where they had been living in the same building, which offers residents 24/7 concierge and daily housekeeping services.
Actual sightings of Jared and Ivanka have been rare, though they were spied with their children at a local playground, and one of the otherwise irked neighbors told the Post that he had seen Ivanka out walking with one of the kids and she waved back and introduced herself when he did.
On Fridays, at least, the family can usually be found at home having Shabbat dinner, which Ivanka (who converted to Judaism when she married Kushner) prepares herself. She also shared a pic a few weeks ago of her and Joseph and Arabella making hamentashen, traditional pastries for the Jewish holiday of Purim.
While she's been adamant that the well-being of her family is her No. 1 priority overall, perhaps the most relatable thing about Ivanka in recent years has been her admission that, yes, she misses out on certain aspects of parenting because she's a working mom.
"I abhor this question of 'having it all,'" she told Town & Country. "People talk about balance. Balance is an awful measure of things, because it implies a scale that inevitably tips. I like to look through the filter of 'Is the life I'm leading consistent with my priorities?' For me, my family is the ultimate litmus test. Do I feel I'm giving my children what they need?
"But I don't do everything. I wouldn't be able to do what I do professionally if I did. I don't go to the afternoon classes. I don't take my son to the sports playgroup in the middle of the day. For some people that's a compromise they aren't willing to make, and I respect that."
Her next book, Women Who Work: Rewriting the Rules for Success, is due to be released in May, and she said she'll be donating the proceeds to charity. Also in the near future: Ivanka said that she and Arabella will be taking a coding class this summer, doing their part to promote the advancement of women in the sciences, technology, engineering and mathematical (STEM) fields. (And perhaps they can get some tutoring from Jared's brother Josh Kushner's girlfriend—supermodel and computer programmer Karlie Kloss, founder of the girls' summer camp Kode With Klossy.)
As far as Ivanka's alone time goes...she manages to grab an hour of it here and there.
"I want my children to see me first every morning, so I wake up at 5 and make sure to shower and exercise before they get up," she told People, and there's no indication that that routine ever changed.
She got turned on to running after training for a half marathon two years ago, and she once told O magazine that, when she can't sleep, she marathons Real Housewives episodes off the DVR. 
She also told O that her real favorite foods include "stews, sausage, noodles, and anything that involves melted cheese."
Once she was pregnant with her first child, however, she mainly adopted a low-carb diet with a focus on whole foods. And like so many others, she abhors a juice cleanse.
"I tried a juice cleanse, and it was a total disaster," she told Shape. "For the eight hours that I lasted, I felt like I was on the brink of starvation. For me, it's about making the right choices."
Meanwhile, even exercise in D.C. gets political. She and Michelle Obama share an affinity for SoulCycle, and Ivanka also tried out another one of the former first lady's favorite local workouts and proved that, though criticism of the Trump administration seemingly reaches fever pitch every day, only to top itself the next, the first daughter still has plenty of support.
Locals threatened to boycott [solidcore], a Pilates-reminiscent chain of workout studios, after owner Anne Mahlum Facebooked about Ivanka signing up for class and using an alias. Mahlum wrote that she wanted a sit-down with Ivanka to express her concerns about some of the Trump administration's policies, which she feared could negatively affect her customers. Supporters of the first daughter were outraged over what appeared to them to be an invasion of privacy. (Others praised Mahlum for creating a "safe space" in her studio, but critical comments reportedly far outnumbered appreciative ones.)
But the calls for boycotts have been going every which way for months, with the anti-Trump camp refusing to engage with Trump-affiliated businesses and the pro-Trump camp calling for boycotts of the businesses that they think dissed the Trumps.
Abigail Klem, the new president of Ivanka Trump Marks LLC (the corporate umbrella over her signature clothing, jewelry, shoes, etc.), told Refinery 29 last month that sales were great, even after retailers such as Nordstrom and Neiman Marcus stopped carrying Ivanka-brand products. (She also said she'd been talking to Ivanka, whom she considered a friend, "as little as possible" to maintain the proper ethical distance.)
"Since the beginning of February, they were some of the best performing weeks in the history of the brand," Klem said. "For several different retailers Ivanka Trump was a top performer online, and in some of the categories it was the [brand's] best performance ever."
Ivanka still wears pieces from her own line, silently integrating advertising into her everyday life, but going to work for the president required that she resign from the board of the Trump Organization and all other positions connected to her father's many-tentacled businesses, as well as turn over the day-to-day operations of her lifestyle brand—a process she called "emotional." (Though just like the president, she's still dealing with controversy and litigation related to those businesses.)
But of course, plenty of work awaits, and this time all of America owns stock in the company.
Talking to CBS This Morning's Gayle King in an interview that's airing this morning, Ivanka addressed criticism that she was "complicit" in her father's controversial agenda.
"If being complicit is wanting to...is wanting to be a force for good and to make a positive impact then I'm complicit," she said. "I don't know that the critics who may say that of me, if they found themselves in this very unique and unprecedented situation that I am now in, would do any differently than I am doing."