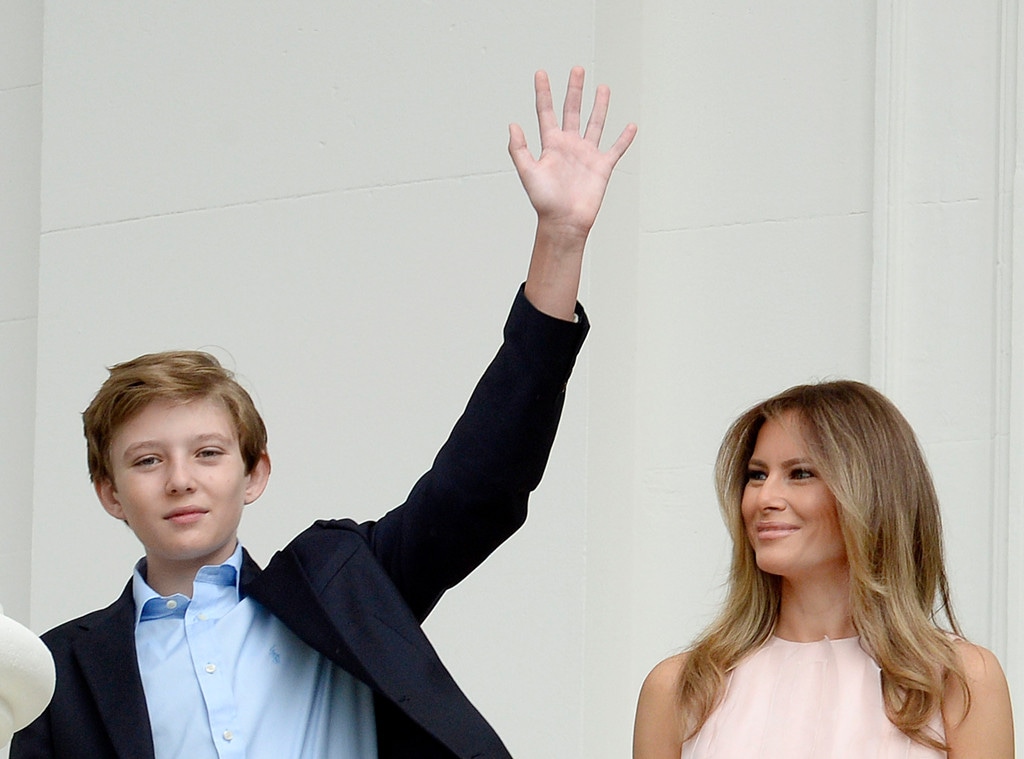 Olivier Douliery/ Abaca/ Sipa via AP Images
When Michelle Obama was on the campaign trail with her husband in 2008, her general response to the persistent question of what sort of first lady she planned to be was always, "I won't know until I get there."
Upon arrival in Washington, D.C., 2009, she made her presence known and she left the White House earlier this year as one of the most popular people—male or female—to have ever lived there.
Though she hasn't said as much, or said much of anything lately, the same question hangs over Melania Trump, who hasn't moved to Washington full-time yet because she wanted son Barron Trump to be able to finish out his school year (inaugurations are inconveniently smack-dab in the middle of that) in New York.
But when Melania and Barron do join President Donald Trump in the White House, which they're aiming to do next month, it's unlikely that the change of scenery is going to affect the first lady's No. 1 priority in any way.
Over the past two decades, Melania's thoughts on the role of first lady may not have shifted in theory, but it sounds as though the prospect became less real to her the closer it came to being her reality.
In 1999, when The New York Times asked her what sort of first lady she could picture herself being (Donald Trump had talked with varying degrees of seriousness since the 1980s about running for president), Melania said, "I would be very traditional. Like Betty Ford or Jackie Kennedy. I would support him." (Kennedy being Kennedy, of course, and Ford actually worked as a model before marrying Gerald Ford.) 
At the time, the Slovenian-born model was 26 and she wouldn't even marry Trump for another six years. She hadn't even posed naked on a rug for British GQ yet. But most notably, she wasn't yet a mother.
So when Refinery 29 asked in 2012 how she would feel about being first lady, Melania laughed and said, "Well, you never know what could happen. My life is very busy. I'm very busy, as you know, as a businesswoman, as a mother, as a wife, as a social for charities...So my life is very busy, and that's it for now. I don't think about being first lady."
Now, five years later, she is first lady—and just like every first lady that came before, she's doing it her own way. Like, really, really her own way.
Michelle Obama told Oprah Winfrey in December that, upon meeting with the incoming first lady at the White House, she explained to Melania, "You really don't know what you don't know until you're here." She also offered her successor an open door should she ever need anything.
We've yet to hear of any Mrs. Obama-Mrs. Trump summits since Donald Trump's inauguration, but they haven't even lived in the same city yet, either.
Which brings us back to how Melania has defiantly broken the mold, to much consternation from some and to applause from others, with her unwillingness to do what was expected of her—what has been expected of all first ladies—in order to put her son first.
"[My husband is] on the road a lot and he's traveling a lot, and he's not home much, but it's all about the schedule, it's all about Barron's school and homework and after school programs," Melania told Us Weekly in January 2016, months before her husband had locked up the Republican nomination. "So when we are in New York, [our schedule] didn't change much, and I want to keep it that way because I'm at home raising my child."
She added, "I join [Donald] when I can and I support him 100 percent from home, and I'm with him when I can. It didn't change because Barron is the priority for now and he needs me at this age. He needs a parent at home, and I like to keep it as normal as possible."
Once Trump did become the nominee, nothing about the historically bizarre presidential race changed Melania's primary purpose—preventing Barron's life from being too disrupted. No wonder she never seemed that thrown by the increasingly hard knocks her husband—and sometimes she herself—was taking in the media. Publicly at least, Melania barely missed a beat when the Access Hollywood tape came out, and she let other people deal with it when her speech at the Republican National Convention was quickly revealed to have lifted from a past speech made by Michelle Obama.
She had Barron's needs to consider before her own.
Peter Kramer/Getty Images/for MSKCC
"I keep him balanced and just have his childhood as normal as possible," she told ABC News' George Stephanopoulos in October, the notion of actually having to move still not something she had to deal with yet. "He's enjoying his school and his sports. He's a great athlete. And I just want to have him out of the spotlight for now."
Barron being only 10 at the time (he turned 11 in March), of course school took precedent over the campaign trail (even 15-year-old Sasha Obama had to miss her dad's farewell speech in Chicago because she had a test the next morning). But even once her husband was elected in November, Melania, who seemed to have more designs on being first lady before she was even Mrs. Donald Trump than she did last year, didn't budge.
To the tune of a reported $145,000 a day in security costs to protect the first lady and her son, they have remained living in their gilded penthouse on the 52nd floor of Trump Tower, where Barron has his own floor and it only takes a small caravan of Secret Service and NYPD officers to chauffeur him to school.
He attends Columbia Grammar and Preparatory School on the Upper West Side of Manhattan; tuition runs about $45,000 a year.
Gustavo Caballero/Getty Images
Even when Melania was selling her jewelry line on QVC and gearing up to start her own line of caviar-infused beauty products (legal issues with the umbrella company prevented the much-ballyhooed line from getting off the ground), she declared herself a mother above all else.
"I am a full time mom; that is my first job. The most important job ever," she told Parenting.com in 2012. "I started my business when he started school. When he is in school I do my meetings, my sketches, and everything else. I cook him breakfast. Bring him to school. Pick him up. Prepare his lunch. I spend the afternoon with him. Sometimes I have obligations, but I also think children need to see a parent do what her passion is. It is a good example for a child. So the child can find passion as well and follow that passion in the future."
Further describing her then 6-year-old son, "He is a very strong-minded, very special, smart boy. He is independent and opinionated and knows exactly what he wants. Sometimes I call him little Donald. He is a mixture of us in looks, but his personality is why I call him little Donald."
According to his father, Barron's a computer whiz, as so many youngsters are at ever-younger ages these days. He would also golf with his dad on trips to Mar-a-Lago (years before Trump became president, Melania said that Donald and Barron most of their father-son bonding at their estate in Palm Beach, when Dad was less busy). And at least when he was a little kid, he was big into drawing, using whatever surface was available, apparently.
"We let him be creative; let his imagination fly and do whatever he wants," Melania said. "Whatever he wants to do with his own room later on, he can do it. But it's amazing, he does not like [bed] covers with airplanes or cars on them. He likes clean and white. He also has his playroom and he has his pictures and art and all of his stuff.
"And since he has his own floor, he can also put those things on his living room and on his own walls. When he was smaller he started drawing on the walls. His imagination is growing and important. He draws on the walls in his playroom, we can paint it over. One day he was playing bakery and he wrote Barron's Bakery on the wall with crayons."
Barron hasn't been entirely absent from the Washington (and by extension, the Mar-a-Lago) scene since Trump became president. Barron, who's almost as tall as his father, was photographed strolling the White House lawn in March before boarding Marine One to fly down to Florida for the weekend, and last month he attended the White House's annual Easter Egg Roll.
"Oh!" Melania noticeably exclaimed, amiably enough but obviously surprised, during a joint Good Morning America sit-down with her husband in October when he said Melania would be giving "two or three speeches" as Election Day approached.
Since Inauguration Day, she has given a handful of talks, been on hand when Trump has welcomed fellow world leaders and their wives at the White House and Mar-a-Lago, and a few weeks ago she handed out Easter baskets at a shelter for domestic violence survivors in Palm Beach. The first lady had previously said that, if her husband were to take office, issues affecting women and children, including the scourge of cyberbullying, would be of primary concern to her.
Meanwhile, though she hasn't blinked publicly, the 204 miles between New York and D.C. has left a lot of room for rumors about the state of the Trump's marriage—separate bedrooms was the big rumor for awhile—and Melania's overall state of mind. In February, Us Weekly quoted a family source who said being FLOTUS was making Melania "miserable" and she was "unhappy with how her life ended up."
Chip Somodevilla/Getty Images
Most recently, the Internet went wild when it appeared that Melania's Twitter account had "liked" a tweet reading, "Seems the only #Wall @realDonaldTrump's built is the one between him and @FLOTUS #Melania #trump."
The "like" was quickly rescinded, but the headlines had been made.
Back in February, Trump called Melania "a great representative for this country." He continued, "And a funny thing happens. She gets so unfairly maligned. The things [the media] say, and I have known her for a long time, the things they say are so unfair." (Also since becoming first lady, Melania settled a libel lawsuit for a reported $2.9 million and received an apology from the Daily Mail over an article that had claimed she had once worked as an escort.)
She "is going to be a fantastic first lady," the president insisted. "She is going to be a tremendous representative of women and of the people."
And ready or not, here she comes.
AP Photo/Manuel Balce Ceneta
Now that Barron's school year is about to end, the move to Washington is in the works. Melania announced Monday that the 11-year-old will start attending St. Andrew's Episcopal School in Potomac, Md., this fall. (Malia Obama attended and Sasha still attends Sidwell Friends School in Bethesda, Md., which also counts Chelsea Clinton as an alumna; George W. Bush's twin daughters had already graduated from high school in Texas when he took office.)
"We are very excited for our son to attend St. Andrew's Episcopal School," she said in a statement. "It is known for its diverse community and commitment to academic excellence. The mission of St. Andrew's is 'to know and inspire each child in an inclusive community dedicated to exceptional teaching, learning, and service,' all of which appealed to our family. We look forward to the coming school years at St. Andrew's."
Per the school's website, tuition for the 2017-2018 school year for grades 6 through 8 starts at $38,590 a year. According to the Washington Post, the school is a little over a 30-minute ride from the White House in light traffic.
Earlier this year, Melania hired Lindsay Reynolds, who previously served as associate director of the White House's visitors office during the eight-year George W. Bush administration, as her chief of staff, and former Vogue PR manager and longtime friend Stephanie Winston Wolkoff as chief strategist.
And while October 2016 seems like a long time ago, Melania didn't crack when Anderson Cooper asked her about the dirty laundry being aired, the mud being slung, the jabs being thrown, etc. 
"I'm very strong. People, they don't really know me," she said. "People think and talk about me, the—like, 'Oh, Melania, oh, poor Melania.' Don't feel sorry for me. Don't feel sorry for me."